Ellie Kitta joins the USC Kaufman Board of Councilors
February 13, 2018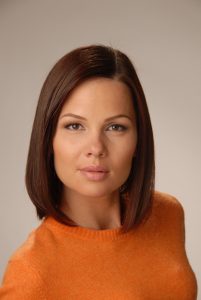 This spring, Ellie Kitta becomes the newest member of the USC Glorya Kaufman School of Dance Board of Councilors. As a board member, her aim will be to advance the school's development alongside the USC Kaufman leadership and staff.
Kitta has always been passionate about dance, given that her father was a professional dancer with the Igor Moiseyev Ballet. She also received classical ballet training while growing up in Moscow, Russia, which she continues to practice today.
Outside of her love for the arts, Kitta is a new mother, an avid blogger (on the topic of women's issues) and an active philanthropist. She currently serves on the Board of the Beverly Hills Literary Society and, alongside her husband Ron Goldie, supports the United Friends for the Children—an organization that helps current and former foster care youth with their college aspirations. Together, they also support Cedars-Sinai and the Tower Cancer Research Foundation.
Furthermore, the couple have been stalwart supporters of USC, since Goldie is an alumnus, Trojan parent and current faculty member. In addition to his private practice as a corporate and transactional business attorney, he works as an adjunct professor at USC Gould School of Law.
Kitta will become more involved in the USC community as she joins the ranks of the current Board of Councilors, which is comprised of Lucia Choi-Dalton, Brynn DeBeikes, Debbie Felix, Ann Gianopulos, Nigel Lythgoe, Gale Luce, Anita Mann Kohl, Joe Tremaine, Sue Tsao, Jim Vincent and visionary founder Glorya Kaufman.
Says Dean Cutietta, "Through Ellie's love of dance and commitment to USC, she will be an important ally in furthering USC Kaufman's hallmark vision of 'The New Movement.'"
---
By Sara Silberman