Announcing Fall 2021 Repertory and Guest Artists at USC Kaufman
August 11, 2021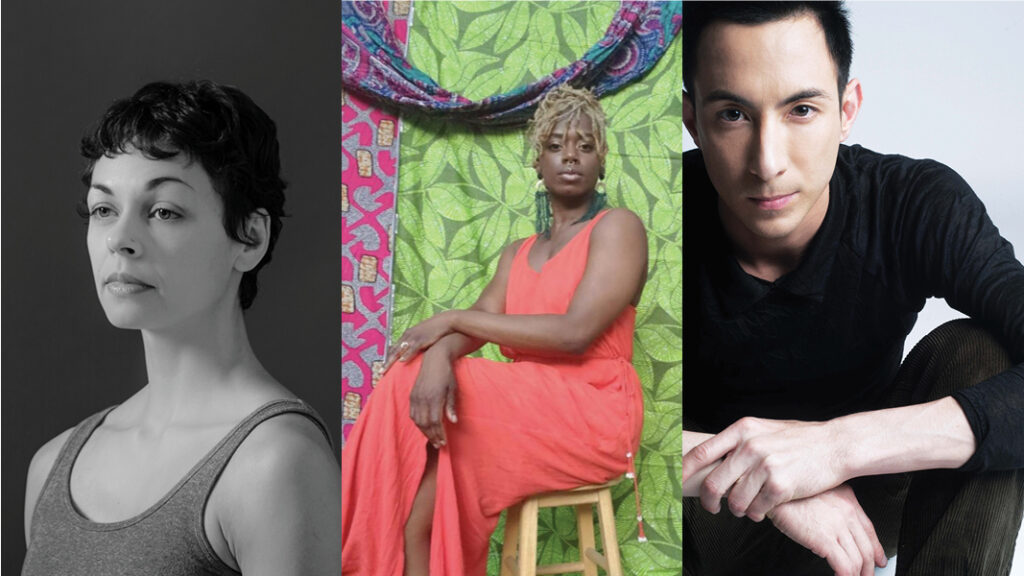 This coming semester, the USC Glorya Kaufman School of Dance will offer its students the chance to engage with renowned guest artists and repertory as our dance studios begin to open. Guest artists Kara Wilkes, Toyin Sogunro and Peter Chu will engage with BFA students remotely throughout the semester. BFA students will also learn repertory from current USC Kaufman faculty and Artists in Residence.
Kara Wilkes
Originally from Milwaukee, Wis., Wilkes began her professional dance career with the Milwaukee Ballet Company. In 2006, she became a soloist with the Victor Ullate Ballet in Madrid, Spain. Soon after in 2007, Wilkes joined the North Carolina Dance Theatre (now the Charlotte Ballet). There she performed works by Alvin Ailey, Twyla Tharp, Dwight Rhoden, Nicolo Fonte, Mark Godden, George Balanchine, Uri Sands and Nacho Dutao.
In 2011, Wilkes joined Alonzo King LINES Ballet. She performed with the company for five seasons. While there, she was recognized as one of "12 Standout Performances of 2015" by Pointe Magazine and performed in TEDWomen 2016.
As a dance educator, Wilkes has choreographed for Wake Forest University, the LINES Ballet BFA Program at Dominican University of California, Midland Festival Ballet, Wilmington Dance Festival and the Center for Creative Arts in St. Louis. She has taught all levels of dance, including master classes for Duke University, University of Iowa, Hollins University, East Carolina University, University of California, Santa Barbara and abroad in Dublin, Ireland.
Wilkes earned her MFA in Dance from Hollins University and joined the dance faculty at Wake Forest University in 2019. She rejoined Alonzo King LINES Ballet as a Ballet Master in 2020.
Toyin Sogunro
Sogunro grew up in Washington, D.C. and the greater metropolitan area but now resides in Los Angeles. Throughout her career, she has been a dancer, dance educator, choreographer and cultural ambassador of Black street and club dance. She has also become one of the best-known names in house dance. She has performed, won and judged prestigious dance competitions including Juste Debout, Summer Dance Forever and I Love This Dance.
As her recognition has grown internationally, Sogunro dedicates her work to preserving and cultivating authenticity in hip-hop and club culture surrounding Black heritage. She also serves as the creator and director of the Nefer Global Movement, a female dance collective in the hip-hop scene that celebrates dance and culture and empowers greater sisterhood.
Sogunro will work with BFA students the week of September 20.
Peter Chu
Chu hails from Cocoa Beach, Fla., and he began his movement practice first as a gymnast. He later transitioned into dance and trained at the Dussich Dance Studio. Chu earned his BFA from The Juilliard School. Upon graduation, he received the Hector Zaraspe Prize for Choreography.
Chu has performed in many capacities, such as with BJM_Danse, EZdanza and Kidd Pivot. He starred as the lead in Christina Perri's "Jar of Hearts" music video. He also performed in Celine Dion's Las Vegas spectacular: A New Day.
In 2008, Chu established chuthis. – his project-based, multidisciplinary company based out of Las Vegas. Chu has created works for many dance and creative entities including Hubbard Street Dance Chicago, Staatstheater Augsburg, Germany, Charlotte Ballet, Charlotte Ballet II, Orlando Ballet Theatre, Hubbard Street 2, Giordano Dance Chicago, So You Think You Can Dance, Naomi Stikeman's Çaturn, Houston MET Dance, New Dialect and SALT Contemporary Dance. He has also worked with many dance programs in higher education such as The Juilliard School, Harvard University, Point Park University, SUNY Purchase, Western Michigan University and Brigham Young University Contemporary Dance Theatre.
Chu will work with BFA students the week of October 4.
Fall repertory
Members of the Class of 2023 will work in-person with new Artist in Residence Penny Saunders. They will collaborate on a new creation for livestream to be presented September 18.
The incoming Class of 2025 will work on a new creation with Associate Professor of Practice Patrick Corbin. The Class of 2024 will work on a new creation with Lecturer Amy O'Neal. Both of these pieces will be presented during the Fall New Works performances on October 8.
In addition, members of the Class of 2022 will work in-person with returning Artist in Residence Jermaine Spivey. They will also work on a new creation for livestream to be presented on November 20.
The Class of 2025 will also learn repertory by Jiří Kylián, including Falling Angels and Sarabande taught by returning Artist in Residence Fiona Lummis. Finally, members of the Class of 2024 will have the opportunity to learn the final movement of Paul Taylor's Esplanade taught by Corbin. These works will be presented as part of the Fall Works in Progress showing on December 1.
Artists in Residence and visiting artists to USC Kaufman are supported in part through generous funding from The Choi Family Artists in Residence Fund.