GAGA meets Los Angeles: an inside look at the summer intensive
July 29, 2019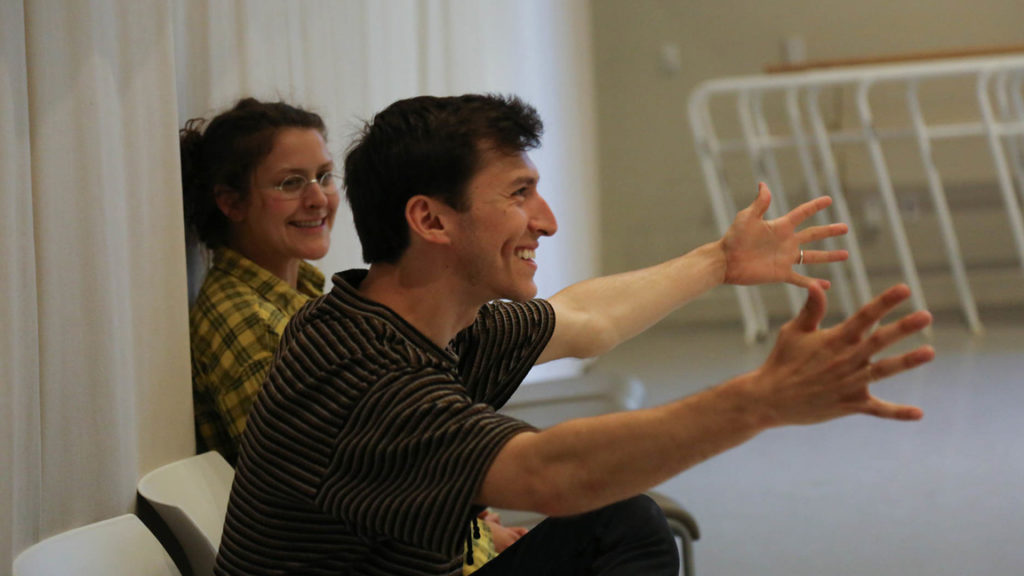 USC Glorya Kaufman School of Dance lecturer Bret Easterling has long been a practitioner of Ohad Naharin's GAGA technique. After eight years with Batsheva – The Young Ensemble and Batsheva Dance Company, he has reaped the benefits of practicing, performing and teaching GAGA in many parts of the world. Now, he serves as Artistic Director of the GAGA summer intensive in Los Angeles. Current Batsheva dancers and GAGA teachers Billy Barry and Kyle Scheurich comprise the rest of the intensive faculty. Together, they will bring the mysterious technique to local young dancers, imparting its special tactics for body awareness and sensation.
Easterling's history with GAGA
Easterling first came to GAGA through Andrea Miller's Gallim Dance.
"The language immediately resonated with me," he said. "Focusing on images and simple tasks helped unlock new capabilities, confidence and control inside of my dancing."
Naharin set a work on the students at Juilliard while Easterling was attending. He later invited Easterling to join Batsheva – The Young Ensemble. As he continued to tour with Batsheva, he learned how to teach the language alongside his colleagues. Now, as a lecturer at USC Kaufman, he carries several years worth of touring and teaching experience.
"Eight years later, I still feel enriched by the material and the endless research that it provides me and my artistry," he said.
New intensive ideas
Easterling will welcome a new group of artists and teachers, a group that will set the tone at this Los Angeles intensive. This year, Batsheva dancers Billy Barry and Kyle Scheurich will fly into Los Angeles directly from the last show of the Batsheva touring season. For Easterling, Barry and Scherer's current knowledge of Naharin's practice will keep the intensive material new and updated. During their week together, they will research these new ideas.
"They are able to inform me as well as the participants on the current themes of GAGA," he said. "Since GAGA isn't a codified technique, Ohad is constantly researching and developing new ideas or images into the language that they can give us an exclusive look into."
As artistic director and teacher, he plans to introduce and research the fundamentals of GAGA with the students, which include concepts like letting go into movement and listening to the weight of body parts. With these among many others, Easterling hopes to create an environment that supports a love for movement.
"My goal is to use these tools to help unlock the participant's passion to move while creating an environment that allows them to laugh at themselves and not take things too seriously," he said.
He finds that since observation of GAGA class is not allowed, there is a certain mystique around the movement language. Dancers come eager to learn the material.
"I have learned that the participants come very hungry for information," he says. "When people attend the intensive, they are really driven to learn and absorb as much as they can. This creates an ideal environment for a teacher, one that I am always extremely grateful for."
Bringing GAGA to Los Angeles
Easterling hopes to make the movement language available in Los Angeles for a curious crowd of participants. He thinks that the technique has a lot to offer movers from Los Angeles, according to their current aesthetic.
"Inside of the Los Angeles dance scene, I've noticed that dancers default to using more effort than necessary to complete a movement," he said. "I think GAGA can research how little effort is needed in order to accomplish that same movement. This has the potential to create a more articulate and genuine moment. That movement will therefore resonate more powerfully with its viewers."
In addition to this application, Easterling sees the benefits of GAGA as supplementing contemporary dance in general: its ability to bring dancers bodily awareness and other skills can change the way they articulate and present themselves as artists.
"Contemporary dance and improvisation are currently on trend inside of the commercial dance scene. I believe Gaga can provide dancers with many helpful tools and inspirations to play with as they audition for and perform these jobs," he said.
With the dawn of this contemporary dance trend, GAGA is becoming more and more common across the United States. In Los Angeles, Easterling's intensive is the place to go.
---
By Celine Kiner