USC Kaufman's inaugural class on how they've grown
May 8, 2019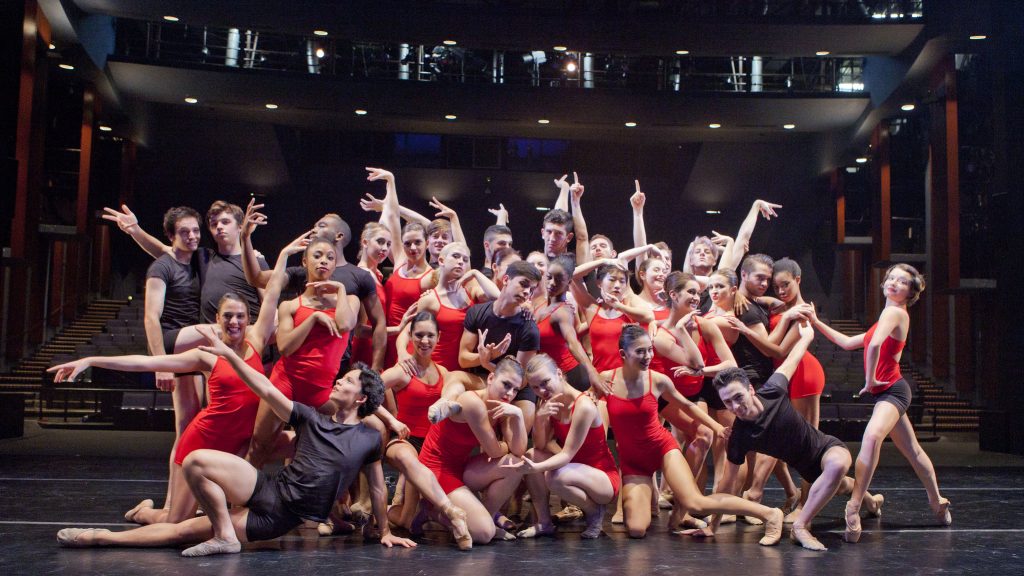 With graduation just around the corner, USC Kaufman's inaugural class of BFA students has acquired countless memories. Here, they reflect on a few of their favorite moments, and on how they have grown as artists and scholars.
What has been your favorite performance opportunity at USC Kaufman and why?
Jackie Schiffner: Performing in Tokyo at the USC Global Conference was unforgettable. Not only did we get to perform internationally for the first time, but it was so exciting to share the experience with some of my closest friends and Vice Dean & Artistic Director Jodie Gates! Seeing how dance is universal regardless of language and culture was so special.
Satori Folkes-Stone: I loved doing the lecture demonstration and the LACMA Acquisition RYBG exhibit during "Fall for Forsythe." I felt very astute, seen and celebrated as both intellectual and artist. Performing in Tokyo for the USC Global Conference is also obviously very high on my list. I'll remember that once in a lifetime uplifting and challenging experience forever.
Jessica Muszynski: The improvisation collaboration between USC Kaufman and Hubbard Street 2 was one of my favorite performance opportunities. I found such immense joy and love for dance during a full hour of immersion in this explorative and playful state.
Mary Mallaney: Last year, I was lucky enough to be in Jennifer Lott's film in her event "Caught in the Chamber." We worked with talented filmmaker Nathan Johnson and steadicam operator Joel Marsh. We danced to USC Thornton faculty member Andrew Norman's beautiful composition as performed by the incredible yMusic. The whole night was such a joy to be a part of, and really showed me the potential of my interest in dance films.
Austyn Rich: One of my favorite performance opportunities was Visions & Voices presents Bill T. Jones Story/Time, our freshman year. There was a moment in rehearsal where Bill called me on stage. I was nervous that I might have missed a cue or made too much noise backstage. Instead, he said, "I want you to listen to this music…start upstage and just dance!" I walked upstage and went full throttle, hitting every accent and using all the imaginative musicality I could. It was the first time I had ever heard this particular piece of music. Later he said, "well, that's yours!"
How have you grown personally and/or professionally throughout your time at Kaufman?
Coco Alvarez-Mena: Both personally and professionally I have grown more than I could have ever imagined. USC Kaufman has massively opened my mind to the world of possibilities within the realm of dance. I have a much greater sense of appreciation for dance and all of its forms – both physical and academic.
Justin Epstein: At USC Kaufman I have grown from a dance-lover to a multimedia artist/scholar with a passion for sharing joy and curiosity.
Ardyn Flynt: I have grown in my love for art, and in my love for process over product. Entering college, I danced primarily for the opportunity to perform. Exiting, I feel more fulfillment and joy out of a collaborative art-making process than any stage time.
Austyn Rich: I have grown as an artist, person, friend, and student. I found my personal voice becoming stronger than ever, and it heavily influences my movement and composition. I am now smarter, efficient, courageous and the best version of myself.
Aidan Carberry: Personally, I've become a more centered and all around happier person. Professionally, I feel ready to explore any dance opportunity thrown at me.
Celine Kiner: The USC Kaufman curriculum has challenged me to become a smart dancer. I've learned to apply colloquial knowledge and theory and philosophy to dance: there is so much more to learn about this art form, and it can be researched just like any other academic topic. It keeps me curious.
Mary Mallaney: The diversity of people, perspectives and thought at Kaufman have formed me in more ways than I can say. They have taught me to experiment, to honor my uniqueness, my weirdness. They have shaped how I articulate my opinions about art, and encouraged me to discuss an artist's role in past and present culture. But most of all, I've found myself looking at the world differently after my time here at Kaufman.
How has your experience at USC Kaufman compared to what your expectations were coming in your freshman year? Has there been anything that surprised you about your experience?
Jackie Schiffner: Coming to Kaufman in 2015, I didn't realize how much I would grow to love dance, how much improvement I had left in me, and how much I still had to learn about dance. My experience has exceeded my expectations. I have become so much more than I could've imagined.
Aidan Carberry: I have learned much more from my fellow students than I thought possible. I thought the program would be my main source, but my fellow classmates have taught me so much.
Brianna Mims: My experience at USC has been different from my expectations of it because of the resources I have had access to. They have allowed me to realize that I can create a career that is undefined. Understanding this has affected how I see dance in my life and the classes that I choose to take.
Ardyn Flynt: I expected a perfectly balanced program, already designed and with equal emphasis on forms. I learned that our inaugural class would in fact be a huge part of shaping the program, that there was much not set in stone, and there were many politics to navigate regarding dance education and diverse forms. This has been beneficial to me beyond all, because it has taught me to advocate for what I believe should be part of a holistic dance education, and to advocate for forms traditionally not recognized as valid in conservatories across the United States.
Justin Epstein: I really had no idea what I was getting into when I decided to attend USC Kaufman. My growth and the collective growth of my classmates has surprised me so much. I am so thankful to have participated in this experience.