USC Kaufman student choreographer named Capezio A.C.E. Awards Finalist
October 23, 2019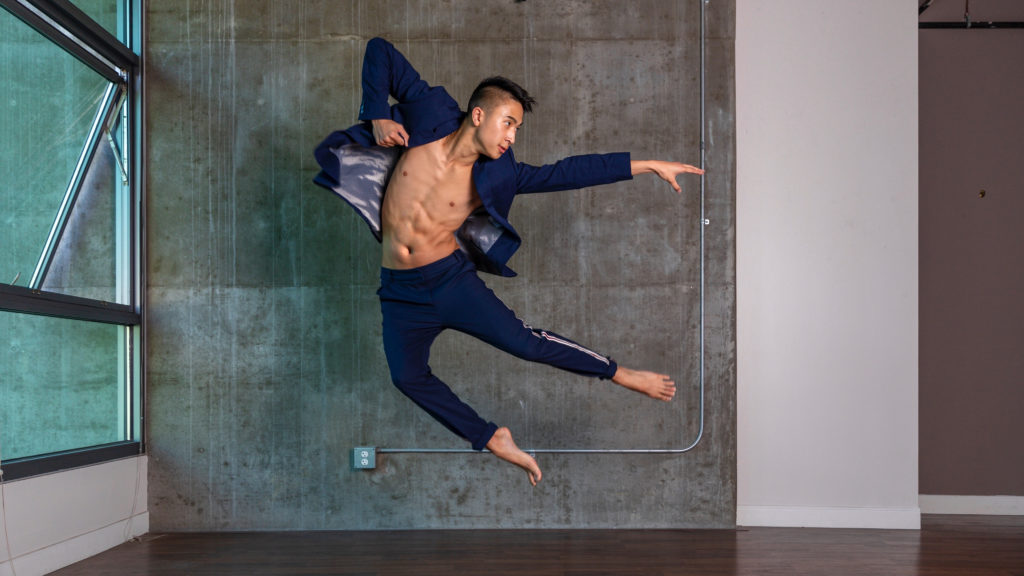 Justin Pham (BFA '20) is a USC student, dancer and choreographer, whose work is now being recognized on the national stage. In January 2020, he will present a new piece at the Capezio A.C.E. Awards for the chance to win $15,000 and a fully-funded show.
The A.C.E. Awards is a national choreography competition, which takes submissions from both amateur and professional choreographers. USC Kaufman students are no strangers to success with the competition, as Jordan Johnson (BFA '19) and Aidan Carberry (BFA '19) placed first-runner-up at the awards show in 2018.
This year, Pham is one of 15 applicants to advance as a finalist.
The 2020 A.C.E. Awards will be held at the Montalban in Hollywood. There, an audience of dancers, choreographers, directors, agents and producers will watch Pham and the other finalists' work.
"I have been aware of this opportunity since I was very young. Past winners include many of my biggest choreographic inspirations such as Al Blackstone and Kirsten Russell," he said.
"It's All Coming Back to Me Now"
To enter the competition, Pham submitted a three-and-a-half-minute piece set to Celine Dion's, "It's All Coming Back to Me Now." The video, which Pham directed, features a cast of six USC Kaufman BFA students and alumni performing his work. They filmed in the Glorya Kaufman International Dance Center.
"Two of my favorite aspects of dance – drama and groove – inspired the piece that I submitted for the A.C.E. Awards," Pham said. "I wanted to create a piece that embodies my love for the drama typically associated with lyrical or contemporary dance, but also showcases the importance of groove and musicality, even within a more contemporary work."
Developing his choreographic voice
Pham began choreographing in high school, when he created several pieces for his school's competitive dance team. He has worked on developing his own choreographic style ever since.
Over time, Pham has chosen to combine the jazz and contemporary techniques from his competition background with the aspects of musicality, polyrhythms and groove he is learning as a USC Kaufman student.
"USC Kaufman's opportunities to showcase choreography and the constructive feedback I have received from faculty members have been pivotal in my development as a choreographer," he said. "One faculty member who has specifically helped me in my choreographic journey is d. Sabela grimes, whose hip-hop classes emphasizing groove and the deep-rooted connection between music and dance have highly influenced my work."
Past and present projects
Along with working towards the A.C.E Awards, Pham's year consists of several other choreographic projects. In September, Pham and Chryssa Hadjis (BFA '21) presented a duet at the Laguna Dance Festival Art Walk. Additionally, Pham regularly choreographs and teaches at various local studios and companies. These include Laguna Dance Theater, Long Beach Ballet, Murrieta Dance Project and Elevation Studios. Furthermore, Pham's "It's All Coming Back to Me Now" video will be screened at USC Kaufman's Video Stage event on Oct. 28.
Finally, Pham is working on his senior project for USC Kaufman. He will be choreographing, filming, directing and editing a "visual playlist," which will be made up of videos that showcase dancers, rather than musical acts, at the forefront of entertainment.
"This year, I am most looking forward to solidifying my choreographic voice, continuing my studies towards my minor in Cinematic Arts and performing at The Broad Stage with my fellow 2020 classmates to end our senior year," he said.
---