Kaufman Connections builds community online and in person
January 18, 2022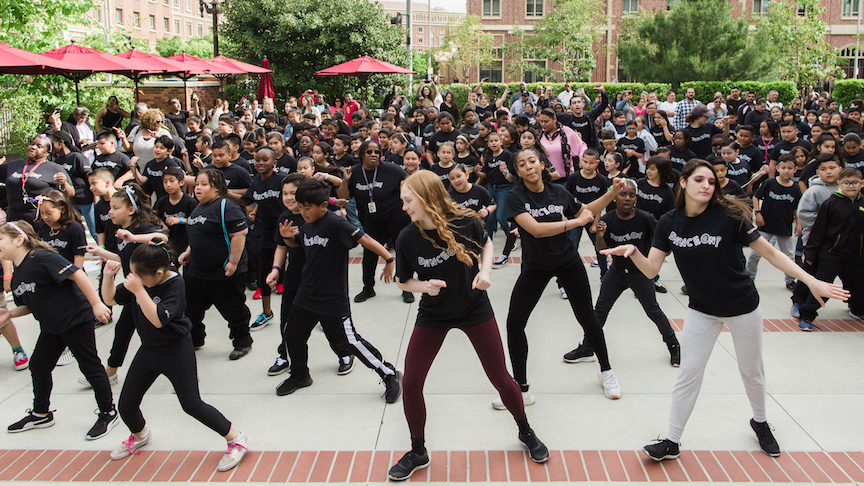 Last semester, Kaufman Connections continued to bring vibrant hip-hop culture into the classrooms of 32nd Street Elementary School. This community engagement initiative through the USC Glorya Kaufman School of Dance provides dance classes to students and aims to foster community, confidence and social-emotional learning for each child. The program also encourages life skills naturally embedded into the processes of choreography and performance.
USC Kaufman BFA students work as Teaching Artists at 32nd Street Elementary School, and in the fall 16 Teaching Artists served 201 students in 10 classrooms. When it began, Kaufman Connections partnered with third, fourth and fifth grade classrooms. Now, the program has expanded to include second grade students as well.
Transitioning from online to in person
After moving online at the start of the pandemic, Kaufman Connections transitioned from virtual to in-person instruction as the fall semester progressed. According to Tiffany Bong, USC Kaufman lecturer and Kaufman Connections program director, they hosted seven virtual classes and three in person culminating in an outdoor performance.
"All our BFA students wanted to teach, but we needed to ensure everyone's safety," Bong said. "When we went back in person, every classroom was so grateful and excited. The students light up when they interact with the Teaching Artists. There's just nothing like having dance in person."
With the transition from virtual to in-person classes, the Teaching Artists had only three sessions to stage an in-person performance. While the students learned a dance throughout the 10 sessions, the Teaching Artists had to translate it from individual Zoom boxes to a collective physical piece. Bong noted that the BFA students were ready to be adaptive and responsive in their readjustment in the classrooms.
"It's incredible how our BFA students were able to put together an in-person performance, in three workshops," Bong said. "That shows the level of quality that our Teaching Artists bring in. They always uphold such a value of excellence."
The final performance
The final performance took place on the basketball court at 32nd Street Elementary School. Bong described that moment as a celebration of joy that everyone could dance together again through a common thread of hip-hop.
"The event celebrated our perseverance," Bong said. "So much of hip-hop is tapping into and spreading untouchable joy. Despite all the different circumstances because of COVID, we were still there and it was incredible to see all of the students come up and perform."
The performance was split into two shows, one for the younger grades and one for the older grades. At the end of each performance, the students were encouraged to go back on stage and freestyle. Bong noticed different attitudes from the two student groups that offered tender moments for everyone involved.
"For the younger students, the classes wanted to come up as a community. They were freestyling with the Teaching Artist supporting them, and that was a really fun moment," Bong said. "In the older classes, all of the students just kind of went wild. They started electing the best dancers from each classroom. Then, I asked the teachers to dance with them. It was quite the moment of community in action."
Looking ahead
While in-person activities at 32nd Street Elementary School still remain uncertain this semester, Bong feels optimistic about continuing to bring the students important values through hip-hop exploration.
"We have a saying in hip-hop that's 'Can't stop, won't stop,' and I think that is such a theme for us. Despite the circumstances, there are still opportunities to do good work," Bong said. "We continue to serve our communities and shine our light."
This program is made possible by generous funding from USC's Good Neighbors Campaign, American Dance Movement and USC Arts in Action.
---
By Brigid Murphy