Kaufman Connections continues to engage 32nd Street students virtually
January 7, 2021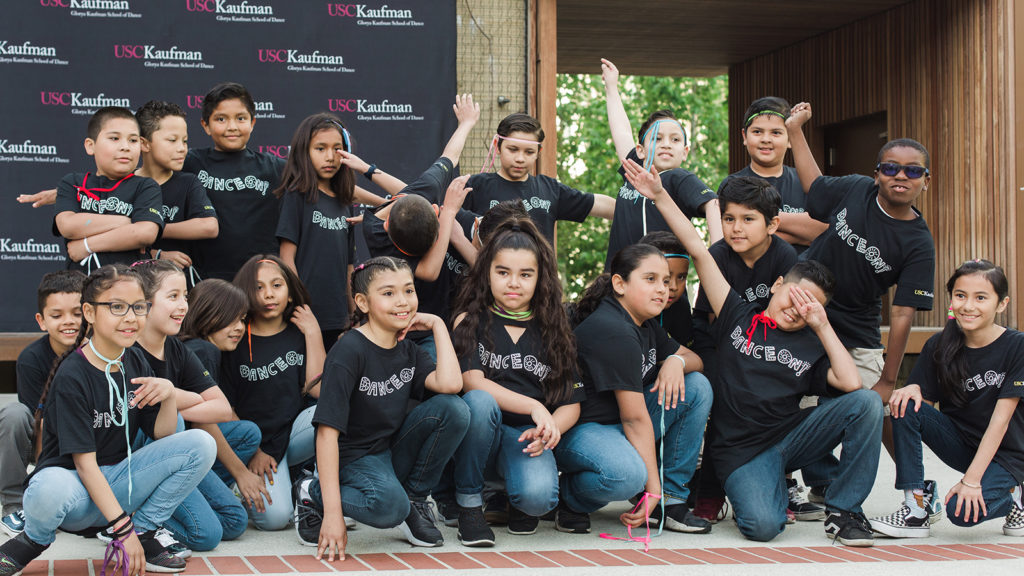 During the fall semester the USC Glorya Kaufman School of Dance's community engagement initiative, Kaufman Connections, forged on despite having to adapt to an online format. A record number of USC Kaufman students, also known as "teaching artists," enrolled in Kaufman Connections this semester. Seventeen students signed up to teach serving 11 classrooms, which is the highest engagement in the three years of the program. Read on for the most recent update for Kaufman Connections.
Continuing classes online
As Kaufman Connections moved to Zoom, teaching artists strived to make their classes inclusive so all members of their students' households could participate. Further, Kaufman Connections expanded to teach first and second graders with their community parter, 32nd Street Elementary School. The program has taught third, fourth and fifth grade classrooms since the program's first year.
"We hope to foster a sense of joy and activity in our world of Zoom next semester as we continue to bring dance into the surrounding USC community," said program creator and director Tiffany Bong, who is also on faculty at USC Kaufman.
Engaging artists in the community
In keeping with the community engagement spirit of Kaufman Connections, the program also collaborated with local artists. Last semester, USC Kaufman reached out to Los Angeles based dancers K'niin and Lily Frias to film online dance tutorials for 32nd Street Elementary School students. Frias performed at the American Music Awards and made the Top 20 on Season 12 of So You Think You Can Dance. K'niin performed and competed in both America's Got Talent and World of Dance.
Virtual celebration
The semester culminated in the Fall 2020 Virtual Hip-Hop Dance Celebration. The event took place on Dec. 9, 2020 and featured students and their teachers from all participating classrooms at 32nd Street. The celebration included a class video montage, a live family workshop and a freestyle dance party led by Professor Bong and USC Kaufman teaching artists. A number of 32nd Street students' family members, USC Kaufman staff and representatives from several program funders also joined the fun. In all, over 220 participants were able to partake in the festivities.
"There's only so much we can do these days to stay active and creative as our everyday lives have moved online," said Bong. "It was refreshing to see the 32nd Street and USC Kaufman communities so committed to the program, despite being completely online."
Moving forward
With the continued help of its generous funders, Kaufman Connections will provide virtual classes in the upcoming spring semester. They hope to return to in-person instruction in the program's fourth year. Kaufman Connections also hopes to add new grade levels to the mix of students from 32nd Street.
Kaufman Connections Funders include USC's Good Neighbors Campaign, the University's community outreach initiative, and American Dance Movement, which aims to improve and increase access to dance education in the United States. Last month, USC Arts in Action awarded the program renewed funding for a third consecutive year. USC Arts in Action plants seeds for positive social change by activating arts projects between community partners, students and faculty.
For more information about Kaufman Connections, please visit kaufman.usc.edu or watch the video below: