Kaufman Connections returns to 32nd Street classrooms
August 9, 2019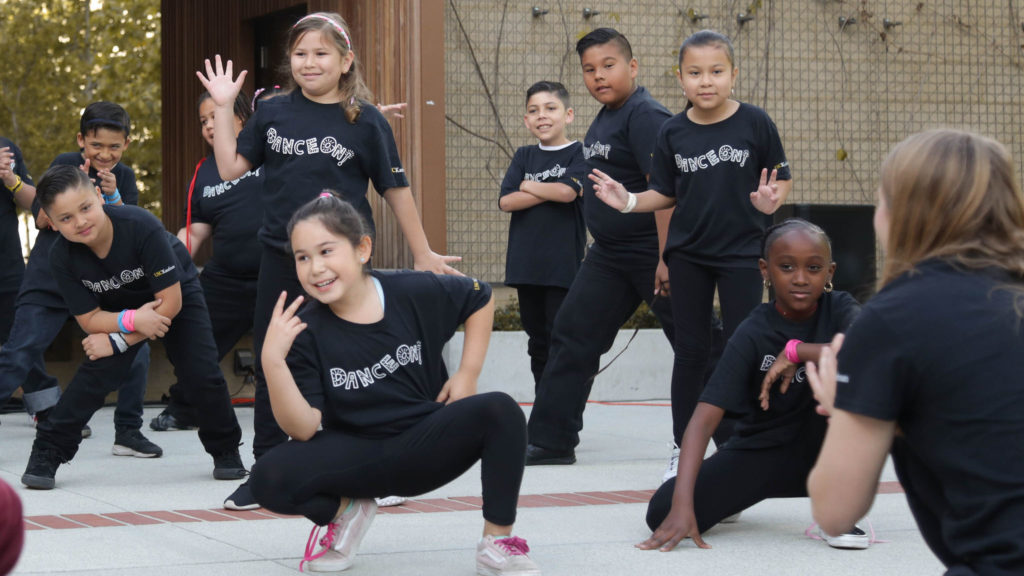 This fall, the USC Glorya Kaufman School of Dance enters its second year of Kaufman Connections. This partnership with 32nd Street Elementary School offers a 24-week, hip-hop dance program led by USC Kaufman BFA students, who are also known as "teaching artists."
During the 2018-2019 school year, Kaufman Connections brought the choreographic process—with a focus on hip-hop— to over 200 3rd through 5th grade students through weekly, one-hour sessions of integrated dance instruction on the 32nd Street Elementary School campus. Ultimately, the program participants demonstrated their learnings through two performances: one in the fall at an annual arts showcase at USC's Bovard Auditorium, and a culminating performance in the spring at the courtyard of the Glorya Kaufman International Dance Center.
"We are so thrilled to return to 32nd Street Elementary in the coming year to kick off Year Two of Kaufman Connections," said Program Director and USC Kaufman lecturer Tiffany Bong. "Giving back to the community, especially the neighborhoods surrounding the USC campus, is a priority for USC Kaufman and really underscores our philosophy of a New Movement designed to create the next generation of dance leaders."
New Year, New Features
As the program progresses, USC Kaufman is looking to build upon the successes of Year One by increasing the school's level of engagement with the program and improving the overall experience for the 32nd Street students.
In its second year, Kaufman Connections will expand into 6th grade classrooms. This will foster a continuum of success and allow students to build upon their learnings which begin at the 3rd grade level. Additionally, USC Kaufman will collaborate with the USC Thornton School of Music to add a live music element to the classrooms. Furthermore, USC Kaufman's teaching artists will receive augmented training designed to improve their partnerships with the students and teachers at 32nd Street through a new course called, "Hip-Hop in the Community." This course intends to cover approaches to community engagement, leadership and pedagogy.
Generous Support
Kaufman Connections' second year is made possible thanks to generous grants and funding from supporters, both old and new.
The program received a new grant for their second year from USC's Good Neighbors Campaign: a USC staff-funded initiative which supports local community programs focusing on education, particularly in the neighborhoods surrounding USC's downtown campus.
Kaufman Connections' second year is also made possible thanks to a grant from the American Dance Movement. Founded by Nigel Lythgoe (So You Think You Can Dance) and Adam Shankman (Hairspray, Step Up), American Dance Movement has been encouraging communities to get moving through dance for over 10 years by funding dance education in underserved communities, as well as educating the public on the many benefits of dance.
Finally, Kaufman Connections is also supported with generous funding from Arts in Action, a program under the USC Provost's Arts and Humanities Initiative. This organization supports USC arts activities that facilitate positive social change and enhance our collective quality of life within the community.
---
By Sara Silberman