Little Lectures: d. Sabela grimes on Musicality in Hip-Hop
September 14, 2017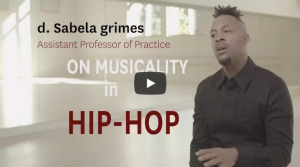 The faculty at USC Kaufman are constantly providing our students with inspiring insights and nuggets of wisdom that are simply too good not to share! So we're kicking off a new series of "little lectures," in which a few members of our faculty will impart a quick insight into an area they know extremely well.
To start us off,  Assistant Professor of Practice, d. Sabela grimes explains how the techniques and nuances of musicality in hip-hop can translate into other styles of movement.
Stay tuned for more "little lectures" to come and be sure to subscribe to our YouTube channel!