USC Kaufman students launch Mental Health and Holistic Healing
August 30, 2021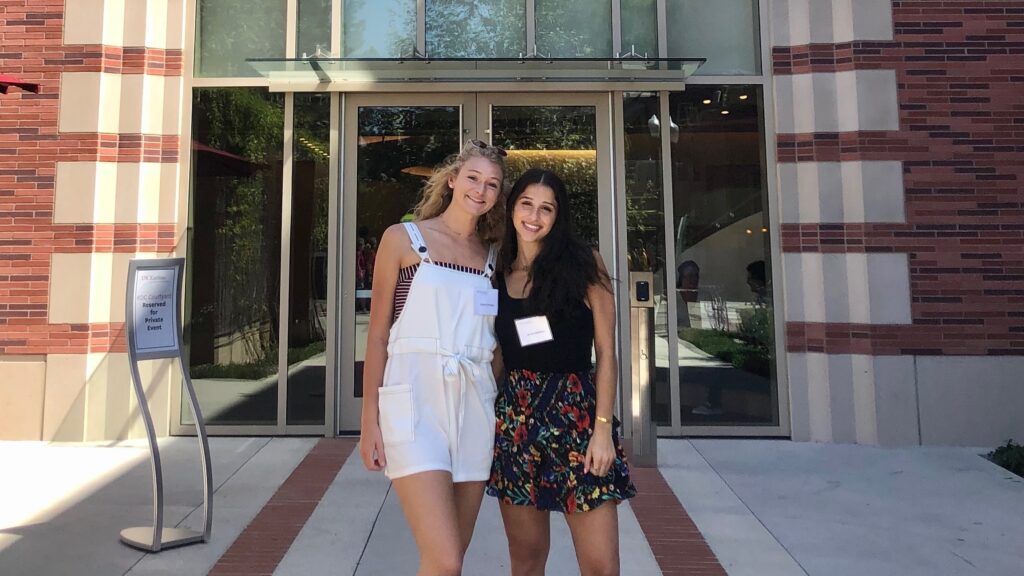 Growing up as a dancer, Lauren Brophy (BFA '23) shared that mental health was not often acknowledged in her practice. Once she got to college, she began to think about that absence. She wanted to work on prioritizing both her mental and physical health while at the USC Glorya Kaufman School of Dance. Upon meeting her first year roommate, fellow dancer major Jenna Meilman (BFA '23), the two found common ground through their artistic passion and prioritization of mental health.
After a year of dancing on Zoom due to COVID-19, the pair began to feel the mental strain of online classes. As they looked toward their junior year at USC Kaufman, they felt eager to fill a leadership role at the school, especially surrounding mental health. After talking with their peers in the Class of 2023, Brophy and Meilman saw the toll of virtual classes and sought to create an outlet for their classmates.
Establishing Mental Health and Holistic Healing
From there, Brophy and Meilman decided to start Mental Health and Holistic Healing (MHHH). This club would serve as a safe space for BFA students to prioritize their mental health. Through conversations, group activities and guest speakers, MHHH would strive to assert the importance of both mental and physical health for dancers. Along with this, the pair wants to create a monthly survey to get a read on the mental health of their BFA peers to curate future events.
"I was going through some health issues this past summer. Because of that, I had to take a forceful break from dance," Meilman said. "My health issues didn't really have to do with dance. So, I think that's what we want to emphasize with MHHH. This organization doesn't have to revolve around dance because mental health and holistic healing is for everyone. We're not trying to bypass our resources at USC, because I think they're amazing. But, we want to give another outlet to students."
The values and offerings of MHHH
According to Brophy and Meilman, the mission statement of MHHH is, "We strive to engage and provide resources for the USC Kaufman community, which bridge the gaps in our holistic health and healing needs, emphasizing on empathy, personalization, accessibility and collectivity." Since the inception of the organization, they have brought on two other members of the Class of 2023: Madison Falconer and Jai Robinson. They have also been working closely with USC Kaufman faculty members Bruce McCormick, Associate Professor of Practice, and Marisa Hentis, Instructor of Clinical Physical Therapy and Dance.
Brophy and Meilman said that they plan to launch MHHH in late September. As of now, the pair are planning the organization's first event. They want to host multiple guest speakers including Kathleen McGuire Gaines, a former dancer who founded Minding the Gap, a group dedicated to improving mental health in the dance community. Gaines was an instrumental force for Brophy and Meilman in starting MHHH. They both resonated with her famous article, "Why Are We Still So Bad At Addressing Dancers' Mental Health?"
"Kathleen Gaines works with the Point Park University dance program by focusing on students' mental health and how it relates to dance," Meilman said. "Mental health awareness is directly implemented into their program. I thought that should happen at USC Kaufman because we were coming back in person. What we're entering right now is going to be hard for everyone, but especially for dancers being out of studios for so long."
Expanding the reach of MHHH
Looking toward the future of MHHH, Brophy and Meilman want to expand their reach past BFA students to include USC Kaufman dance minors as well as others in the dance community around USC. They envision forming a collective of dancers who can come together for organic conversations and support during an especially difficult time for artists.
"We want to approach the larger artistic dance realm because we all kind of think alike," Brophy said. "We wanted to start out with the dance majors that we know. Then as it grows, we can expand to minors and people outside of USC Kaufman."
---
By Brigid Murphy