USC Kaufman announces new scholarship recipients
November 3, 2020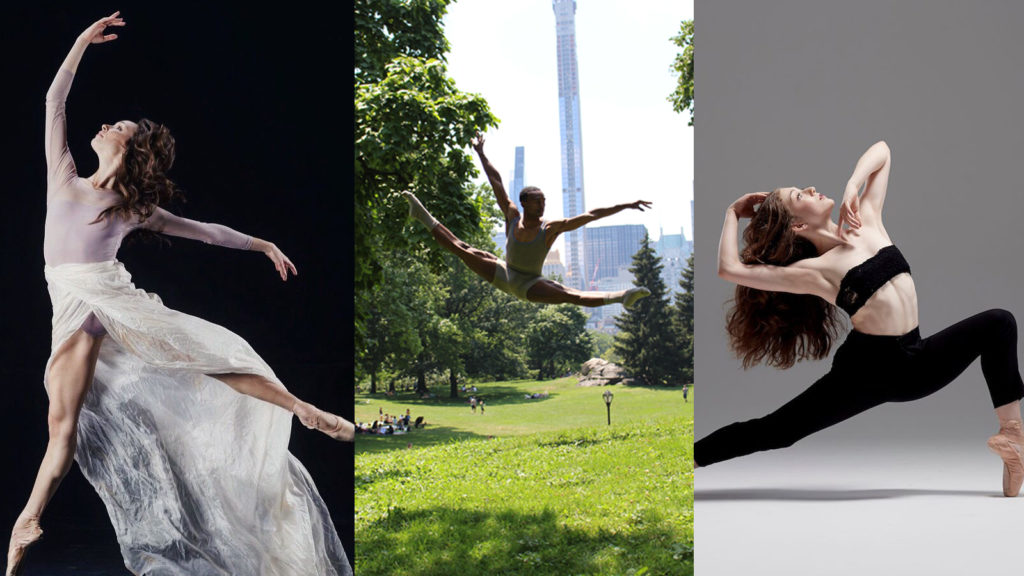 This fall, USC Glorya Kaufman School of Dance awarded three students from the Class of 2024 with scholarships made possible through donor support.
Glorya Kaufman Scholars
Two of the three, Catherine Lasak and Jau'mair Garland, were named Glorya Kaufman Scholars in honor of the school's founder and primary benefactor, Glorya Kaufman. There are a total of eight Glorya Kaufman Scholars, two in each class, with two new scholars selected from each incoming freshmen class.
Catherine Lasak
Lasak began her dance training at a small studio in the Chicago suburbs called the Judith Svalander School of Ballet. Throughout high school, she trained at Ballet Chicago. Lasak spent her summers at The School of American Ballet in New York City.
After high school, Lasak was a Professional Division student at the Pacific Northwest Ballet for one year. Following that time, she accepted an Apprentice contract with the Grand Rapids Ballet. Prior to beginning her studies at USC Kaufman this past fall, Lasak danced with Cincinnati Ballet 2 for two years.
"As a dancer who has spent the last four years in the professional world seeking a new sense of direction and eagerness to grow, it is hard for me to put into words how much it means to have an institution as incredible as the USC Glorya Kaufman School of Dance to welcome me into its beautiful, artistic home," Lasak said. "Without Mrs. Kaufman's support and belief in me and my craft, I never would have taken the chance on such a new and exhilarating path. USC Kaufman is full of opportunities to learn, grow, and truly find my footing as both an individual and as an artist."
According to Lasak, "Amidst the short duration in which I have been at USC Kaufman, even on a virtual platform, I have grown in more ways artistically, physically, and mentally than I had ever anticipated. I cannot fully express my gratitude or how blessed I feel to be supported by Mrs. Kaufman and her vision for this institution."
Jau'mair Garland
Garland began training at his local YMCA in Pittsburgh, Pa. where he was introduced to creative movement and hip-hop. Garland began his formal dance training in ballet and modern at Pittsburgh CAPA 6-12. This experience led him to the pre-professional company Reed Dance II, under the artistic direction of Greer Reed. He also attended the Ballet Academy of Pittsburgh before coming to USC Kaufman.
"My scholarship, so graciously donated by Mrs. Glorya Kaufman, has provided the opportunity to further my education and continue honing my craft," Garland said. "Her contributions have made taking my dancing to the next level accessible, in an environment where I can also grow as a scholar and pursue other academic interests. I am extremely grateful to have been provided with this scholarship and am truly blessed to be able to continue doing what I love."
The Felix Family Endowed Scholarship Fund
The third scholarship recipient, Hope Patterson, is the newest Felix Family Scholar. The Felix Family Endowed Scholarship Fund also provides support to a current USC Kaufman BFA student from the Class of 2023. The fund was established by Kaufman supporters Debbie and Michael Felix. Michael is currently a member of the USC Board of Trustees, and Debbie is a member of the USC Kaufman Board of Councilors.
"As a first generation college student I relied upon scholarship from generous Trojans. USC has transformed the lives and opportunities for our family. We felt compelled to pay it forward," Debbie and Michael Felix said. "We developed a true love for dance through our two daughters who performed and competed for over 15 years. They also had the honor of representing USC as Song Girls. We believe there is no better way to support the USC Glorya Kaufman School of Dance than to provide a similar opportunity to a deserving, talented student through scholarship."
Hope Patterson
Hope Patterson began her formal dance training under Giselle Liu through the Hong Kong Youth Arts Foundation. There she studied musical theatre, classical jazz and contemporary. In 2017, Patterson earned a place at the Hong Kong Academy for Performing Arts' Gifted Young Dancers Program.
During her high school years, Patterson trained under faculty and company members from Hong Kong Ballet. She also attended Ho Ballet School under the directorship of Davit Vardanyan. Additionally, Patterson received jazz and musical theatre training from Lucas Segovia and attended the Complexions Contemporary Ballet Pre-Professional Program.
"Becoming a USC Kaufman student was my wildest dream that has now become a reality," said Patterson. "I am so profoundly humbled and deeply grateful to the Felix Family for their generosity and belief in me."
The impact of scholarships at USC Kaufman
At USC Glorya Kaufman School of Dance, scholarships play a critical role in ensuring that students have access to the exceptional artistic training and rigorous scholarship provided by one of the world's leading private research universities. Scholarships derived from donor support, including donor endowed scholarship funds which are awarded to incoming freshmen, are done so based upon a combination of factors displayed in the student's application for admission and at the in-person audition and interview. Criteria include academic excellence, talent, leadership and service, as well as future contributions to the USC Kaufman community and dance landscape as a whole.
Donors who create endowed scholarship funds at USC Kaufman are held in high esteem as members of the Founder's Circle, a premier legacy group honored for their commitment to USC Kaufman students and the future of dance.
For more information on how to become a member of the Founder's Circle or support student scholarships, please visit kaufman.usc.edu/support/founders-circle.