Paul Taylor: Changing Dancers' Lives for the Better
August 31, 2018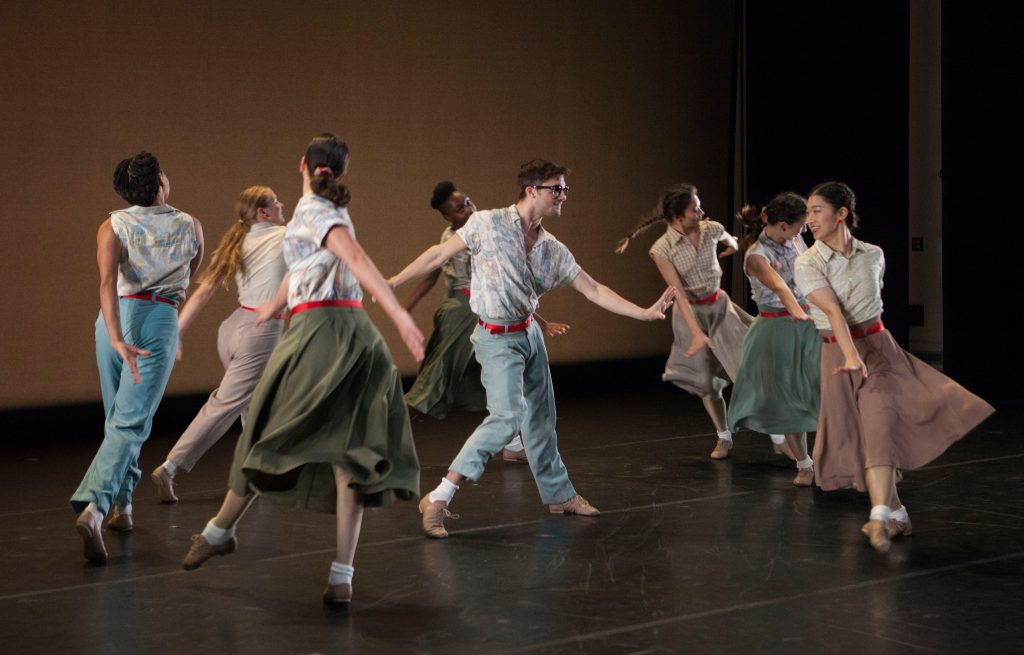 By Patrick Corbin, Assistant Professor of Practice
Today, a reporter for the Associated Press asked me what Paul Taylor meant to the dance world.
What didn't Paul Taylor mean to the dance world?
Breaking the rules
Roz Loo, the daughter of Liz Walton, sent me a picture of Paul and Liz in an intimate cradle lift from the duet in his dance Aureole. Liz passed away earlier this year. The two of them seem to almost be kissing. Nothing extraordinary, right? Except for the fact that the publicity photo was taken around 1962 and Paul was a caucasian man and Liz was an African-American woman. So Paul was a radical civil rights commentator?
Yes, Paul Taylor was radical in a number of ways. He created dances to baroque music when the use of 20th century music was de rigueur. He covered dancers faces with Robert Rauschenberg masks about which Martha Graham famously said, "Naughty boy, we never cover their faces." He paired walking, running, falling and simple rocking to Bach. He put a buffoonish group of KKK members in a comedy. Boy, did that anger the public. At a Q & A after a show a young man shouted "It's dangerous!" to which Paul replied, "ART SHOULD BE DANGEROUS!"
There were no rules he wouldn't break, no taste level that he wasn't ready to push. Life with Paul meant that an artist could be high, middle and low-brow all at once, intellectual and visceral. An artist could evolve and keep making work even when people (critics) counted you out. Paul was obsessed with the human experience and it came through in the works' nearly universal appeal. Even people who really hated him, people I actually heard say, "He's the Devil" agree that Esplanade and Musical Offering are masterpieces.
Serving a vital function
Paul's work also serves a vital function in the repertory of companies, especially ballet companies. Often, Paul's dances are a lifeline of sorts for dancers who may not fit the ballet mold or dancers who are pigeonholed as specific types. The work becomes a lifeline to happiness by creating opportunities for these dancers to move through space with abandon, confidence and joy. Otherwise many of these wonderful dancers may be overlooked or relegated to a lifetime in the corps de ballet.
It was such a lifeline for me when I was a ballet dancer. Paul changed my life for the better the moment I took my first step into a Taylor dance on my first day at the Joffrey Ballet. That first step launched me into an extraordinary life. Dancers from all over are reaching out to me to say how much Paul's work means to them. Of the many things that Paul Taylor means to the dance world, the pure joy of dancing for dancers is paramount. He is still changing dancers' lives for the better. I think he always will.
I am grateful that I have the opportunity to introduce a new generation of dancers to his wonderful work. It is so fitting that our USC Kaufman students are going to be dancing the last section of Esplanade this year. To watch them literally dive into the process has been nothing short of thrilling. They are amazing doing this amazing work. Long live Paul Taylor!