Penny Saunders details upcoming livestream performance
September 8, 2021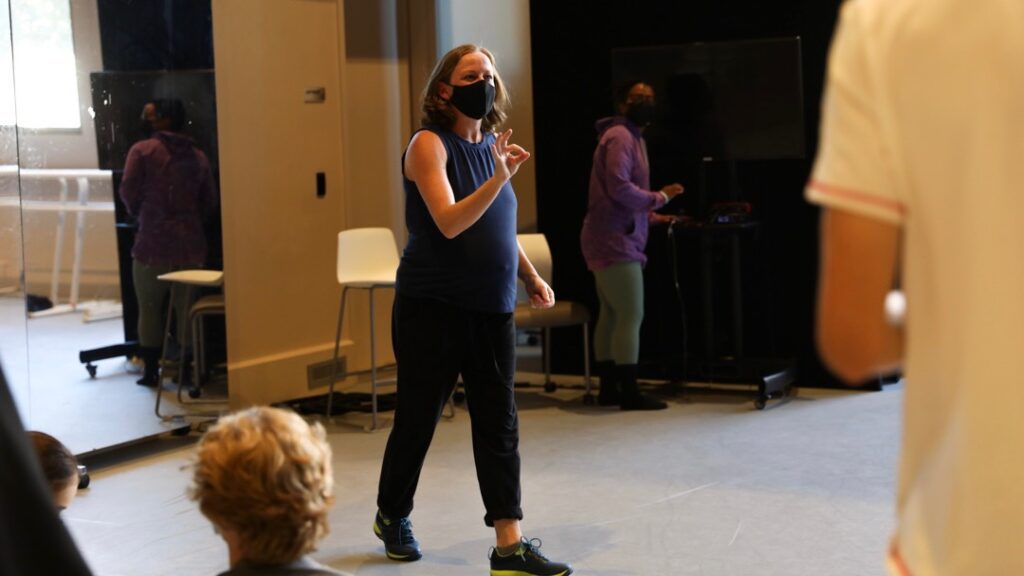 Artist in Residence Penny Saunders joined the faculty at the USC Glorya Kaufman School of Dance this fall. Through August and into September, she has collaborated in-person with the Class of 2023 on a new work. The piece will be performed through livestream on Saturday, September 18.
Flexibility in dance education and performance
While Saunders has assumed a new role in her career as a dance educator, she brings her wide spectrum of professional experience to USC Kaufman. Previously, she visited the School of Dance for a Hubbard Street Dance Chicago summer intensive. She then welcomed the opportunity to return and teach BFA students despite restrictions brought on by COVID-19.
"Throughout the pandemic, I was on the USC Kaufman radar as being flexible because not all dancers were able to make the quick transition from stage to film or livestream," Saunders said. "There were so many unknowns about planning programming, and USC Kaufman understood the need to have someone that was willing to jump ship on stage work and shift to a live stream or a film. Luckily, I fit the bill in being flexible – I quite enjoy it – and I'm very honored to be invited to teach."
Artistic collaboration for the livestream
With the livestream medium, Saunders wants to record the performance in an interesting way that will enhance the viewing experience. The piece will be presented in collaboration with RYBG, a multidisciplinary production company run by USC Kaufman alumni Adam Agostino (BFA '19), Justin Epstein (BFA '19) and Noah Guthier (BFA '19). The livestream will utilize multiple cameras to offer varying perspectives during the performance.
"We're going to hang a camera overhead, so I'm choreographing with that in mind for some sections," Saunders said. "We'll also have a tripod for a full-view shot that we can zoom in and out of. We plan to have one moving camera as well so that it can feel immersive in certain sections of the piece. We haven't totally figured it all out yet, but I think it'll be a more interesting way to view it live."
In the studio, Saunders has appreciated the intuition of the BFA students. Currently, she is eight-months pregnant and her movement is restricted, but she has noted the ability of the Class of 2023 to quickly interpret her verbal instructions. Throughout this process, Assistant Professor of Practice Shannon Grayson has been present to assist in the studio as well.
Integrating the argument between tradition and progress
For her works, Saunders often creates her own music. For the piece with the Class of 2023, she collaborated with composer Michael Wall to remix the second movement of Beethoven's Symphony No. 7 with a reading by English writer G. K. Chesterton along with other sound effects. In the reading, he discusses the relationship between tradition and progress.
"Chesterton says that it's a true dichotomy between tradition and progress where one can't exist with the other," Saunders said. "So within the choreography, we're discussing this age-old argument through our movement. I'm using the traditional music with more contemporary music and then this traditional thought process against this more contemporary movement quality to discuss these things more loudly."
Audience takeaways
In viewing the performance, Saunders hopes the audience feels immersed in the experience so they do not feel robbed of emotional impact due to the virtual setting. Finally, she hopes to spur thoughts on the matters of tradition and progress for viewers to interpret on their own.
"This argument around tradition and progress has been around forever, no matter the subject. If we didn't have it, we would just rely on what has always been. No one would be pushing against others to make things more fair, diverse or accessible," Saunders said. "I'm also hoping that there's a bit of room for interpretation, and I'm not just dictating the piece's meaning. I tried to leave some room for that so the audience can tell me what it means to them."
USC Kaufman Artists in Residence are supported in part through generous funding from The Choi Family Artists in Residence Fund. This livestream event takes place virtually September 18, 2021. Click here to RSVP.
---
By Brigid Murphy