A Day in the Life: USC Kaufman senior goes from the studio to the stage
October 8, 2018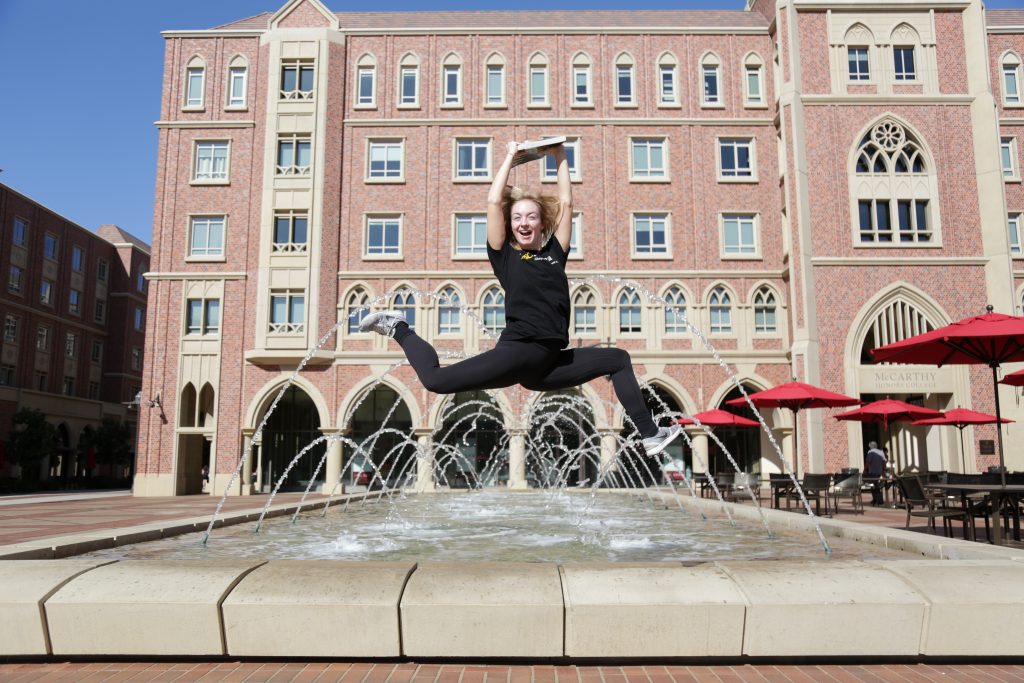 This September, USC Kaufman New Movement Residency artist Seda Aybay's work NOIR premiered at The Broad Stage. For this performance, USC Kaufman senior Rachel Walton was asked to dance alongside the members of Aybay's company (Kybele Dance Theater) marking her first professional performance opportunity.
Walton initially became involved with Aybay's work during the choreographer's New Movement Residency last summer at USC Kaufman.
"I would learn the choreography and stand in whenever I was needed, so I got to observe Seda [Aybay]'s choreographic process and work with both her and her dancers," Walton said. "I really enjoyed the process of rehearsing with the Kybele Dance Theater dancers. They did an amazing job of including the Kaufman students in the rehearsal process, and were very easy-going."
After her residency, Aybay asked Walton to be a part of the NOIR premiere performance, and choreographed Walton into three pieces featured in the program. NOIR was Walton's first professional performance, and she gives credit to her education at USC Kaufman for preparing her for the experience.
"Aybay was impressed with the versatility of all of the Kaufman dancers who participated in the New Movement Residency, as well as our capacity to pick up choreography," Walton said. "Studying at Kaufman consistently teaches me more about working under professional conditions and trains me to be ready for any kind of dance style. We learn and perform many different repertory styles, and the students function like dancers in a company would."
Walton walked us through her experiences with Kybele Dance Theater the day of the performance:
An Early Morning
At 10 a.m. Walton traveled to The Broad Stage in Santa Monica to take class with the Kybele Dance Theater company dancers on stage.
"[The Broad Stage] is an incredible venue," she said. "We actually saw Kidd Pivot perform there last year so it was incredible to be performing on a stage where I've been in the audience."
Then, Walton and the rest of the cast set off to prepare for a small matinee performance.
The Matinee
For this show, the Broad brought in a number of different high school student groups– many of whom had never seen a live dance performance before.
"Their energy was really inspiring," Walton said. "They gave us a standing ovation!"
Once the performance ended, Aybay led a discussion about the choreography and the importance of sharing art with younger audiences. She explained how NOIR called upon archetypes of the film genre. This helped to create a contemporary narrative piece, using movement and projection to set a distinctly "noir" tone.
The Main Event
After a short dinner break, the dancers got ready for their final evening performance.
"It was surreal," Walton said. "I've been dancing my whole life and preparing to dance professionally, but this was my first real professional performance. I am really thankful for the experience, and am looking forward to potentially working with Seda [Aybay]  in the future."
---
By Sara Silberman