Senior Satori Folkes-Stone's "Super P.C." talks femininity in all its forms
April 18, 2019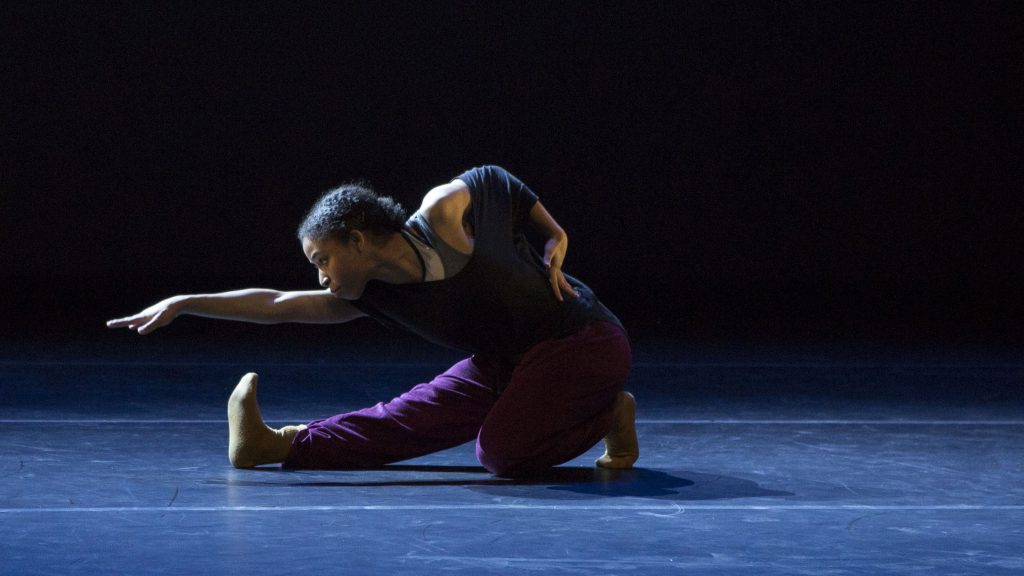 USC Glorya Kaufman School of Dance student Satori Folkes-Stone (BFA '19) had her senior project in mind long before she presented it live on March 28. Her process began more than six months earlier—by last August, she had already conceptualized the piece and assembled a team. The piece would explore gender with an all-female cast. "Super P.C.," short for "Super Politically Correct," would eventually become her senior presentation.
Early stages and settings
Folkes-Stone dedicated time and space to this new work during her fall composition course with professors Jennifer McQuiston Lott and Dawn Stoppiello. The course, DANC 350, features an emphasis on music and media. Its parameters gave Folkes-Stone another layer of the subject to consider. The course culminated with a major assignment: show work that uses projections in an installation setting. Dance makers added projections through Troikatronix's Isadora, co-created by Stoppiello herself. Once she added them, Folkes-Stone found new subject matter bubbling to the surface.
"I didn't know how to reconcile projections with what I wanted to talk about, how to make the extra content aid what I was trying to say," she explained. "Somehow I wound up at hair. I started talking about a specific hair texturizer that a lot of black women are familiar with from their childhood."
Folkes-Stone used the inspiration to pivot her installation toward this very particular representation of race and gender. She used the texturizer's application instructions in projections, and even sang to accompany the movement phrases she had crafted for her cast of seven women. The original cast: Ardyn Flynt (BFA '19), Rachel Harris (BFA '20), Jessica Muszynski (BFA '19), Alyssa Myers (BFA '20), Lillie Pincus (BFA '20), Amaria Stern (BFA '20) and Lenai Wilkerson (BFA '19). This first version of "Super P.C." in November was a teaser: it was obvious that Folkes-Stone had much more to say.
Research and reframing
From here, however, the task had become complicated: with the new and innately racially connotative topic of hair in the mix, she had to consider her multiracial cast. The voice that was coming from this initial installation would have to be revisited—she said it came out of her with a sort of compulsion—but it would not be through "Super P.C." It would have to wait.
"I knew I needed to make a piece about black women and their hair. That's a very visceral concept," she said. "But it couldn't live here, with a multiracial cast. I didn't feel sophisticated or learned enough as a choreographer to navigate that yet."
Framing the subject in the light she intended became a careful curation. Rather than recasting the work, Folkes-Stone leaned heavily on the original seven women for their stories. She knew that an open dialogue for participants was necessary in her process. Without discarding all the existing work, they had to let go and open their minds to a new discussion.
"It became us getting to tell our stories—some with intricacies that were very specific to black women—but with other people holding space as well," she said.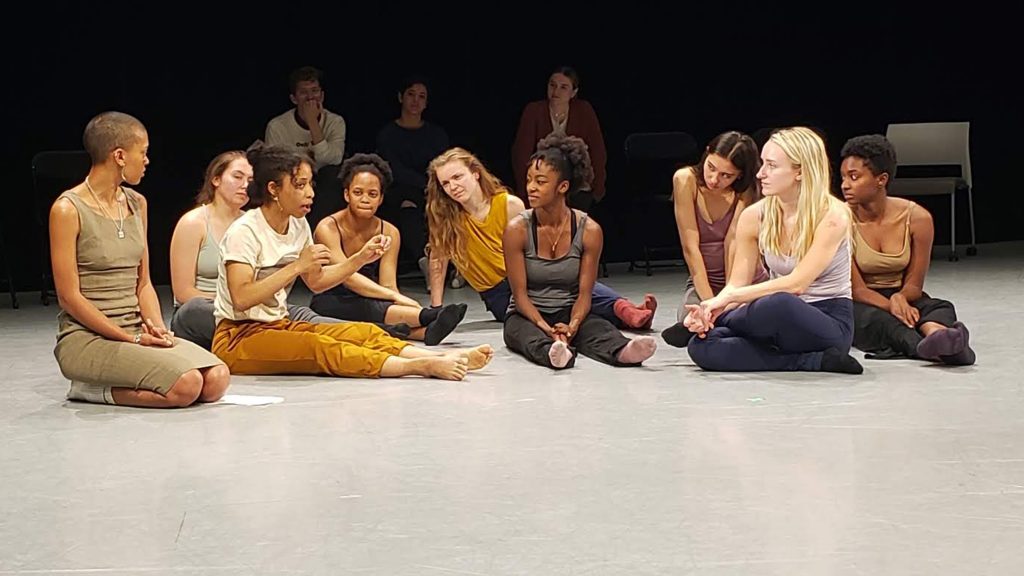 Female stories and social coding
When the piece premiered in March this year, she converted USC Kaufman's large performance studio into an intimate and thoughtful setting. The audience sat in a circle, and the seven women created their own space in its center.
"It's an intimate moment with seven female-identifying people who have stories to tell and are willing to share it with the audience," Folkes-Stone said.
She decided not to sing in this version: she didn't feel it was necessary to enter the space as a performer when the piece had changed trajectory. Instead, each cast member told stories of their experiences as young women. Their tales were specific and intimate. It felt as though you were peeking into their memories but simultaneously reliving your own. Folkes-Stone masterfully placed socially coded movements into key phrases. Duets between women showcased the different dynamics of female relationships: the first supportive and sisterly, the second discordant and competitive.
"The first duet is kind of an artifact from when I was still living in two pieces, before that turning point. To me, that's the moment when the black girls walk away from their other friends and we watch the code switching, how the space changes," she said. "Rachel felt like she was looking out for Amaria, creating a safe place for her, and vice versa."
For the latter, Folkes-Stone said she gave the women one task: to get underneath each other.
"I knew that task would read in interesting and different ways. I thought it was necessary to have a contrast," Folkes-Stone said. "Because that subject is real. We talked a lot about internalized misogyny, women against women, and how tangible that is."
Evoking conversation through talkback
Following the movement dialogue, she felt it was necessary to include the audience in a conversation as well. Her friend Annahstasia Enuke facilitated a talkback, in which the title "Super P.C." became ironic. The audience was encouraged to ask—in a respectful manner—about subjects that may seem taboo in a diverse performance space today.
"We walk on eggshells with all this 'politically correct' lingo, but that doesn't mean all the prejudice behind it has disappeared," Folkes-Stone said. "'Super P.C.' was meant to evoke real conversation, so it had to have a talkback."
She felt that audience feedback was engaged and curious; while a few questions came close to controversy, dialogue helped this particular group of people to work through the topic. Through feedback, they reached an understanding of the bigger implications of these small stories.
Folkes-Stone said her family especially saw a more articulate artist emerge through this work. While she has been choreographing for a long time, this was the first time she had designed an evening so holistically, shown herself and spoken so clearly through the creation.
All things considered, however, she meant for the work to showcase its cast. That was her strongest intention. She plans to continue developing the piece, especially after receiving such positive feedback from audience and faculty.
"In the future, you could really plug any body into this piece. Things could shift, new bodies and energies in the space and it'll shift, but it's an interesting template," she said. "But I'm learning as a black female choreographer that it's important for me to take space with other black female bodies. It doesn't always have to include others to change people's hearts, it can sometimes just be about us. And maybe that can change people, too."
---
By Celine Kiner