Student Blog: Academic life at USC Kaufman
January 19, 2016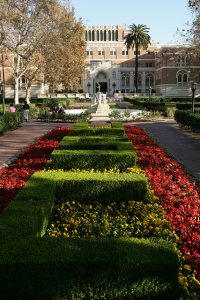 By Celine Kiner and Beau Foley
Aside from the stunning array of faculty members and guest artists that visit USC Kaufman, there is an academic aspect to our program; it's what makes us unique, the allure of a conservatory program within a traditional university setting. Though I've consistently written about my life as a dance student within technique, repertory, and improvisation classes, I haven't yet addressed the aspects of student life as a part of the University of Southern California as a whole.
Firstly, let me say that I applied to colleges expecting to major in either dance or in biology–I believed that there was no program in which I could pursue both passions at a rigorous level, and that I would have to surrender one to the other as my college career began. I stumbled into the debut of the USC Kaufman program unexpectedly, and it seemed as though the stars had aligned. The faculty had created an environment in which I could be challenged in both, and perhaps even combine them, yet there were still concerns about whether they would blend successfully.
Upon completion of my first semester here, I can confirm this successful blend with confidence. The university's academics rank among the top colleges in the nation, and somehow manage to fit in between our crazy rehearsal schedules. (More accurately, the faculty works hard on the rehearsal schedule to ensure that it doesn't conflict with our academics.) Our academic professors, or at least those that I have had so far, are appreciative and supportive of the arts–last semester, Professor Solomon even made an appearance in the audience at Groundwork and afterward demonstrated his extensive knowledge of ballet terminology in conversation. His was my first general education course at the university, and it quite exceeded my expectations. Discussions of social hierarchies in room 255 even led me to consider future classes in similar subjects, especially gender studies. Not only that, USC is a major research university. I have been fortunate enough to land a position in a molecular and computational biology lab, where I receive hands-on training in science skills I had previously only dreamed of (and dissect large amounts of mice). Working there has been  huge supplement to my aspirations for a double major, and fits neatly in my daily schedule.
Possibly the most important facet of USC Kaufman's integration of dance and academia is the application of these skills to our career. Beau Foley, a fellow BFA student, describes such application perfectly:
"I feel like the academic aspect of our program is extremely essential. As dancers we shouldn't only be physically knowledgable about the things we are studying, but we should also be academically knowledgable. For example our careers don't just stop at dancing for a company. We can go on to writing critiques or blogs about a company, and writing now can really help us in the future. Also we need to know the history behind dance to be well rounded and knowledgeable about our craft. A musician knows all the greats like Bach, Stravinsky, and Mozart. An artist knows of Vangogh, and Picasso. So as dancers we need to know people like Balanchine, Maria Taglioni, and King Louis XIV. We also learn a lot about the now in dance. We always have to be up to date on the latest movement style and biggest choreographers."
It's true; there is so much more to dance than just dancing. You must love your art, and know it inside and out in order to practice it. While the love comes naturally, the knowledge comes through education, which we receive at the highest caliber here, only at USC. Dance on!