Student Blog: Choreographers and Composers 2020
March 9, 2020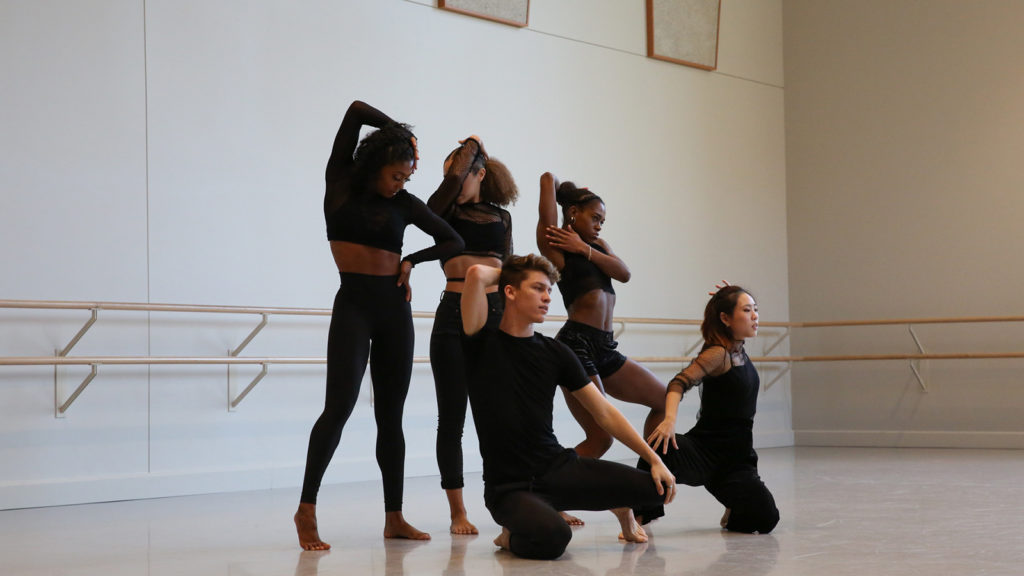 This semester, we had the opportunity to engage in a collaborative experience with students from the USC Thornton School of Music and produce our own student works. We were divided into several small groups and were paired with a student composer. We then began to embark on our journey of creation!
Searching for inspiration
Our group was inspired by our composer Katie Palka's concept of exploring waves and motion between different forms of water—both its literal processes and symbolic connotations. When it came to exploring the theme of waves, we found a lot of parallels with daily life. We then created a storyline of someone who physicalizes the waves of emotions, using Katie's five sections of music to help create our storyboard of choreography.
Our group decided to generate material in silence. We did this by utilizing the ideas and images given to us and using these as inspirations. Some sections we created individually and others we generated collaboratively. After generating material, we developed the movements into phrases and then created the final structure of the work. Not having the music during this process helped us to understand that the possibilities are endless.
Fluidity of ideas
Upon the suggestion of Professor Thomas McManus, we watched the movie "Waves" to get an idea of what this piece could be like. Watching the movie helped in many ways. One thing we took away from it was the idea of transitioning and learning to release conflict and embrace differences.
Within the change of ice melting and turning from solid to a liquid, there is a parallel to life in which you must learn to adapt to change. We all learn to deal with conflict differently as a result of what has affected us, but learning to adapt and being able to deal with change is another skill used for survival. In the movie, the protagonist learns to leave the life she knew behind and establish a love for what is to come and that is what we've learned.
A collective working experience
This process has been challenging as this is our first time working with a composer. When we first started working with our composer, we communicated with Katie in the same way we would communicate with other dancers. However, we found that the use of vocabulary and terminology is significant. One word could mean something to a dancer while it means something different to a composer. This process has also helped us think about music differently. Musicians interpret music in a different way than dancers. That is something that was hard for us to understand at first.
Overall, this process has definitely served as a learning experience. As a collective, we can say that we all take things away from the whole. There were aspects that we were not fully aware of when originally walking into Choreographers and Composers. This was a project that entailed more than just the musicians, composers and the choreographers. We had to consider all aspects that go into creating a piece such as costuming, spacing, staging, lighting and communication.
---
By Ciara Billups, Emily Carr, Anijah Lezama, Luke Qualls (BFA '22)