Student Blog: Leaving Inspired by Dance in Berlin
June 10, 2022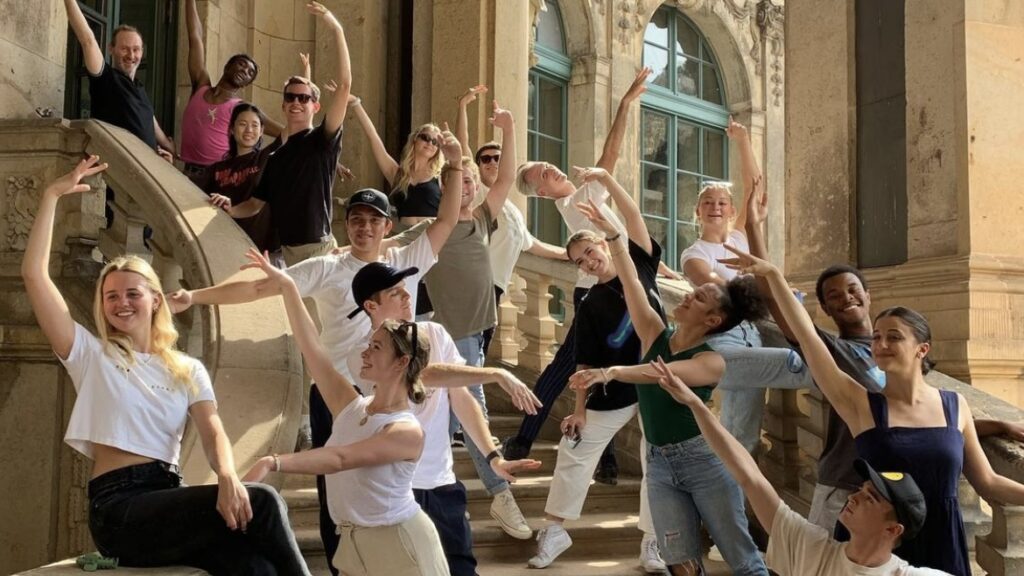 Lauren Brophy (BFA '23) and several of her peers recently traveled to Berlin, Germany for the USC Glorya Kaufman School of Dance Maymester. This year's program was led by professors Bruce McCormick and Thomas McManus, who both have lived in Germany. In this student blog, Lauren shares her experience seeing live performances in Germany and reflects on the three-week course.
Seeing live performances
After a long time without live performances, it was such a pleasure to see so many shows, especially in a mecca of dance like Germany. We had the opportunity to observe the Staatsballett Berlin's professional class and morning rehearsals. That same night, we saw them perform Onegin at the Berlin State Opera house. This experience made me fall even deeper in love with dance. Observing a professional environment and witnessing the transition from studio to stage was truly a once in a lifetime experience. Because of this, that performance of Onegin was my favorite ballet I have ever seen. The clear emotion in conjunction with such pristine ballet technique made for a perfect show, not to mention sitting in the audience alongside my peers and classmates, equally as enthralled with the performance as myself.
That performance was so good, I just had to go back the next evening to see their rendition of Sleeping Beauty. Later that week, we traveled to Dresden to see the Semperoper Ballet's dress rehearsal of Peer Gynt by Johan Inger. Having seen a wide variety of performances in a short period of time, I left Europe feeling inspired and motivated.
Reflecting on the past three weeks
During our last week, we changed the scenery a bit and moved to the battleROYALE studios. Here, we could explore an entirely new and different part of the city. We had the opportunity to take classes from many European artists, including Orlando Rodriguez, Kadir "Amigo" Memiş and Justin Kennedy. Hearing all their unique stories and experiences with European dance, I began to look at movement from a different perspective. Learning each of their approaches to dance and composition was so rewarding. It gave us a wider scope of the dance scene in Europe, considering their immersive experience with art there.
On our last day, we presented our projects and discussed our takeaways from such an educational, experiential three weeks. We all learned so much from our guest teachers, city tours, museum visits and personal experiences. It was amazing to see everyone's individual take on the Maymester as a whole. In a city with so much history all around, it's nearly impossible to not be inspired by the profound architecture, mind-blowing street art and overall culture of a place so thoughtfully preserved. This city is a symbol of progressive remembrance, and being here has changed the way I think about art for the better.
---
By Lauren Brophy (BFA '23)