Student Blog: Learning About Culture and History in Berlin
June 2, 2022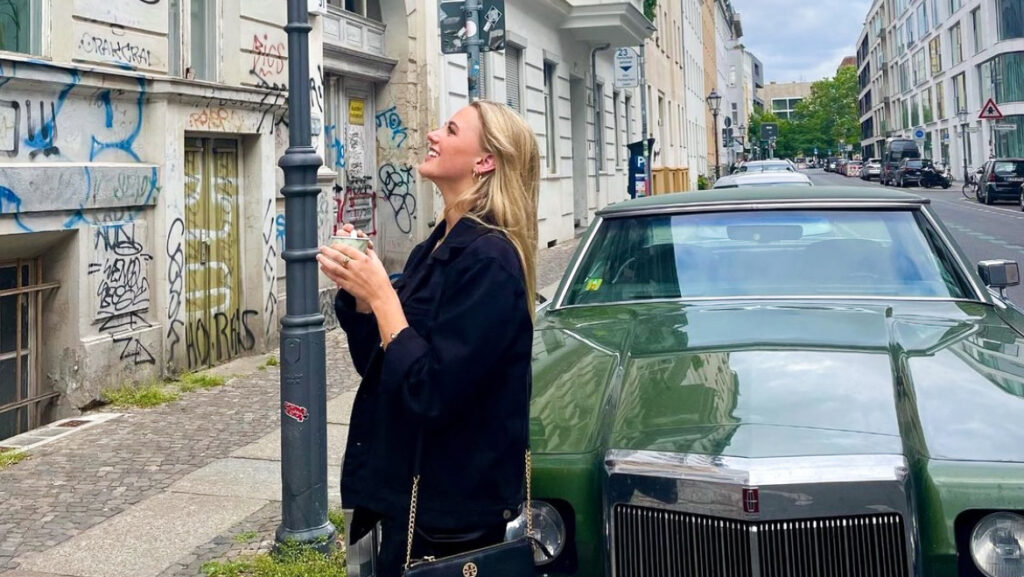 Several of my fellow BFA students and I are here on a Maymester in Berlin, Germany with the USC Glorya Kaufman School of Dance. This course is led by USC Kaufman professors Thomas McManus and Bruce McCormick. Aside from taking dance classes and viewing performances, this trip includes a focus on German history and architecture. We have been taking guided tours of Berlin, learning about the stories behind different buildings and structures.
Stepping outside of USC Kaufman
One of the many amazing things about USC Kaufman is the community. We spend hours on end in the beautiful studios or classrooms learning and growing as dancers with our cohorts. The Glorya Kaufman International Dance Center is our home, but often, it can become an insular bubble. Sometimes I forget that life goes on outside the vaulted windows that house our protective circle. In Berlin, I want to look outside myself to change my inner perspective on who I am and how I fit in this world.
With the incredible culture and history in Berlin, I am beyond excited to explore the city and soak up all the knowledge it has to offer. I have always had a love for history and storytelling. I want to see how this particular aspect of the trip can inform my artistic pursuits. The Berlin dance world is full of experimental contemporary work that I have not deeply explored thus far. I'm looking forward to entering the contemporary world of Berlin and leaving the confining standards of American contemporary dance. Above all, I want to be okay with changing the narrative of who I think I am to become an independent and new version of myself.
An artistic haven for dancers
Moving my body after sitting straight-backed on a hot plane for more than nine hours felt like coming home. As soon as I entered the beautiful Radialsystem studio, I was in awe. The windows reflected blue and green hues of nature onto the slick black floor as colorful words written in chalk adorned the industrial concrete walls. Looking onto the canal below, I saw boats full of people gawking at the city as I gawked at them. The studio is modern and minimalist, but still buzzing with a history of creative activity. Originally, the building served as a pumping station for sewage. They built the glass cube representing modernism and innovation above the initial structure, giving the building a new purpose.
The space felt so sacred and once we started dancing, the surroundings informed my movement instantly. With no mirrors or room for judgment, it was refreshing to dance without my reflection staring back at me. I was in the moment, moving my body to rid myself of jet lag and any tiredness that plagued my limbs. After wiggling around, I felt restored and renewed as if a vacuum had purged my insides of crumbs and dust. They built the studio to be an artistic haven for dancers, and I knew that it would serve as a sanctuary for my creative growth in the weeks to come. I love the idea that Radialsystem was designed for a specific purpose. I was fulfilling its intended prophecy by acting on the inspiration it gifted to me.
Ready to dive in
Sitting on the warm stone steps of the Altes Museum or the "Old Museum" on Museum Island in Berlin, I see the grassy Lustgarten is alive with activity. Little children are playing soccer while pairs of two lounge on the grass picnicking and people watching. It reminds me a bit of Central Park on the first day of spring in New York City. Except, if you zoom out, the towering architecture of Berlin's history encloses the space instead of modern skyscrapers. Sitting as a speck at the feet of a building that's seen it all, I want to know how it survived so much.
The Lion Fighter statue and the Amazon Woman statue stood guard during all the wars and regime changes and they are still here today watching over a modernized Berlin full of seemingly happy citizens and tourists going about their daily lives. If I stood next to the statue of the Amazon woman slaying a tiger, I might be tall enough to touch the hem of her toga. If her horse suddenly came alive, it would trample me in an instant under its stone hooves. The size of the statue and the massive columns at my back remind me that I am so small. I am but one groove amongst the infinite indentations in the stone of the museum under my feet.
In a city with so much history, I have found myself wondering how things looked 100 years ago or even 30 years ago when a wall of a brick cut through Berlin like an ugly scar. These enormous monuments and structures couldn't have looked that different compared to now. But then again, the rubble of World War II would argue the opposite. The rich culture of the physical buildings as well as the people walking through them, make me want to learn more. To learn the who, what, when, where, and why of everything. The why of today comes from the events of yesterday, so I'm ready to dive in.
---
By Ashton Benn (BFA '24)