Student Blog: Day in the life of a third year at USC Kaufman
October 27, 2021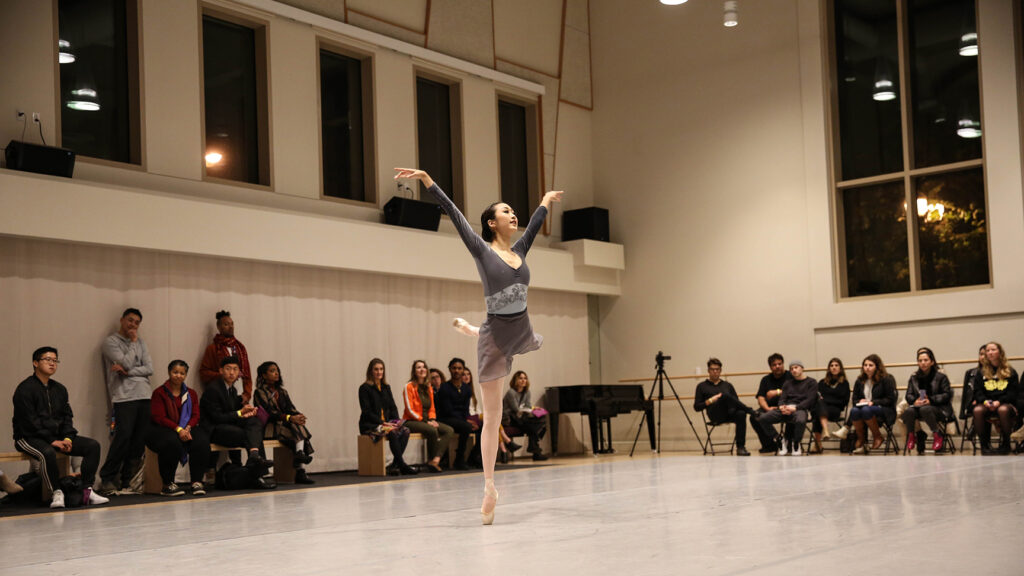 It has been a whirlwind of a journey at USC Kaufman. It is still unbelievable to me that I am currently in my junior year. Reflecting on my journey thus far, I am filled with gratitude to see the knowledge I have gained through these essential years. I have formed new relationships to dance, to myself and to the community that surrounds me. There is never a dull moment with the busy lives we live as students. We run from lectures, to dance classes, to rehearsals, to study sessions, while also making sure that we have a good time along the way!
Day-to-day
I am currently living at Icon Plaza, a brisk 12 minute walk from the Glorya Kaufman International Dance Center. There, I live with five other students of different, impressive majors and backgrounds. My days usually consist of leaving my apartment early and coming back after a full day of classes and dancing.
After my daily schedule of classes, my evenings are usually filled with student work rehearsals, various projects, homework, studio time alone or with peers, going to the gym or hanging out with friends.
As a junior, I choose to take Ballet five days a week. Some of my peers take Ballet on Mondays/Wednesdays and Musical Theatre on Tuesdays/Thursdays. On Fridays, we can choose to take either Ballet Technique or Pilates. The second technique class consists of Hip-Hop with Lecturer Tiffany Bong on Mondays/Wednesdays and Contemporary with Professor Patrick Corbin on Tuesdays/Thursdays. On Fridays we have Contemporary Partnering with the lovely Fiona Lummis. In this class we learn partnering repertoire by Jiří Kylián.
Apart from technique classes, I am currently enrolled in Advanced Composition. This is an elective that I am taking to fulfill my concentration, Choreography for the Stage and Screen. Outside of USC Kaufman, I am currently taking Introduction to Geosystems, which fulfills my GE-F, and Art and Performance in America which fulfills my academic interests.
Schedule
Here is a sample of my Monday and Thursday course load:
Mondays:
8:00 a.m. – 8:50 a.m.: Introduction to Geosystems
9:00 a.m. – 10:20 a.m.: Advanced Composition
10:30 a.m. – 11:50 a.m.: Ballet
11:50 a.m. – 1:20 p.m.: Hip-Hop
1:30 p.m. – 2:00 p.m.: Lunch
2:00 p.m. – 4:50 p.m.: Repertory and Performance
5:00 p.m. – 6:20 p.m.: Countertechnique
Thursdays:
10:30 a.m. – 11:50 a.m.: Ballet
12:00 p.m. – 1:20 p.m.: Contemporary
1:30 p.m. – 2:00 p.m.: Lunch
2:00 p.m. – 3:20 p.m.: Art and Performance in America
4:00 p.m. – 5:50 p.m.: Introduction to Geosystems LAB
Interests and work
In my second year, I declared a minor in communications design after taking a class called Tools for Digital Graphics. I realized my interest in creating digital media using programs such as Adobe Photoshop and Adobe Premiere Pro. From this interest, I was able to pursue a directed research with RYBG and Professor Dawn Stoppiello, to dive further into the intersecting points of dance and technology.
I additionally sought out a job working for Blue13 Dance Company and they hired me as their Buzz Ambassador. My responsibilities involved social media, email campaigns, creating a press kit for presenters, editing performance reels, editing their website and more. I was fortunate to have my interests align with my work and to learn different skills through my job. Currently, I am working for the communications team at USC Kaufman. With this opportunity, my boss assigns me to various projects. I get to learn the inner workings of the communications department and all the work that goes into it!
Academic interests
Throughout my journey at USC, I have realized my interest in American Studies. After taking Exploring Ethnicity and Race Through Film and African American Dance, I was hooked. I understood that American Studies at its roots is a study of the body. As a dancer that is constantly working with my body and on other bodies, I found this study to be fascinating and necessary to my studies at USC Kaufman. Although not officially declared as my minor, I choose to take classes in this department. I find this education to be essential to my journey here.
Student involvement
I am a part of the board of a student organization at USC called Southern California Choreographic Collective and I serve as an event planner. We are currently in the process of preparing for our second event, ARTSfest(Vol.2). Our goal is to bring the greater USC arts community together through sharing an evening of choreographic works. An after party for students to meet and mingle follows the performance to form relationships for future collaborations.
Looking back
Looking back, I could have never guessed what my journey at USC Kaufman would be like. In many ways, it is like a pick your own adventure journey. One door opens many others. Although the core requirements of the program are the same, there is enough room to explore different interests and to get involved in different things. I think this is what makes the school so special. Everyone has the autonomy to pursue their interests which innately tie back into dance. When these multiple unique perspectives come together, there is magic.
---
By Eileen Kim (BFA '23)