Student blog: Exploring improvisation with Hubbard Street 2
March 22, 2016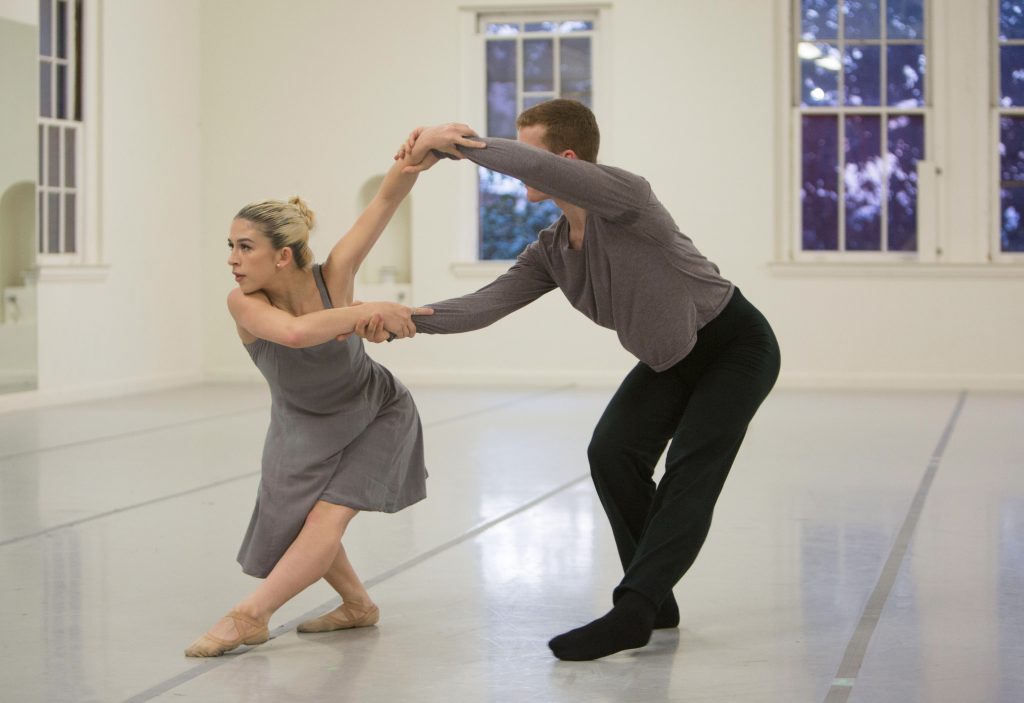 By Celine Kiner
One glance at our BFA class before spring break would have seen a group of dancers ready for vacation: we had been going nonstop since the semester's beginning in January with several visits from guest artists and artists-in-residence. Not only that, Graham classes and rehearsals were, to put it simply, extremely difficult in both mental and physical capacities. Of course, we can't complain about the exceptional quality of our program and faculty, but this break was much needed. Many of us were on the brink of exhaustion. Upon our return to classes, however, we were well-rested and very excited about our upcoming collaboration with Hubbard Street's second company, Hubbard Street 2.
You'll know if you've read my other blogs, or if you've ever encountered a group of us on campus, that we're a family now. Consequently, it came as no surprise to me that welcoming the six dancers visiting from Chicago–Katlin Michael Bourgeois, Zachary Enquist, Elliot Hammans, Jade Hooper, Natalie Leibert, and Adrienne Lipson–felt natural, especially because a few of them already had connections to some of our students (just another testament to how small the dance world is). It felt less like a formal partnership than a friendly exchange, I'd say.
In ballet class with HS2 director Terence Marling, each of us was very alert, attentive; after seeing the beauty that was Hubbard Street Dance Chicago at the Ahmanson Theatre last semester, we all wanted to impress. Yet it was difficult to maintain nerves or uneasy tension, especially considering his personable and accessible instruction. USC Kaufman was all smiles through grand allegro, and by then we were warm and prepared to return for rehearsal later in the day.
Improvisation class was replaced by a rehearsal for our part in the Fisher Museum's Lita Albequerque 20/20 Accelerando installation, in which we went over the phrase as a group before heading to the museum for a practice run in the space. None of us really knew quite what to expect: we had seen the installation before, and we knew the improvisation-based rules for each room. Stepping into the space, however, was very surreal.
The film and sound that the installation played set an interesting tone for the movement, very vague and abstract, yet enough to guide us in a direction that we had no trouble collectively embracing. From there, we took the space and set about our improvisational tasks. At first, I was extremely tentative–my ballet background left me unfamiliar with improv before this year, and I am still learning how to allow myself freedom while still moving with clarity–but interacting with my Kaufman peers and the dancers of HS2 set me at ease.
The judgment-free zone that I have discussed so often throughout these blogs was very clearly present in this atmosphere, and HS2 contributed so greatly to our family dynamic. I was easily reminded that dance is without limits, that things I once thought impossible can be achieved, and most likely achieved in more ways than one. At one point, I found myself on Adrienne's shoulders, attempting to reach high enough that Zachary couldn't jump to the height of my hand. At another, I found myself crawling through a group of other dancers as they crawled the other way, and at another, discussing the meaning of "medium" with Justin. Not only was it an exercise in performance, but an exercise in creativity, a puzzle without parameters.
The unity of our class proves itself over and over again, and the lovely dancers of HS2 fit into our family without question. We look forward to seeing their performance in Bovard tomorrow night, and even more to dancing with them on Thursday in the Fisher Museum.