Student Blog: Performing Iconic Repertory
October 21, 2022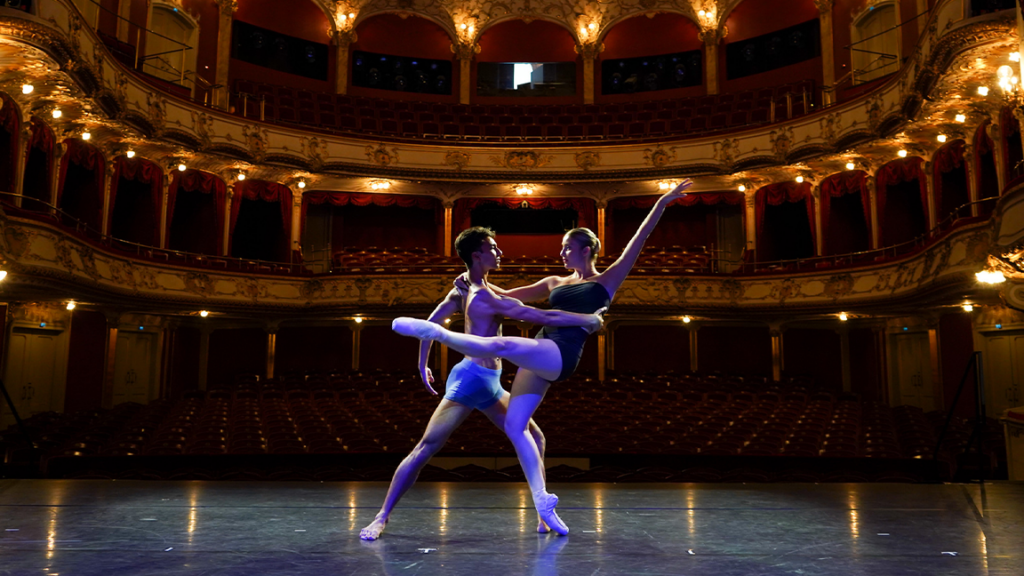 One of the main pillars of our curriculum here at The USC Glorya Kaufman School of Dance is our Repertory and Performance course. This course gives students the opportunity to learn and perform a diverse and exciting range of work, including new works and iconic repertory. It is mandatory for all those pursuing the Dance Performance concentration. Each semester, the rep varies. I have been fortunate to perform iconic works by choreographers George Balanchine, Jiří Kylián, Ohad Naharin and Justin Peck, just to name a few.
George Balanchine
In my first semester at Kaufman, I was fortunate enough to learn and perform Sonatine by George Balanchine, a 12-minute classical pas de deux. I performed alongside Anthony Tette (BFA '22) in addition to about fifteen other students from varying cohorts. Rehearsals were led by Artist in Residence Zippora Karz, and I couldn't have asked for a better introduction to the school.
As we began the learning process, we found a delicate balance of studying past performance videos of the piece and workshopping the choreography with our partners. Because the work consists of such challenging and detailed partnering, it was important that we executed the choreography as specifically as possible while also exploring what that looks like on our individual bodies. Another exciting element of this repertory is that it is performed with a live pianist on the stage with the dancers. This was my first time ever performing with live music, and it was thrilling to have this new layer of spontaneity in a work we had rehearsed so extensively.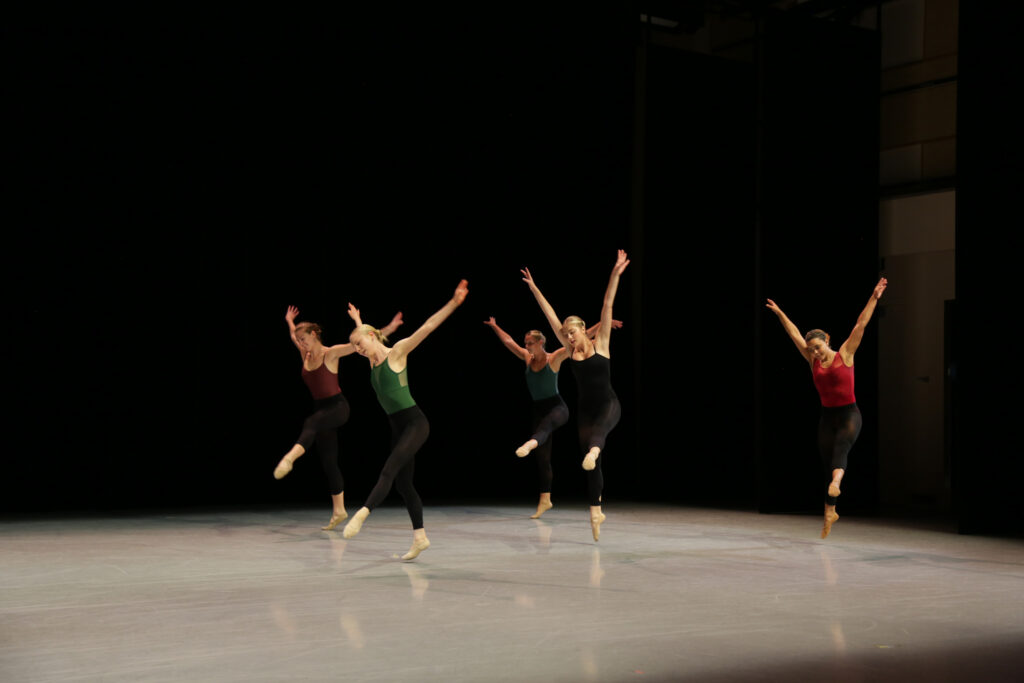 Jiří Kylián
In Spring 2020, prior to the global shutdown, my cohort and I had the privilege of learning Whereabouts Unknown by Jiří Kylián. We performed this piece at USC Kaufman's semesterly Works in Progress showcase. Led by Artist in Residence Fiona Lummis, we rehearsed extensively for about two months.
The choreography in this work is extremely quick, detailed and technical. Therefore, as soon as we learned all of the material, we focused on running through the piece as much as possible to build stamina and get the movement comfortable in our bodies. Professor Lummis gave wonderful individual notes, nurturing each one of us throughout the process. The amount of growth within every one of my peers by the time we got to perform was immensely impressive. Overall, Whereabouts Unknown was a huge milestone in my class' USC Kaufman experience and one that we take great pride in to this day!
Ohad Naharin
This past spring, the Class of 2022 and the Class of 2023 had the incredible honor of performing Minus 16 by Ohad Naharin. It was previously meant to be performed in Spring 2020 by the juniors and seniors and canceled due to Covid-19. However, we were finally able to bring it to the USC Kaufman stage last spring under the guidance of Professor Bret Easterling.
To prepare for the performance, we rehearsed long hours every week for four months, as well as practicing Gaga consistently throughout the semester. This informed our movement quality and gave us the necessary tools to execute the repertory. Minus 16 is easily the most physically demanding work I have ever performed. Professor Easterling conducted the rehearsal process with such consideration, care and respect that it truly made the experience that much more enjoyable and rewarding.
In addition to the challenging movement, this is a work with a lot of moving parts: costume changes on and off stage, audience participation, props, etc. Therefore, it requires a high level of focus and listening. Not only did this strengthen our mind-body connection, it also greatly improved our group awareness and unified us as cohort. Minus 16 was truly the experience of a lifetime and we are so fortunate to have had this opportunity at Kaufman!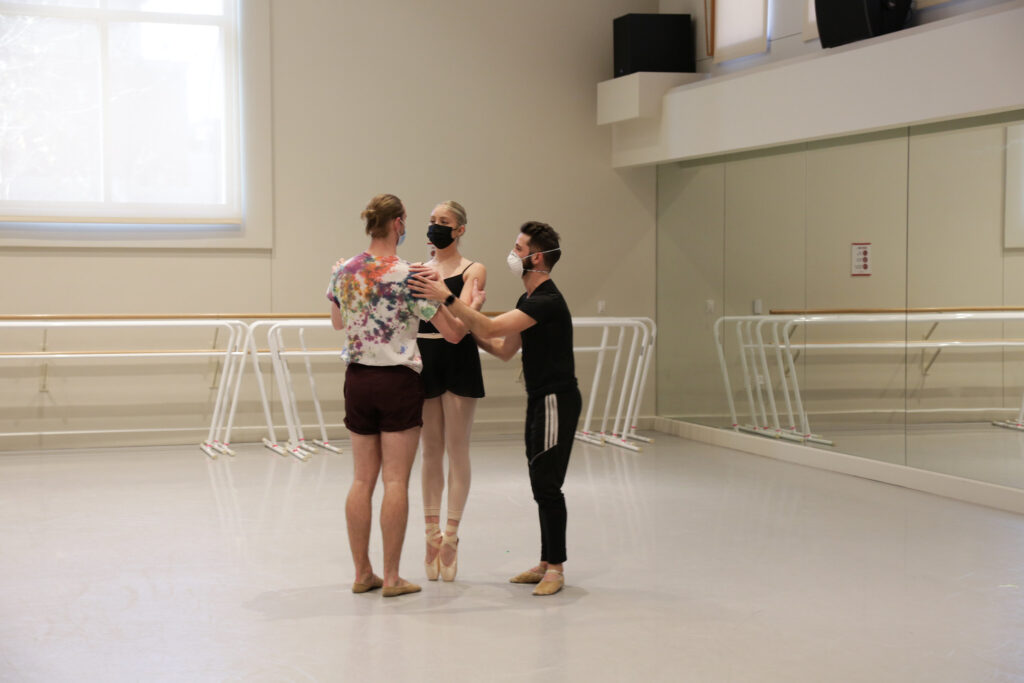 Justin Peck
Also this past spring, USC Kaufman had the opportunity to not only perform Rodeo by Justin Peck, but to reimagine it in a gender-neutral form. While originally performed by fifteen men and just one leading woman, we were able to make the work inclusive of all gender identities. Our process began with Artist in Residence Michael Breeden, learning and staging the work in its entirety. While technical and quick, there is also a great mix of vulnerability and playfulness that makes the work quite unique. I found myself accessing my emotional artistry more deeply than I had ever been expected to in a classical work, specifically in the pas de deux alongside Wyeth Walker (BFA '22).
Later on, we got the opportunity to work with Justin Peck himself, alongside Patricia Delgado. Sharing the space with the creator of the work was insightful, inspiring and invigorating. I am so grateful to have experienced Peck's brilliance firsthand, and to have had such beneficial insight into his choreographic process and intentions. Rodeo was a joy to perform and a valuable lesson in the balance of technical excellence and artistic liberty.
Each of these iconic repertory works have greatly informed my artistic identity and career trajectory. I could not be more grateful for USC Kaufman and these incredible opportunities!
---
By Jessalyn Ward (BFA '23)