Student Blog: Process and progress
October 3, 2016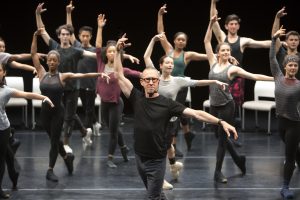 By Celine Kiner
As we at USC Kaufman prepare for a week of incredibly organized chaos, I've found that this weekend is time to analyze what has passed, think actively on what is present, and anticipate eagerly the (near) future. While last week's preparations and presentations for "Focus Forsythe: The Choreographer's Process," today–I'm writing this blog on Saturday–involved a mentally stimulating field trip to LACMA with Professor Forsythe, and the coming week launches us into the building's ribbon cutting ceremony, student choreography performances, and repertory performances before Trojan Family Weekend. I guess the best way to go here would be chronologically; I'll start at Focus Forsythe.
My last blog spoke of the process that ensues when Forsythe visits, and to some degree, "Focus Forsythe" aimed to explain pieces of this process to an audience. A lecture-demonstration format allowed him to speak candidly to the audience about his intentions and ideas, while simultaneously giving the BFA students like myself an opportunity to apply these concepts to our own skill set. For me, the beauty of improvised work like this lies first in being surprised by my ridiculously talented peers, and second in learning to surprise myself. Forsythe is always telling us to surprise ourselves–I finally managed to in the last show when I realized I had thrown some hip isolations into my variation on a classical phrase. In a nutshell, this process rewarded and rewarded and rewarded, revealing qualities that we ourselves didn't even know we had. Of course, Professor Forsythe knew.
Our LACMA field trip is in preparation for Site-Specific Forsythe, which takes place Oct. 15 and 16 at the museum–a few students will be participating in this work. It includes Riley Watts and "Rubberlegz," who we had the pleasure of meeting briefly last year while they worked on "Stellenstellen," also available at LACMA, live during the weekend. Today's rehearsal felt as though it were opening a new channel in my brain–at one point I looked up at Professors Forsythe and McManus and actually wondered if my blessings could possibly be so numerous. It seems unfair.
Before the insanity that is this week begins, I'm taking a minute to appreciate the support system in my life that makes these things possible. My family makes my world go around, of course. And my Kaufman family keeps me spinning myself, with their constant positivity and wonderfully strange antics. Thank goodness I have them to 'dance on' alongside me.