Student Blog: Spring performance preparations
April 24, 2017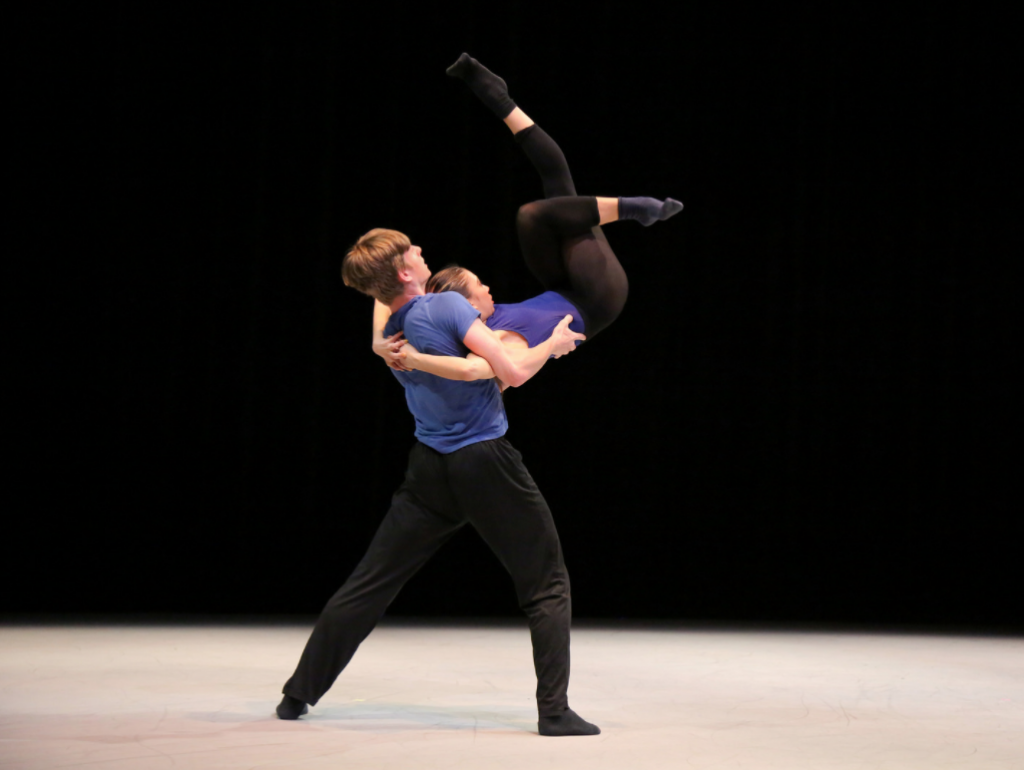 By Alyssa Allen
Since January of this year, we've been learning and rehearsing diverse repertory to present at our BFA Spring Dance Performance. Including an excerpt of Jiri Kylian's Falling Angels and Sarabande (staged by Fiona Lummis), Victor Quijada's Empirical Quotient, an excerpt of William Forsythe's Enemy in The Figure (staged by Ayman Harper), and new works by Raphael Xavier, Vice Dean Jodie Gates, Christopher Scott and Jessica Lee Keller, our program is extremely diverse and covers such a range of artistry–I feel so fortunate to learn from these legendary choreographers. The lineup makes USC Kaufman unlike any other program in the country; we are so lucky to be here with some of the world's most progressive teachers and artistic leaders.
Admittedly, our rehearsal schedule has been intense. Just take a look at the number of choreographers we have been working with over four short months! Sometimes our rehearsals don't end until 9 p.m., so we rely on love and passion, as well as gratitude, in order to work with two to three different artists every day. I sincerely mean that these dancers are head-over-heels in love with dance, and that includes the faculty as well as the students. I cannot stress enough that the overwhelming strong will among my peers is the strongest I have ever encountered. Each individual's positivity and determination is contagious! My faculty, mentors, artists-in-residence, and classmates continually push my artistic abilities and inspire me to not lose motivation when faced with exhaustion. The USC Kaufman administrative team encourages us every day and reminds us that what we do is remarkable. The Kaufman School of Dance, as you may already know from reading the student blog, is one big family.
Personally, I am exhausted from all the rehearsals, but in the best way possible. I have learned repertoire from Christopher Scott and Jessica Lee Keller, Jiri Kylian, and Victor Quijada. Yes, my lower back hurts from flipping boxes over and over again in Scott and Keller's piece. Sometimes I am still unsure if I truly feel resistance from the space around me or if I am faking it when I practice Victor Quijada's RUBBERBAND Method. My mind is in a daze because of the hard-to-hear and hard-to-follow counts in Kylian's Fallen Angels. The life of a student dancer is far from easy, if I am being realistic.
It was especially amazing to be in rehearsals with Quijada and only nine other dancers, because he was able to focus on us as individuals and give us personal feedback. Some days, I would get so frustrated because the way I naturally move contradicts his style; it was insanely difficult trying to embody something foreign and make it appear inherent. Eventually, with Quijada's guidance, I was able to feel more natural and actually more confident in the movement. My classmates offered advice between classes or during a short break, encouraging me through the excitement of the process we were experiencing together. I grew tremendously during those few weeks with him; I learned to let go of being comfortable and venture into the unknown.
"It's hard work. But it's good work. I feel like I'm getting [Quijada's movement] more than I did last year. The reason to move and the movement itself makes sense. Even if it's not a tangible idea that I can grasp, it's making sense in my heart," said Jessica Muszynski, another BFA sophomore who had the chance to work one-on-one with Quijada.
Without a doubt, I am genuinely excited to be performing these pieces for the last show of the year. All of the repertoire that we have learned showcases a diverse group of dancers performing a wide-range of styles. This is what USC Kaufman stands for: diversity over uniformity. I think that speaks volumes to our audiences, who notice and appreciate the variety of styles and dancers. Every dancer is acknowledged and admired for their difference and their uniqueness. We're all thrilled, eager, composed and a good amount of anxious for the upcoming tech week.
"Performing is always fun; sharing with people you know… people you don't know. This year I have realized that it's not good to perform or dance for praise. It's just good to do it because it feels good, because you love it, and because it brings you joy," Muszynski said.
RSVP for the Spring Dance Performance; we would love your support and attendance!