Student Blog: Week one, researching RUBBERBANDance
January 13, 2016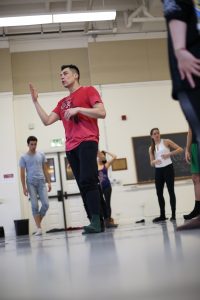 By Celine Kiner
Process.
Vice Dean Gates introduced Artist-in-Residence Victor Quijada today with heavy emphasis on the concept of process; the first three weeks of the spring semester have been set aside for learning the foundations of his unique movement style, the RUBBERBAND Method. He described his own particular process as beginning with a blank slate and building layers from the ground up, until small and simple movements become grand and dynamic. His assistant Lea Ved graduated from Juilliard and put down her pointe shoes for RUBBERBAND anchor points, only to learn that this technique was applicable to any style of movement. A living manifestation of this process, Lea recently picked up her shoes again, but is now fluent in RUBBERBAND and capable of not only ballet, but of breaking.
Victor began by directing our movement quality, supplying metaphorical substances to provide imaginary resistance against our motions: the RUBBERBAND Method encourages a strong connection between dancer and floor, inspired by Victor's mission to bridge the gap between his breaking background and his ballet career. Once we began to grasp the basics standing up, we transitioned to the ground, where he was adamant that we apply the same concepts for safe and strong floorwork. Points of contact with the floor are instrumental in his technique, where a grounded base allows deviation from an upright axis.
While returning to dance classes after winter break is always a physical challenge (who knew you could be sore in so many places at once?), Victor was diligent in ensuring the safety of our bodies. He emphasized proper alignment of the knees and approached floorwork with caution, which was extremely helpful with injury prevention. The difference between focus on process and product in his visit is already very clear: pressure due to a deadline of performance often pushes us, but lifting this pressure has given us time for building carefully on what we learn.
Our first few days back have most definitely seen soreness, yet it's surprising how quickly last semester's training has been awakened through muscle memory. My attempt at ballet, while almost atrocious Monday morning, quickly returned to its usual pace by Wednesday. Professor Grimes' class this morning helped us all settle into our groove, and our little community of Kaufman kids was all smiles. Not to mention our excitement at being reunited after nearly a month apart, which was expressed through squeals, hugs, and grand jetés when we stepped into Music for Dancers at 8 a.m. on Monday (I think we may have scared Professor Krausas a little).
To have ended last semester on such a poignant note and as such a tightly woven community of dancers made it difficult for us to separate for break, but it created that much more anticipation for this next semester, which has somehow already managed to exceed my expectations. The fall semester set us straight and bonded us closely, preparing us for the seven semesters ahead, and it seems the spring semester has a new focus– shaping our own process.