Three female choreographers awarded space to play during the New Movement Residency
June 12, 2018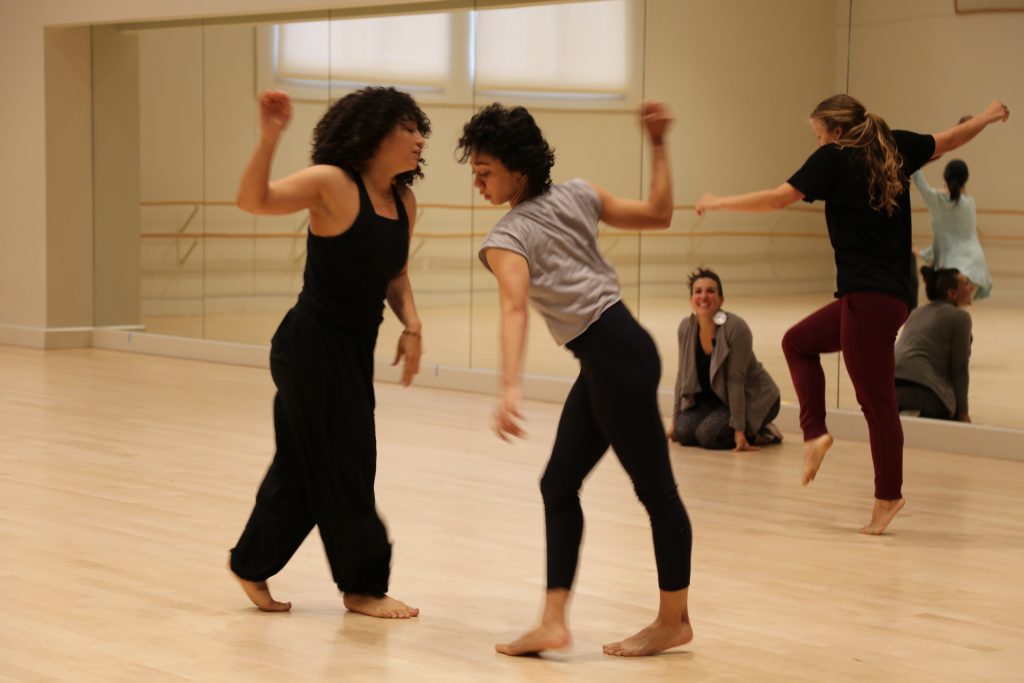 The USC Glorya Kaufman School of Dance's New Movement Residency program is brand-new this year—in an effort to provide space for Los-Angeles-based choreographers and female choreographers from across the U.S., the school has selected three artists to inhabit the studios at USC Kaufman building this summer. Ana Maria Alvarez, Seda Aybay, and Loni Landon are choreographing in the facility for three weeks at the Glorya Kaufman International Dance Center, where they will have assistance from esteemed faculty and from BFA dance students wherever necessary. Each in a different phase of creating work for the stage, the choreographers enjoy the freedom of time and space that the residency allows.
"joyUS justUS" for Alvarez
Alvarez, founder of CONTRA-TIEMPO Urban Latin Dance Theater, is in the process of creating and developing the company's newest full-length evening work, "joyUS justUS." A political and community activist as well as recipient of a Master of Arts in choreography from UCLA's Department of World Arts and Cultures, Alvarez works with social dance to express resistance and other themes. The work, built in collaboration with South Los Angeles communities, will premiere in the fall of 2018 at Bovard Auditorium as part of the USC Visions and Voices series and will later tour the country.
"The piece is definitely rooted in the idea of radical joy and restorative justice, a deeply rooted, powerful birthright that we all have to be complete and whole as a human being and connected with one another," Alvarez said
The piece has been built over the last year and a half, following the company's last work, "Agua Furiosa," which Alvarez describes as heavy and intense. Alvarez dreamed about "joyUS justUS" the night that "Agua Furiosa" premiered, and the company has been working with communities in South Los Angeles through Community Coalition ever since.
"The work will share collected stories through movement, music and sound, inviting audiences locally and nationally to actively participate in what they're hearing on the stage," said Alvarez. "By continuing to engage broader audiences in the telling of their own truths, the work and company will create spaces of joy and healing, allowing the collective 'us' to feel more connected, loved, powerful, and alive."
CONTRA-TIEMPO's Urban Latin Dance technique is a style specific to the company, following Alvarez's thesis work in the abstraction of salsa and other Latin dance. Ardyn Flynt, a BFA dance major at USC Kaufman, has stepped into company rehearsals to warm up, workshop choreography and swing into company members' roles when schedules allow.
"It's really incredible to me how much research is being put into this piece. That's been a joy of being a part of this process," said Flynt. "To see how many guests they have come in and share knowledge about things they don't claim to fully understand, which is really beautiful, and I think is important for any work; that the dancers and choreographer continue to stay enlightened."
Flynt explains that the piece involves the layering of clave rhythms via body percussion, plus dance styles comparsa and salsa rueda, and even some text created in rehearsals by Alvarez and the company. "joyUS justUS" is "inclusive and hybrid," both trademark qualities of the New Movement mission, which Flynt has experienced through new eyes with CONTRA-TIEMPO. She rehearses with the company on a nine-to-five schedule, training and creating at the professional level.
"I have always known that I wanted to be part of a company, because I knew that I wanted the consistency of that, and the consistency of a group of people, and I think this has reiterated that you can have a job that feels tedious—as all jobs do—but you can be part of a group of people that feel like family, that feel supportive, and that you feel safe around," Flynt said.
The family Flynt describes is more closely connected than you may think: creating the music for "joyUS justUS" is USC Kaufman assistant professor of practice d. Sabela grimes. This is not grimes' first time collaborating with Alvarez, but here at USC Kaufman the two have the resources to work quickly and closely. grimes created the score and now sits in on rehearsals periodically, in order to make small adjustments.
In the Glorya Kaufman International Dance Center, there is room for the full process; Alvarez notes that the time and space let her experiment more freely.
"This entire three-week period has been such a gift…just having access to a space that feels like our space, and everyone at Kaufman has opened their arms and really made us feel welcome, like part of the community" she said. "To feel this sort of sense of home while you're making is really powerful, especially when you're making a piece about joy and justice and humanity."
Aybay's film "NOIR" inspiration
Aybay, who founded Los Angeles' Kybele Dance Theater in 2003, choreographs from a different background—ballet-trained and a former student of Alvin Ailey, UCLA, and Santa Monica College, she comments on Turkish society and culture. Her award-winning choreography relies on language and ideas that she translates into gestures. Aybay will focus on a work called "NOIR," a multimedia piece that describes the trajectory of gender roles through a film noir narrative.
'"NOIR' is inspired by the dark themes of 1940s cinema and its anti-heroine, the femme fatale, who uses her femininity to lure men down a destructive and dangerous path," Aybay explained. "You start to realize that the femme fatale is playing everyone a little bit to make things happen."
Aybay herself will perform in the work, so the presence of BFA students is especially useful for her directing eye; students Sophia Oddi and Rachel Walton step into her role so that she can watch the choreography from the front and make adjustments as needed.
"It was great to see an actual body doing it, and manipulate it right away, then re-learn it from them," Aybay said. "It was inspiring, because they have a very unique way of learning and capturing information—they do not necessarily just take it the way you give it. They are always putting in a little bit more of performance quality and movement quality; it's very influential."
Oddi feels this sense of freedom within Aybay's structured choreography as well—she works one-on-one with Aybay at times to create the movement for Aybay's "femme fatale" role.
"She approached her work with kindness and curiosity, allowing the dancer to incorporate his or her own sensibility into the phrases, all the while having a strong sense of the direction she wanted to take each movement," she said.
Walton and Oddi work with Aybay and three other dancers from Kybele to craft the piece, which is driven by a narrative that Aybay's husband wrote. At USC Kaufman, she creates the movement to accompany the recorded narrative, which is set to a score of combined soundtracks from various film noir classics.
"You can feel that there's no limit of movement, of imagination, of ideas," she said. "Beautiful high ceilings—you feel like you're outside already."
Aybay also receives mentorship from USC faculty, including Thomas McManus and Dawn Stoppiello, who work to support the creative process as advisors and dramaturges where necessary. Their input comes from many years of experience in the field—Stoppiello, for instance, has years of experience with projection technology for dance, and will consult on the projections that Aybay hopes to add to the final piece.
The performance will premiere in the company's full-length evening show at The Broad Stage, Sept. 14; "that will be the first time I will be able to put my full dream on, which is the projection behind the dancers, with multimedia interaction," Aybay said. "I've already purchased the old-school typewriter, the lamp, the desk," she smiled.
Landon in play
Landon, of Loni Landon Dance Project, is a New-York-based choreographer looking to expand her breadth to Los Angeles. Here, she says, everyone is "light and bright" and looking to support each other, whereas the fast pace of New York City can focus her on commissions, and distract her from the joy of exploration. While Landon's new work is not yet named, she does believe that her research during the New Movement Residency will blossom into a more formed work in the future.
"I'm really just using the time to explore and play; I think that's really important for any choreographer or artist, just to give yourself free time," she said.
Landon also notes a new style in the USC students she works with, and how they influence her work—as a New York native, she says there is something else in the water here, something she has not seen before.
"Last week there were some students that I was learning from," she said. "It's so interesting to watch them mix this new style that's developing in Los Angeles—we don't have that in New York. It's very categorized, and to see that box being erased here is really encouraging."
Already, Landon has generated over thirty minutes of content. Her work includes four to five dancers, the fifth being a USC Kaufman BFA student that she first connected with through social media—freshman Evan Sagadencky has been in rehearsal full-time with Landon and her dancers, so much so that he has found his own slot in the choreography and the choreographic process.
"He's an incredible mover and thinker, and having him also inspired my dancers. He's an equal," Landon said. "I don't have to teach Evan. He's already coming in with this style that I appreciate."
Sagadencky brings his training to the professional level in Landon's rehearsals, participating actively and contributing his own input to the choreography.
"I could directly apply what we aim for at Kaufman: how to become a self-aware, empathetic, and adaptable artist," he said. "Loni's energy, talent, daring choreography and personable approach to collaboration (and dance as a whole) has allowed me to explore my artistry in ways I had yet to imagine. I look forward to what the New Movement Residency becomes in future years."
Landon herself is learning from her residency time, the two weeks that she has been able to spend at USC Kaufman.
"For my work in general, when I go to a company I never have time to really teach and choreograph, so this is giving me new information, new vocabulary," she said. "Having time and space is the biggest gift—and space for my brain. That's the best circumstance to work under."
---
By Celine Kiner