A Day in the Life: The road to "Choreographers and Composers"
March 19, 2018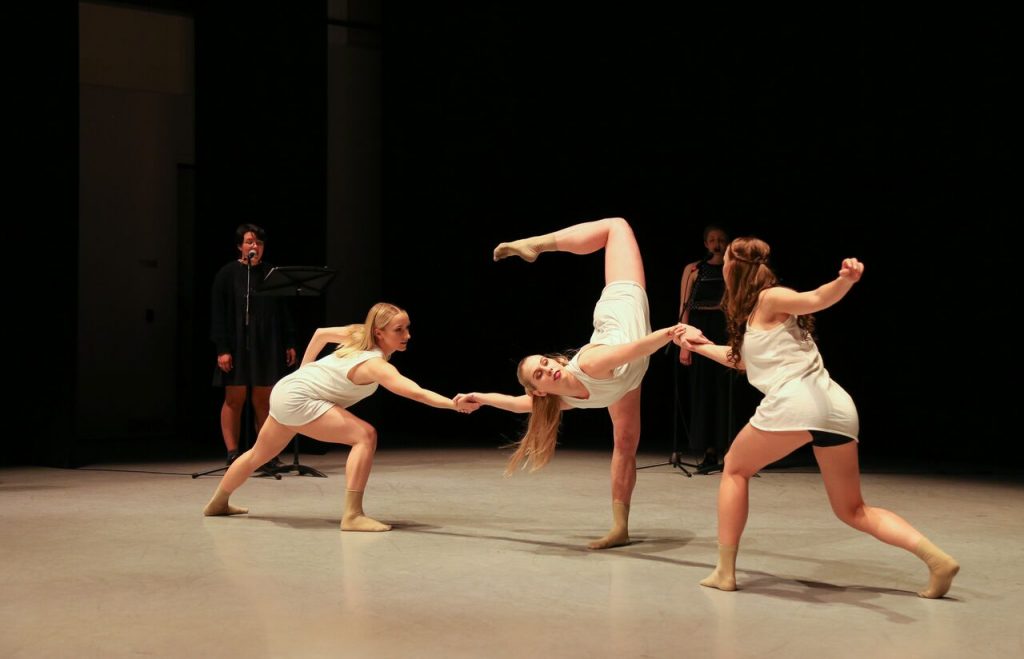 Performance days are treated just like any other school day for students at the USC Glorya Kaufman School of Dance. The school's most recent show— the second-annual "Choreographers and Composers" performance, which is a collaboration between the sophomores at USC Kaufman and the USC Thornton School of Music—provided one such packed ending to the week before Spring Break.
BFA student choreographer, Kaylin Sturtevant, worked all semester alongside fellow dance majors Whitney Hester and Lillie Pincus to create a piece set to an original sextet by USC Thornton's Victoria Vasta. But before she could take the stage on the first evening of the Concert, Sturtevant had to make time for all her regularly-scheduled classes and activities— from pilates, to her upper-division writing course, to rehearsal with guest artist Dana Caspersen. She walked us through how she made it all happen:
7:00 a.m.
Wednesday morning Sturtevant woke up, got ready, and made breakfast. That day, she had signed up for an optional pilates session at 8 a.m., so she went to the studio and worked with lecturer Gillian Finley for 30 minutes.
9:00 a.m.
Now properly warmed up for the day, Sturtevant went downstairs to attend her usual Wednesday pointe class.
"We usually start with just our flat ballet shoes on, and then eventually put on our pointe shoes and work on our basic technique," she said.
10:30 a.m.
On a normal Wednesday, Sturtevant would then have headed to her second technique class of the day, Jazz with Professor Saleemah Knight. However, Knight out of town, so with the students' first show fast-approaching, student choreographers were allowed to use classtime to work on their pieces.
"This was great because from 10:30 -11:50 a.m., [Whitney, Lillie, and I] watched our video from the tech rehearsal we had the day before and got to look over all the details," Sturtevant said. "We practiced the choreography, and while we didn't really want to change anything so late in the process, after watching the video we did decided to make some little changes."
12:00 p.m.
To fuel up in between classes, Sturtevant grabbed a bite to eat in the USC Village with family members who were in town to cheer her on at that night's performance.
1:00 p.m.
But before she could solely focus on the show, Sturtevant had to shift away from dance and into academic-mode for her required upper-division writing class, Writing 340.
"It's an Arts and Humanities Writing 340 class taught by professor Mark Marino, but he tells us to call him Coach," she said. "It's a pretty fun class, because five sophomores [majoring in dance] are in it too, since there are only so many classes that fit in our schedule."
2:00 p.m.
"Fit" is a relative term, saying as that within ten minutes of finishing Writing 340, Sturtevant had be back at USC Kaufman in dance clothes, ready to work in her Repertory and Performance class.
"This is always the most stressful part of my day," said Sturtevant. "I have to run after writing class, put on my pointe shoes and warm up really fast. You'll even see me taping my feet, getting ready to put on my pointe shoes and doing my hair in writing class, but our professor is really cool about it."
Currently, her repertory class is working on faculty member William Forsythe's masterwork, "The Vertiginous Thrill of Exactitude." That Wednesday, the group happened to be visited by Forsythe's wife, Dana Caspersen.
"She's danced for Forsythe's company and is incredible," Sturtevant said. "She actually came into our rehearsal of the pointe piece and coached us on it. That was really cool, because every time the school brings in a guest artist, they bring new perspectives to the work."
5:00 p.m.
After a fulfilling rehearsal, Sturtevant was able to enjoy her short break before the call-time for that evening's performance. She used the time to get dinner from Trader Joe's, spend time at her apartment, and do her hair and makeup for the show.
7:00 p.m.
Arriving at USC Kaufman ten minutes before call-time, Sturtevant signed in and went to find her choreography group. Together, she, Hester, and Pincus met with their singers in the studio and decided to do a full run through of their piece.
"It was nice to hear the singers and get in that performance-mentality before the show," Sturtevant said. "We weren't on until the fourth piece and didn't have to be backstage until the third piece, so during the first two pieces we marked through the dance in the studio while the singers practiced. Victoria was overseeing everything [with the singers] and would fix things as we went. At the time of the third piece, we went backstage and the singers got their mic stands and music."
Then, for the very first time in front of an audience, the singers and dancers took the stage to perform their collaborative work.
Sturtevant, Hester, and Pinucs performing their original choreography | Photo by Mary Mallaney
7:30 p.m.
Despite missing one of their six intended singers, Sturtevant felt confident in presenting her group's piece.
"I think the performance went really well," Sturtevant said. "There was an empty mic stand and we ended up making it a part of the dance. People noticed it, but if they hadn't seen the piece before, it didn't distract them. Who knows? It could've been an abstract choice."
Overall, Sturtevant found that the experience of putting this performance together was unlike any other she had been a part of.
"It was definitely a very challenging process, just because normally, as choreographers, we have an idea of the music at the beginning," she said.  "Since Victoria was producing the music at the same time as we were choreographing, it was sometimes hard, but my group would just make up a lot of phrases that we could eventually link together… But it was kind of exciting in a way, since we never really knew exactly how it would turn out."
2018-BTSKaylinGroup-MaryMallaney-16_preview

2018-BTSKaylinGroup-MaryMallaney-8_preview

2018-BTSKaylinGroup-MaryMallaney-13_preview

Sturtevant, Hester, and Pincus celebrating after their performance | Photo by Mary Mallaney
Once the show was over, Sturtevant finally returned to her apartment for the night, where she prepared her hair and makeup supplies for the next day's show. Since she'd already done all her homework for the week, she was able to get to bed by 11:30 p.m. Thursday would be similarly packed, but when majoring in dance, it is all about finding the perfect balance— especially during performance weeks.