A.I.M by Kyle Abraham Winter Intensive Preview
October 26, 2021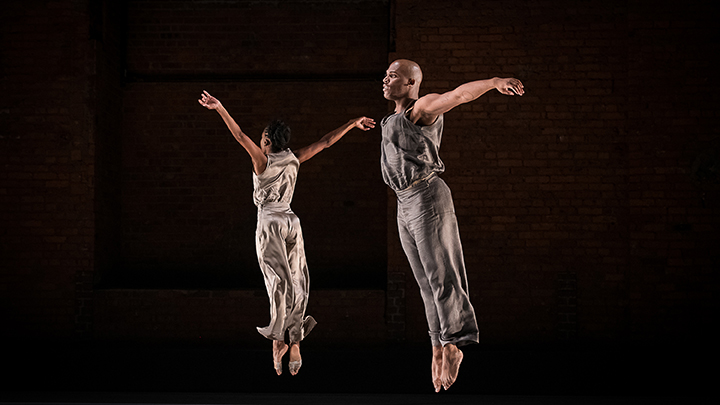 Earlier this year, the USC Glorya Kaufman School of Dance announced that artist Kyle Abraham will join its faculty as the Claude and Alfred Mann Endowed Professor. As part of the school's partnership with Abraham, he and his company, A.I.M by Kyle Abraham, will host their Winter Intensive at the Glorya Kaufman International Dance Center every December.
USC Kaufman recently caught up with company dancer Donovan Reed about his experience with the company and the upcoming intensive. Reed began dancing at the age of 16 and went on to study at the University of the Arts in Philadelphia. During his time there, he trained with the Pennsylvania Ballet. After graduation, Reed moved to New York City and worked on various artistic projects until joining A.I.M by Kyle Abraham in November of 2018.
Dancing through the pandemic
Reed danced in-person with A.I.M from the end of 2018 to March 2020 when the company began working remotely due to the pandemic. While he did crave collaboration and the physicality of dance during that time, Reed explained that the company dancers and staff never stopped conversing even in the virtual environment.
"Throughout the pandemic, we never stopped working or talking," Reed said. "We were still doing a lot of research in regards to the work with robust, open lines of communication, which satisfied me in a different manner. We had to focus on different aspects of our work more intensely, which I think was really lucky and beautiful."
Working with Kyle Abraham
Throughout his time in the company, Reed has thoroughly enjoyed working alongside Abraham. He described that Abraham works quickly, but there's a joy in understanding the process. Further, Reed said that Abraham strives to work collaboratively seeking contributions from company dancers.
"He works in this extremely generous way in which he really wants your input," Reed said. It's nice because you can feel as if your entire being can enter the work mentally and physically in tandem with how he's thinking about it. For me personally, I want to ask questions and really think about them, and Kyle offers that in such an extensive way to where we're always rethinking the work and trying to figure out something new."
A.I.M intensives
Reed will be working with the A.I.M intensive this December at the Glorya Kaufman International Dance Center. He has worked past intensives as well. He worked both in-person in 2019 and with the virtual cohort in 2020. This past summer, A.I.M returned to an in-person intensive, and Reed described the experience as refreshing as people were able to feed off of each other's energy in the same space again.
Reed also described the format of the upcoming winter intensive. Each day will offer programming from 10:00 a.m. to 5:00 p.m.* with technique and master classes led by A.I.M dancers. The intensive will also offer repertory and opportunities to work on creative processes.
While the intensive is still on the horizon, Reed knows that once the company begins to nail down the finer details they will create a robust experience for the intensive participants. He also hopes the dancers walk away from a thought-provoking experience.
"I hope the participants leave with the things they came to gain. I hope they learn something new and figure out things that they've been contemplating within their dance ideology. Also, I hope that they simply have a good time and enjoy sharing. We look forward to sharing with them."
A.I.M by Kyle Abraham will host its Winter Intensive Dec. 6-10, 2021 at the Glorya Kaufman International Dance Center. The application, which includes two short essay questions, is open through Wednesday, Oct. 27 at 11:00 p.m. ET. *Times are subject to change.
---
By Brigid Murphy