Announcing new faculty and Spring 2023 repertory
January 26, 2023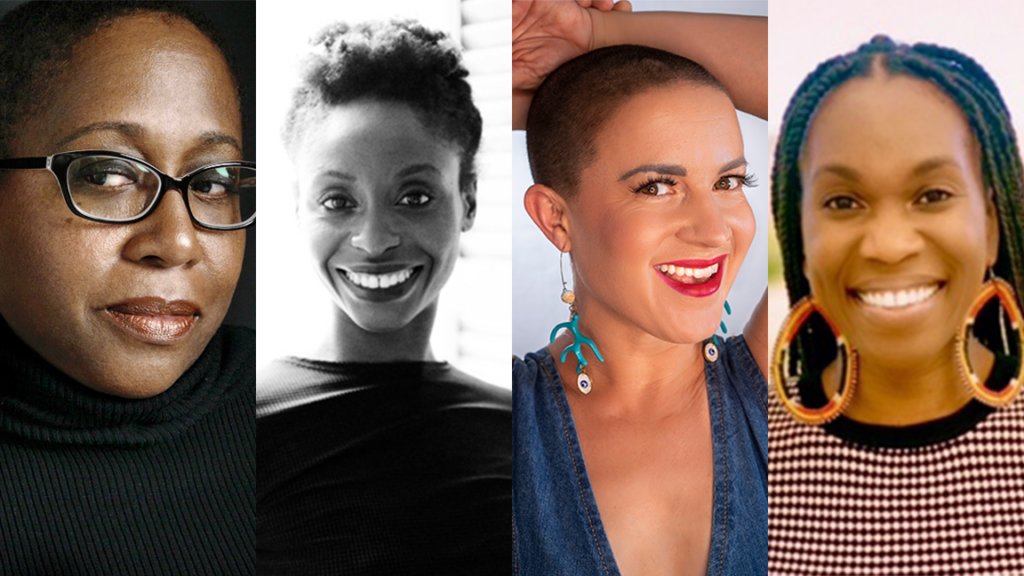 As we waltz into the new year, the USC Glorya Kaufman School of Dance embraces the spring semester with a renewed commitment to advancing arts education. USC Kaufman welcomes four new faculty members, Pat Taylor, Josette Wiggan, Betsy Struxness and Nina Flagg. This semester, they will work with both the BFA and elective students.
Pat Taylor
Pat Taylor is a fourth generation Angeleno, and the founding Artistic Director of JazzAntiqua Dance & Music Ensemble. As a teen, she performed with the Dunham based R'Wanda Lewis Afro-American Dance Company, followed by a dance scholarship at Inner City Cultural Center. She was also a full merit scholarship student and TA at the Ailey School.
Taylor's choreography has been presented at Jacob's Pillow Dance Festival, Hollywood Bowl (Playboy Jazz Festivals), California African American Museum, Glashuset (Sweden), CIAEI Theater (Brazil), Minneapolis' Southern Theater, Los Angeles County Museum of Art, among other distinguished venues. A frequent Artist in Residence, Taylor has created work for Loyola Marymount University, Meadows School of the Arts/Southern Methodist University, Peabody Conservatory/Johns Hopkins University, Rhythmically Speaking Dance, University of Idaho, Irvine Valley College, Pasadena and Santa Monica Colleges, and the International Congress of Jazz Dance.
Taylor holds an MFA in Interdisciplinary Arts (jazz aesthetics emphasis) from Goddard College. She is a contributing author of "The Duality of the Black Experience as Jazz Language," for Rooted Jazz Dance: Africanist Aesthetics and Equity in the Twenty-First Century (University Press of Florida, 2022).
This semester, Taylor will be teaching the jazz elective classes.
Josette Wiggan
Josette Wiggan began her dance adventure with Paul and Arlene Kennedy in Los Angeles at the age of 12. A graduate of UCLA, Wiggan's career highlights include the 2001 Spotlight Award winner in non-classical dance category, the 1st National Broadway Tour of 42nd Street, movies Idlewild and Princess and the Frog and studying with Germaine Acogny at L'ecole les Sables in Toubab Dialaw, Senegal.
She was a part of two original casts of Cirque du Soleil's Banana Shpeel and Michael Jackson: The Immortal World Tour from 2009-2013. Wiggan also performed in Tireless, a curated show by Michelle Dorrance that had its debut at Jacob's Pillow in 2017.
In 2019, Wiggan co-created a Christmas work entitled, …The Nutcracker Suite… with Michelle Dorrance and Hannah Heller. In 2020, she created and directed a work for film featuring vernacular jazz and tap dance entitled, Harlem Stomp. Most recently, Wiggan collaborated with jazz trumpeter extraordinaire Keyon Harrold, to create Praise: The Inevitable Fruit of Gratitude. It debuted with the Dorrance Dance cast at Jacob's Pillow and the Queens Theatre in the Park in 2021.
Wiggan is a Kennedy legacy holder and has dedicated her life to the perpetuation of African American Vernacular Jazz Dance.
This semester, Wiggan will be teaching a tap elective course and advanced vernacular jazz for the BFA students.
Betsy Struxness
Betsy Struxness grew up in Kansas City, Missouri, training and performing with the Kansas City Ballet. After graduating high school, Struxness attended The Juilliard School in New York City where she earned a BFA in Dance.
Struxness started her professional career performing on a cruise ship. She then danced in several regional theater productions, before touring the country with productions of Oklahoma! and All Shook Up. She landed a role in Wicked in 2007 in Chicago.
Once on Broadway, Struxness quickly joined the newly opened musical, Memphis, before its triumphant TONY win for Best New Musical. Always looking for new challenges, Struxness wanted to originate new musicals. This paved the way for her to be hired to help develop a new show, Hamilton.
After Hamilton, Struxness shifted gears and moved to Los Angeles, looking for more artistic freedom and creative control. Struxness has been part of numerous developmental projects from stage to screen, in various facets of the entertainment business. She has navigated art, business and emotion adeptly through her extensive work as a union liaison.
Struxness will be teaching Dance and New Media this semester.
Nina Flagg
Nina Flagg began studying gymnastics and dance at age three. She trained at the Los Angeles School of Gymnastics (LASG) in ballet, modern, jazz, tap, and African dance. At age 12, Flagg worked with director/choreographer Debbie Allen as a dancer and gymnast for the 63rd Annual Academy Awards.
Flagg went on to attend Los Angeles County High School for the Arts (LACHSA). After graduating, Flagg began honing her skills in hip-hop while obtaining a BA in Sociology with a Specialization in Communications from UCLA. During her senior year, Flagg was invited to join the Debbie Allen Dance Academy (DADA) in Culver City, CA as a contemporary & hip-hop/street dance faculty member.
In 2011, Rennie Harris from Alvin Ailey American Dance Theater invited Flagg to collaborate on an original hip-hop work; Home. In 2018, Flagg worked with Alvin Ailey again as Rehearsal Director for Rennie Harris' Lazarus, the first evening-length work in the company's history.
Currently, Flagg is continuing her practice as a choreographer and pedagogue, as well as a guest artist for organizations such as LA Dance Project, CLI Studios, and Everybody Dance LA!. As a BIPOC artist and educator, Flagg remains passionate about creating curricular strategies for equitable, multi-generational engagement in dance education and live performance.
Flagg will be teaching dancehall to the BFA students as well as teaching an elective hip-hop course.
Spring Repertory
This spring, BFA students will perform at The Wallis Annenberg Center for the Performing Arts for the second time. The showcase will consist of both new and existing repertory by USC Kaufman faculty members as well as Artists in Residence. The students will perform seven works, including four world premieres.
BFA students from all classes will work on the following new pieces. The Class of 2026 will work with faculty member Jackie Kopcsak on a new ballet work. Members of both the Class of 2023 and the Class of 2024 will learn a soul train inspired work from faculty member Tiffany Bong.
Two Artists in Residence are also creating new work on the BFA students. Hope Boykin will engage with the Class of 2025, and Tessandra Chavez will create with members from the Class of 2025 and the Class of 2026.
This semester marks the students' first time working with USC Kaufman's Claude and Alfred Mann Endowed Professor of Dance Kyle Abraham. The Class of 2023 will learn an excerpt of Counterpoint, staged by Marcella Lewis. Abraham will also work with the Class of 2024 on a new process. The students will perform this piece only at a special VIP showing in February, 2023.
The last two pieces on the program for the show are iconic repertory. The Class of 2023 will perform Jiří Kylián's Whereabouts Unknown, staged by USC Kaufman faculty member Fiona Lummis. Members from all four classes will perform Justin Peck's In Creases, staged by Artist in Residence Michael Breeden.
Visiting artists to USC Kaufman are supported in part through generous funding from The Choi Family Artists in Residence Fund. Additional support for visiting artists provided by Katherine and James Lau.
---
By Arjun Kochhar (BFA '25)