Student Blog: A day in the life, from my first to my third year at USC Kaufman
September 20, 2019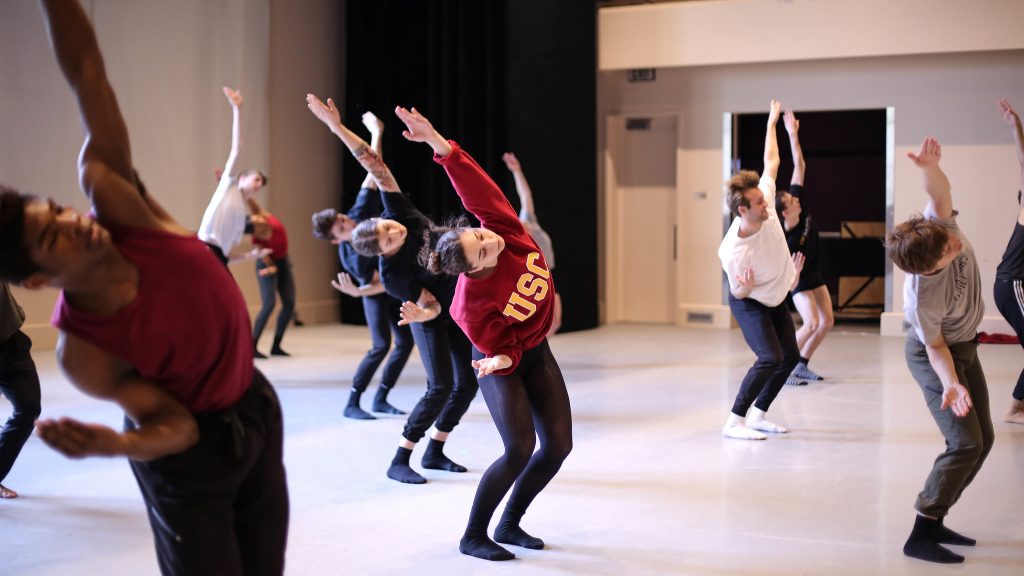 As a BFA student at the USC Glorya Kaufman School of Dance, I tend to have a packed and engaging daily schedule. Even though it is sometimes hectic, I am absolutely in love with my life at USC. I get to explore and create as an artist, while also pursuing my academic goals.
Life as an Underclassman
The first two years at USC Kaufman provide us a foundation. We started off by tackling a lot of the BFA requirements, and even though there was less freedom in our schedules, it totally paid off. Some of those BFA core courses include World Perspectives on Dance Performance, Music for Dancers and Dance in Popular Culture. These are also partnered with Dance Technique, Repertory and Performance, Improvisation and Composition and Conditioning for Dancers. Here is what my freshman year fall semester looked like: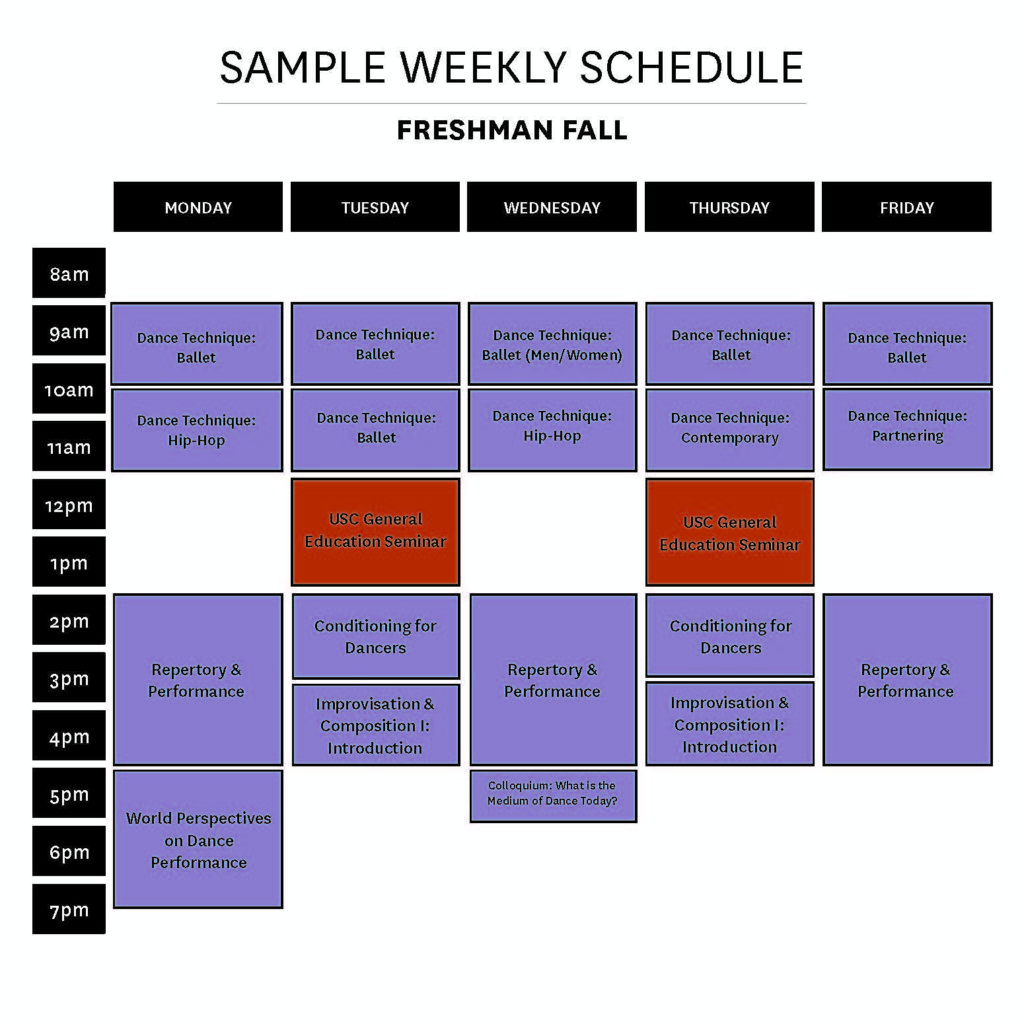 Due to my interest in collaborations with other artists, and my appreciation for the crossings between sound and movement, I chose a concentration in Dance & Music. This means I have to fulfill about half of my elective credits in the USC Thornton School of Music. So far, I've taken singing lessons, a classical guitar class and beginning music theory. I am looking forward to delving even deeper into the possibilities that my concentration offers, and I am excited to apply all of the skills I will learn to future works with musicians and instrumentalists.
Now that I am in my third year, my morning schedule looks a little bit different than it did my first year.
Mornings as a Third Year
Monday/Wednesday/Friday:
7:30 a.m. – 10:00 a.m. Work for Dance Operations
10:30 a.m. – 1:20 p.m. Technique (Ballet/Hip-Hop)
 Tuesday/Thursday:
9:00 a.m. – 10:00 a.m. Teach at 32nd Street Elementary School
10:30 a.m. – 1:20 p.m. Technique (Ballet/Contemporary)
My mornings still start early, even though my dance classes do not start until 10:30 a.m. I love working for USC Kaufman Dance Operations, because I am able to learn a lot about production, as well as managing a building. I also teach hip-hop at 32nd Street Elementary School as a part of USC Kaufman's community outreach program, Kaufman Connections. This is always a highlight of my week. My afternoon continues with either repertory and performance or academic courses for GEs and my minor.
Afternoons and Evenings as a Third Year
Monday/Wednesday/Friday
2:00 p.m. – 4:50 p.m.  Repertory & Performance
5:00 p.m. Personal rehearsals/work/homework time!
 Tuesday/Thursday
2:00 p.m. – 3:30 p.m. International & Historical Perspectives on Dance
3:40 p.m. – 4:50 p.m. Introduction to Epidemiology: Methods & Applications
5:00 p.m. – 6:20 p.m. Introduction to Global Studies & Overseas Research
6:20 p.m. Rehearsals/work/homework time!
I took a semester off of Repertory & Performance last year to pursue my minor, and I am excited to be back this year! We are learning works from both amazing guest artists and our phenomenal faculty, all which will culminate in a final performance this fall. So far, we have studied with William Forsythe, Jodie Gates, Zippora Karz, Rauf "RubberLegz" Yasit, Saleemah E. Knight and E. Moncell Durden. The idea of hybridization has really shone through so far, with repertory that spans classical ballet to breakdancing. I am so excited to see everything come together at the end of the semester. It is really wonderful to see my fellow students working on engaging and diverse pieces.
Pursuing outside interests
In addition to my Dance & Music concentration, I have a minor through the USC Marshall School of Business. I am pursuing Performance Science, which is a multidisciplinary program with classes in business, psychology and the physical sciences. For example, I took a class called The Science of Peak Performance as a sophomore, which anecdotally and empirically studies the levels of perseverance, discipline, mental and physical strength necessary to achieve any goal. These could range from being the only traumatic surgeon in Sudan, completing U.S. Marine training or rowing across the Atlantic Ocean solo (yes, a woman actually did this, three times!). I learned about mental and physical health and how to promote both, so that they can complement my dancing goals in healthy and effective ways.
As an underclassmen, I had a pretty regular 9:00 a.m. to 5:00 p.m. schedule. As an upperclassman, I have more time to fit general education credits and personal interest courses, such as my minor, into my schedule.
I also feel more at home here. Transitioning from high school to college is always difficult. It took me a little while to settle in. Now, I feel that I can truly call USC and USC Kaufman my home. My relationships with my classmates and professors have solidified and gone in directions I never could have foreseen, and I have grown to love everyone in my program in all of their weirdness and individuality.
---