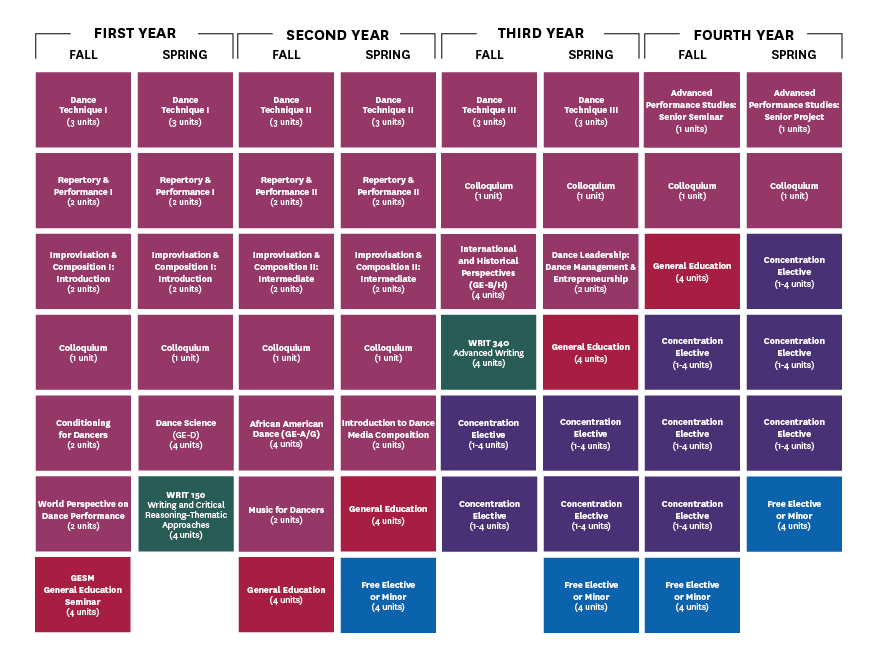 BFA Core
The BFA Core provides students with a strong foundation in technique, performance and composition (approx. 25-40 studio hours per week), combined with courses in history, theory, health, music, digital media and dance management. Annual colloquiums further develop critical thinking and speaking skills. The program culminates in a senior project.
---
Concentrations
In the junior and senior years, students explore one of four concentrations: Dance Performance, Choreography for Stage & Screen, Dance & Music or Design Your Own. Faculty mentors and academic advisors help them select elective courses that support their artistic and professional goals. Concentrations culminate in a senior project.
---
GE Courses
Dancers receive a rigorous liberal arts experience through the university's General Education and Writing program. Requirements span a variety of subjects from across the university, including the arts, humanities, social sciences, life sciences, physical sciences and quantitative reasoning. Categories include different classes to choose from each semester.
---
General Electives / USC Minor
Recognizing that other disciplines inform an artist's development, USC Kaufman has dedicated 16 units for dancers to:
add a minor in one of 190 areas of study
work towards a second major (will generally take more than 4 years)
pursue a pre-professional emphasis (i.e. pre-physical therapy or pre-law)
start a progressive degree
sample courses from across the university
take more concentration electives
Note: Four years of tuition covers 28 general elective units. Eligible students may take additional units at no extra cost though the university's Academic Achievement Award.
Visit the USC Course Catalogue
---
Daily Schedule
A day in the life of a USC Kaufman student is filled with both dance and academic classes.
Three hours of Dance Technique, taken Monday through Friday, begins at 9am for first- and second-year students and at 10:30am for third- and fourth-year students.
Repertory & Performance takes place each Monday, Wednesday, and Friday from 2pm to 4:50pm for all students. Additional rehearsals are on Friday evenings and Saturday afternoons.
First- and second-year students have an hour and a half of Improvisation & Composition on Tuesday and Thursday afternoons. Advanced Composition for third- and fourth-year students is held from 9am to 10:20am twice a week.
Dance science, conditioning, history, media, entrepreneurship and other required and elective courses for first-, second- and third-year students are generally held on Tuesday and Thursday afternoons.
First- and second-year students will generally take one general education course each semester between 12pm and 2pm, twice a week. Third- and fourth-year students have the freedom to take General Education courses, as well as concentration electives and general electives, in the morning, afternoon, and evening.
All students have Monday through Thursday evenings free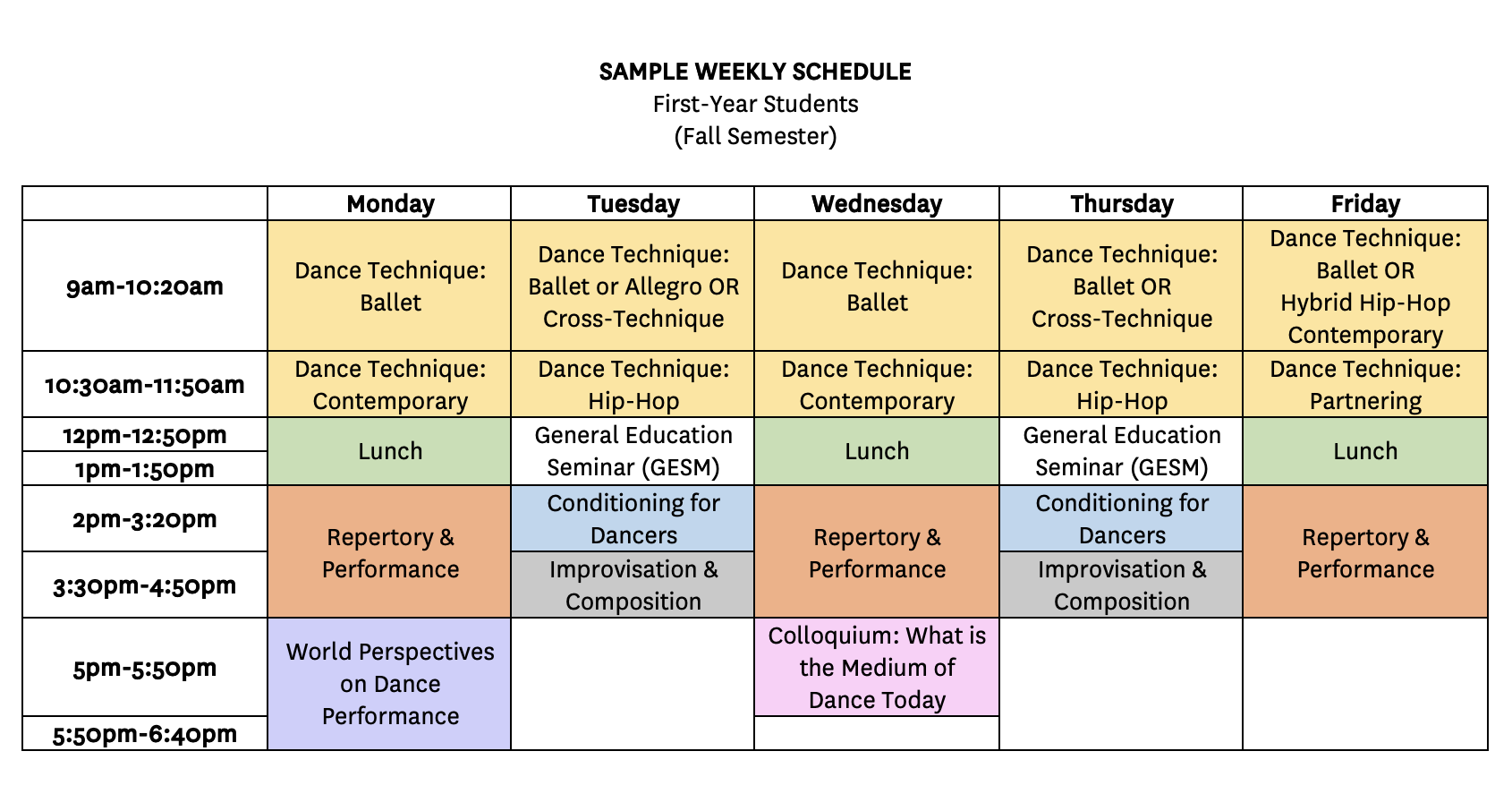 ---
Learning Objectives
In pursuing a BFA from the USC Glorya Kaufman School of Dance, students will be given a variety of learning objectives designed to give them a well-rounded education in all facets of dance and intersecting industries, thus allowing them to take their training and experience and become leaders in the field of dance.