Balanchine's "Who Cares" comes to USC Kaufman
September 7, 2017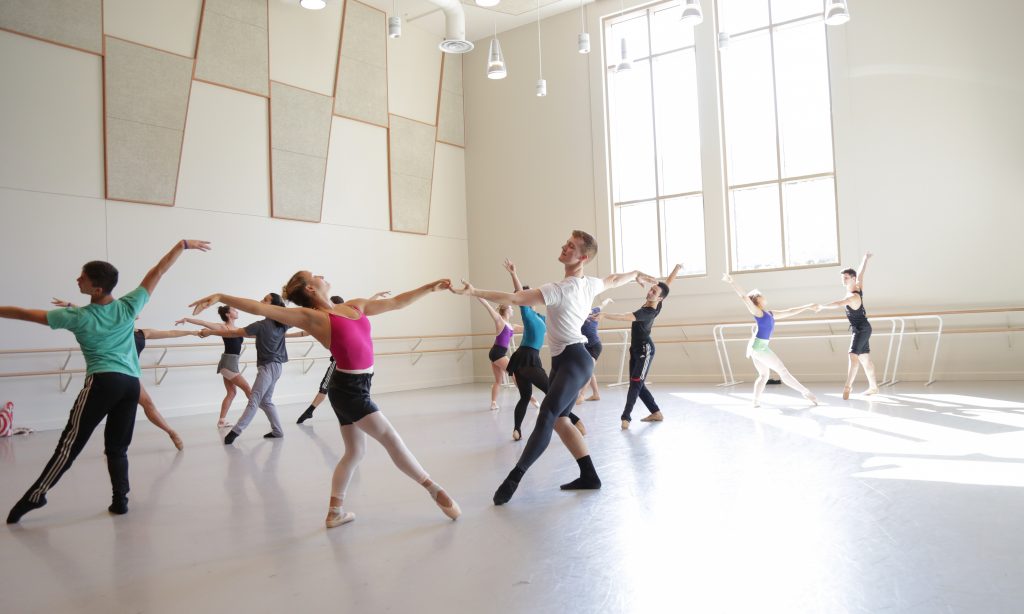 George Balanchine's "Who Cares" premiered in 1970; set to the music of jazz composer George Gershwin, the 40-minute ballet is among Balanchine's most famous works. Known for its syncopated flair and jazz influences, "Who Cares" is still performed regularly by the New York City Ballet (ballerina Tiler Peck is famous for her interpretation of the "Fascinating Rhythm" solo) and many other companies worldwide.
Balanchine and Gershwin were slated to collaborate earlier in their careers, but Gershwin's death in 1937 meant that Balanchine would not choreograph "Who Cares" until many years later. The score is orchestrated by Hershey Kay and comprised of works Gershwin wrote between 1924 and 1931, including "My One and Only," "The Man I Love," "Embraceable You," and more. The concert version features solos and pas de deux for principal dancers, with a finale set to "I Got Rhythm."
The essence of Balanchine in "Who Cares"
Artist in Residence Zippora Karz stages the concert version of "Who Cares" at USC Kaufman this month, teaching the principal parts to BFA freshmen, sophomores, and juniors. A published author and former soloist with the New York City Ballet, she teaches the choreography as it was taught to her.
"I fell in love with the style—it's so musical and precise, technical and difficult, but also heartfelt, free and fun. To be able to share these works with this next generation of young dancers—it's life-giving," she said.
"Who Cares" falls into a category of "masterworks," given Balanchine's widely acclaimed choreography and Gershwin's popular score. Balanchine has become a staple of American dance, and his legacy continues straight through Karz, who was one of the last dancers he personally selected to join New York City Ballet.
"'Who Cares' is especially freeing… [it] speaks to the heart of American culture and Balanchine's love for America. The steps are just as hard, and you need just as much stamina as a classical piece, but it's much more free,' she said.
Zippora Karz brings Balanchine to the students
As a repetiteur for the Balanchine Trust, Karz has set "Who Cares" on multiple professional companies. In the last two years, she has staged excerpts of both Balanchine's "Serenade" and "The Four Temperaments" on USC Kaufman students.
"After training at SAB summer intensives and researching Balanchine ballets, 'Who Cares' became my dream ballet, so having the opportunity to learn and perform this choreography is a dream come true," said BFA junior Jackie Schiffner. "I really appreciate the way that Zippora teaches and coaches the Balanchine repertoire, by offering us options to represent our individuality while still maintaining the integrity of the choreography."
Balanchine's classic choreography requires artistry and musicality of young dancers—the focus on syncopation and early overlap of ballet and jazz makes the work a natural fit for the USC Kaufman curriculum.
"By sharing what I have learned from 16 years with New York City Ballet, I hope that I can use my expertise to help them develop as technicians and artists – help them become the best dancers and artists they can be," Karz said.
USC Kaufman BFA students will perform "Who Cares" at USC's Global Conference in Tokyo, at midterm performances in October, and at the Fall Dance Performance in November.
---
By Celine Kiner