Extracurricular activities help BFA students thrive at USC
March 16, 2022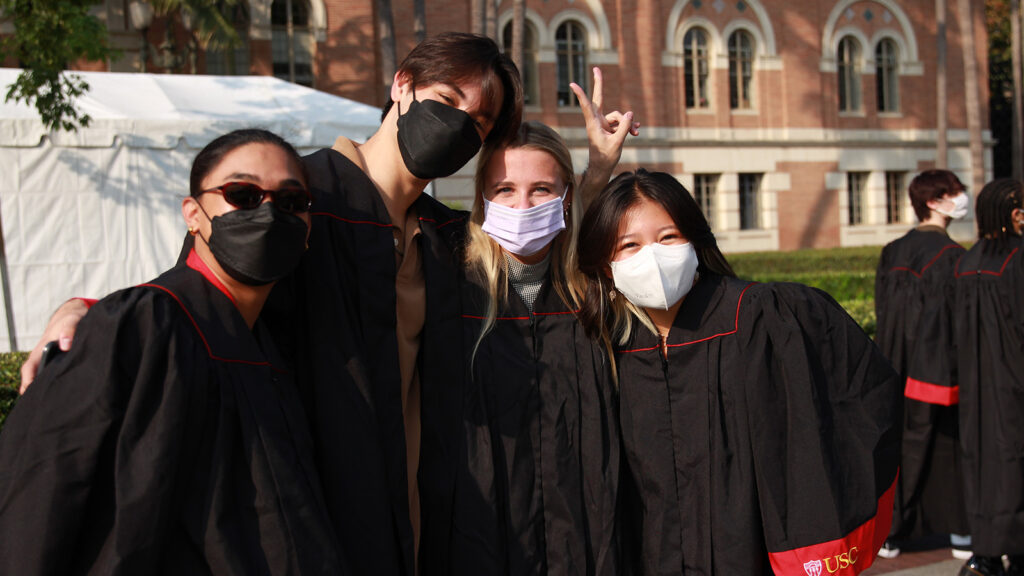 The University of Southern California offers BFA students a wide array of extracurricular activities. Students can explore interests and opportunities outside the USC Glorya Kaufman School of Dance to enhance both their academic and social experiences at USC.
Chaotic 3
Diego Lopez (BFA '24) took his passion for dance and found an extracurricular activity to expand his training outside of USC Kaufman. He joined the hip-hop dance team Chaotic 3 in the fall semester of his second year at USC Kaufman. The team emerged as an artistic outlet for members of the USC Chinese American Student Association. Now, it has evolved into a space that welcomes dancers of all backgrounds and skill levels.
Lopez describes the Chaotic 3 culture as family-oriented and full of camaraderie. They practice together a few times per week to prepare for competitions. These have included Prelude SoCal, Bridge Dance Competition, Maxt Out and Fusion Dance Competition.
"I joined Chaotic3 mainly because I wanted to have that sense of being in a competitive team again," said Lopez. "But I realized that the team is much more than a competitive team but a close-knit community in which everyone is appreciated and is able to share their passion of dance. C3 is filled with amazing individuals with such diverse backgrounds, as well as a wide network of alumni that have passed through the team and continue to support it. I know once I graduate I'll be leaving with so many close friends and with such a loving and supportive community."
Musical Theatre Repertory
Similar to Lopez, alum Zach Manske (BFA '21) also found an opportunity for expression outside of USC Kaufman. During his time as an undergraduate student, he was part of Musical Theatre Repertory (MTR), an organization focused on creating musical theatre for students by students at USC. Manske was on the board of MTR as the dance coordinator, and he oversaw all the dance elements of their performances.
Growing up, Manske had a passion for musical theatre. He saw MTR as the perfect way to get back involved while training at USC Kaufman. During his time with MTR, he helped execute two to three shows a year with the club and learned how to collectively put a production together.
The broad appeal of MTR
Manske enjoyed the collaborative process of MTR and appreciated how it attracts students from all across USC to the common love for musical theatre. As he was one of the only USC Kaufman students in the organization at the time, he enjoyed interacting with students from other majors.
"We had people in the USC School of Dramatic Arts, the USC School of Cinematic Arts, the Marshall School of Business, and USC Annenberg," Manske said. "We all had a passion for musical theatre so were able to bring our different kinds of knowledge around USC to make our productions entertaining and exciting."
Greek life
Ava Noble (BFA '23) looked to Greek life at USC to interact with students outside of her USC Kaufman cohort. In the spring of her freshman year, she joined the sorority Kappa Kappa Gamma.
"Going into USC Kaufman, we knew a lot of our classmates through the dance world," Noble said. "There are so many different majors in Greek life. I saw it as a way to meet people that I never would have met before."
Even though her sorority holds events online this semester, Noble explained that she still meets new members in each meeting. Despite social distancing, Noble says the philanthropy aspect of Kappa Kappa Gamma has continued throughout the semester. Members have taken to social media to raise money for their chapter's philanthropy partnerships. This includes Swim with Mike, a scholarship fund for physically challenged athletes.
"I think it's important to meet people outside of the dance major," Noble said. "We don't have too much time outside of the studio. In the time we do have, I think it's important to branch out. I knew that was something that I wanted to do."
According to the students, the BFA schedule is rigorous and sometimes making time for extracurricular activities gets tough. However, joining these organizations has only improved their USC experience.
---
By Brigid Murphy, edited by Cecile Oreste