Career Services helps graduating dancers put their best foot forward
February 4, 2019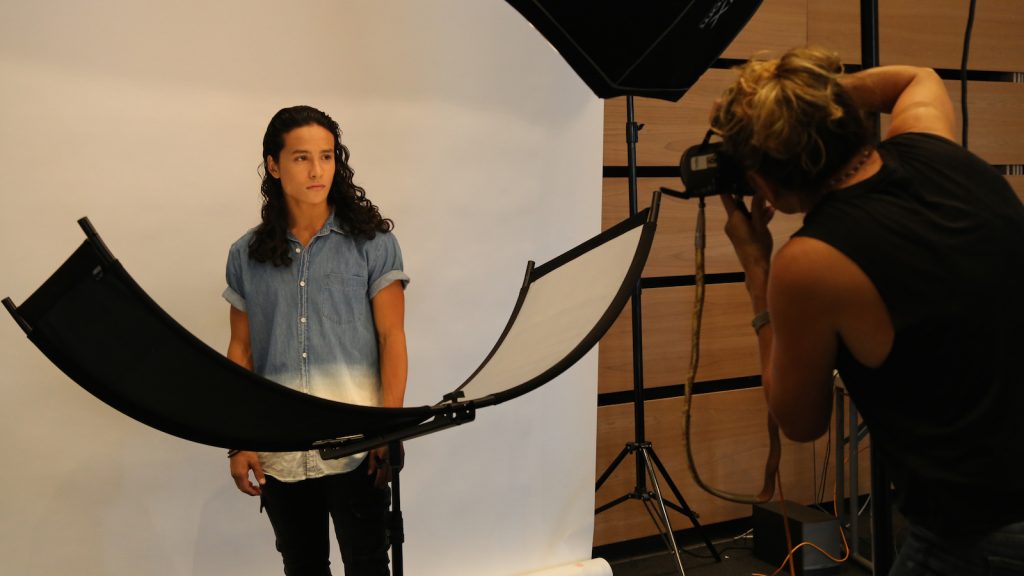 This May, the BFA class of 2019 will be the first cohort of students to graduate from the USC Glorya Kaufman School of Dance. In anticipation of the next step for young graduates, USC Kaufman's Career Services Office has begun assembling resources for students' transition into the job market. From professional headshots to audition postings, the team offers several services tailored to dancers' needs.
"It was really important that we created a suite of different activities at the USC Kaufman standard," said Anne Aubert-Santelli, Assistant Dean of Admission and Student Services.
A robust portfolio
Last semester, USC Kaufman provided each of its BFA seniors with professional headshots by photographer Cathryn Farnsworth. Available to students for auditions use, the selected shots were also put into a booklet complete with dance shots, résumés and biographies. Its purpose: to present a concise, well-rounded view of each senior and their accomplishments.
A willing audience
Faculty and administrators then put together a guest list—made up of colleagues, friends, acquaintances—to be invited to a set of performances. Assistant Professor of Practice Bruce McCormick curated an invite-only studio showing to feature seniors in particular.
"The goal is to show the students' versatility and to put them in a studio setting so that the directors can see them work in an informal atmosphere," said McCormick.
McCormick, other faculty, and administrators provide career experience expertise for the team. Once they've gathered resources, Aubert-Santelli and colleague Wilson Vu bring their organizational skills and student affairs perspective to the table to make events happen.
In addition to the studio showing, USC Kaufman invited guests to the annual Fall Dance Performance. BFA students performed in works by George Balanchine, William Forsythe, Jodie Gates, d. Sabela grimes, Matthew Neenan, Crystal Pite and Paul Taylor. Senior booklet in hand, guests were encouraged to attend a post-show reception with BFA dancers. There, students could foster relationships with possible future employers.
"The Fall Dance Performance demonstrates the development and growth of the students within the context of the new and iconic repertory they learn during their time at Kaufman," Vice Dean and Artistic Director Jodie Gates said. "It also gives these young dancers the advantage of performing live in front of directors, choreographers and agents."
Seasoned career advice
USC Kaufman also provided several avenues for advice and discussion with seasoned professionals. Faculty members, Artists in Residence, and staff presented panels about the employment climate in different sectors of the dance industry. Among them: Los Angeles commercial work, Broadway shows, and even the concert scene in Europe.
"I have hosted two panels last semester, on the dance industry in Europe and in New York," said Vu, who acts as Career Services Coordinator. "I plan to host several more with professionals in the field to discuss more career-related topics, such as Branding & Entrepreneurship and Commercial Dance."
New Artists in Residence also visited a weekly senior seminar course taught by Gates. Gates moderated discussions with the students on careers in dance and the many paths available. The seminar also gave students time to develop a detailed senior project, for which the career team coordinated a stipend. Seniors will also have the opportunity to present their projects to an invited audience.
Stepping out
Each of these resources leads toward opportunities for employment. Vu manages an online portal that students can check for links to job and audition postings. In addition, he updates a professional development board that posts intensives, festivals and more. Once students plan auditions, they can submit for approval to be excused from classes. The Career Services Office will then allow absences for appropriate auditions and jobs.
What's to come
In addition to providing these career resources, the department also works to support BFA students with interests in diverse fields.
"We also want to help manage expectations," said Aubert-Santelli. "Not everyone will end up in the same place, and that's okay. Part of the New Movement is to redefine the meaning of 'success' for someone with a BFA in Dance."
BFA students will also travel to New York this February to perform a full repertory program at The Joyce Theater. The same weekend, BFA students will debut choreographic works at an invite-only event at New York Live Arts. Directors, choreographers, and agents will attend both events and will have the opportunity to speak with students after the performances. A similar showing is scheduled in Los Angeles this February, so that the students have visibility on both coasts.
Several BFA students have set out to plan audition tours. Others plan to explore acting careers in Los Angeles or blaze trails in dance marketing. Until then, the class of 2019 has their sights set on USC Kaufman's very first graduation ceremony, where they'll hear from commencement speaker Mikhail Baryshnikov.
---
By Celine Kiner