A dance conservatory in a university setting: USC Kaufman's dual offerings
August 2, 2019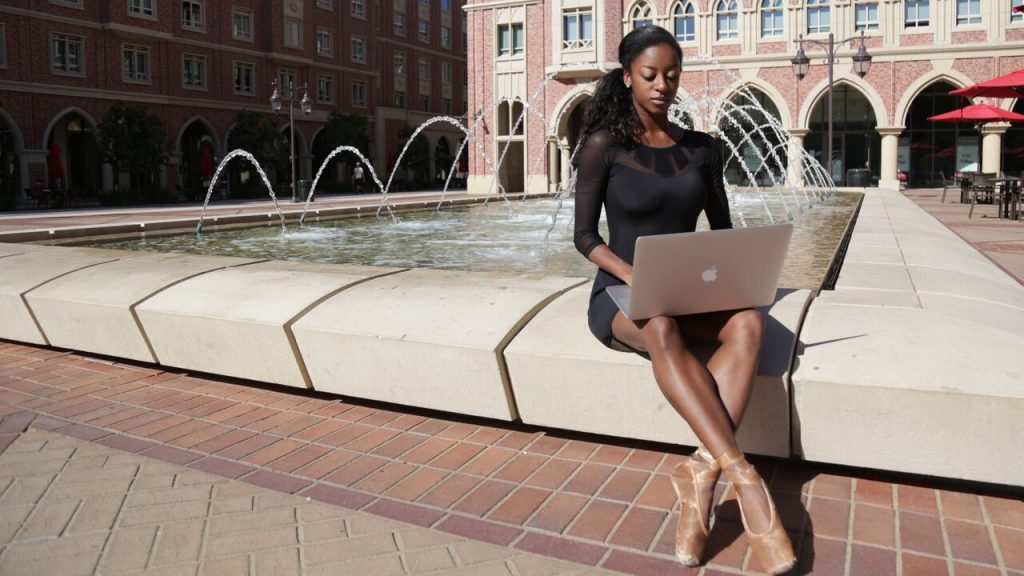 The USC Glorya Kaufman School of Dance BFA program was conceived with a conservatory-style emphasis on dance, but is embedded in a top-tier university. What exactly does this mean? BFA students at USC Kaufman take on technique, repertory, improvisation and composition. Simultaneously, they meet the general education requirements of the university. This involves taking classes with students in other majors across the university, or minoring in a subject that isn't dance. Multidisciplinary opportunities are abundant. Students have access to learning from faculty in many fields. Alumni from the Class of 2019 offer their thoughts on how the combination of conservatory training and a research one university enhanced their education, shaped their schedules and informed their artistry.
The artist as scholar
Mark Daftari: It was hugely beneficial to complete general education courses on top of all of our Kaufman classes, keeping us in check with our knowledge on writing, math and other topics. GE classes also helped me learn to speak publicly and in a scholarly manner about dance.
Jessica Muszynski: My non-dance classes helped me to remember that being a dancer does not take me out of the running to be a scholar, but actually enhances the experience.
Rachel Walton: With a minor in Computer Programming, I was able to take many classes outside of USC Kaufman over four years. As someone interested in the ways technology can influence dance, I was able to bring a different perspective to my dance courses. The USC college experience gave me a well-rounded breadth of knowledge. It also gave me the confidence to utilize that knowledge as a dancer/artist.
Alvaro Montelongo: I never thought I would fall in love with the university as a whole. As a former student and now alumnus, the endless opportunities that the university creates astonish me. It is a gorgeous space full of knowledge-hungry individuals, with thousands of tools to create pretty much anything!
Brianna Mims: I was challenged to juggle many things in various disciplines at the same time. Having a vast workload forced me to learn how to use my time wisely, delegate with discernment and be present. My non-dance classes allowed me to develop my work in other disciplines. They also allowed me to use movement outside of a performance setting. The biggest takeaway from my experience is collaborating with different schools, institutes and organizations on campus that allowed me to use my artwork in different spaces and disciplines.
Enhancing consciousness
Lenai Wilkerson: Being a Political Science minor provided me with a lot of insight about many different politics around the world. Coming from Washington, D.C., I was always encouraged to be passionate and to take a stance on important issues. Learning more about the world informed my studies, but also informed my craft and approach to dance. I plan to go to law school in the future. I feel that now, I am more whole and marketable because of my outlets for creative and political expression. I have found that those evolved during my time.
Jackie Schiffner: My non-dance classes gave me new perspectives on so many social and political issues and events in our country. I feel that I have become a much more well-rounded citizen.
Satori Folkes-Stone: My non-dance classes at the university were vital for keeping my life in perspective and exercising different parts of my brain. Gender Studies and Dance in Popular Culture probably affected me most as an artist. Once you know, you know, and now I feel forever inclined to be curious about social consciousness in my work.
Justin Epstein: Many general education courses strongly influenced my knowledge of greater human affairs outside of dance and art. Classes like Black Social Movements in the U.S., Diversity and Racial Conflict, and Biology of the Brain influenced my cognitive dissertation and my ability to connect to humanity.
Multidisciplinary approach
Coco Alvarez-Mena: USC Kaufman massively opened my mind to the world of possibilities within the realm of dance. I am so much more open-minded now than I was over four years ago. I feel a greater sense of appreciation for dance and all of its forms, both physical and academic. Being at USC and meeting people from a wide range of career interests hugely sparked my creativity. I have learned the true meaning of collaboration. I was also able to recognize my interests in other fields. My non-dance classes showed me how the discipline we learn in the studio can translate over to any other endeavor we choose to take on.
Austyn Rich: I spent many nights at the Roski School of Fine Arts researching how choreography can reinvent itself in craft-making, photography and design. I found this research valuable for my hopes of becoming an artist and creative director. Also, I loved taking The Human Animal, Issues in Sustainability and Earthquakes because it was fun to have a break from art and just enjoy the planet.
Mary Mallaney: As an artist, I believe that everything that I learn and experience gets funneled into my work. Therefore, all of the classes outside of Kaufman informed me not only on an intellectual level, but on an artistic level as well. My Human Rights, Astronomy and Anatomy courses come to mind as big contributors in that way. My experience at USC really taught me the value of education and the value of knowledge. I would hardly recognize my 18-year-old self today. I think that is one of the greatest compliments I could give myself and this school.
---
Edited by Anne Aubert-Santelli, Assistant Dean of Admission and Student Services