Kaufman Connections returns with an in-person showcase
May 19, 2022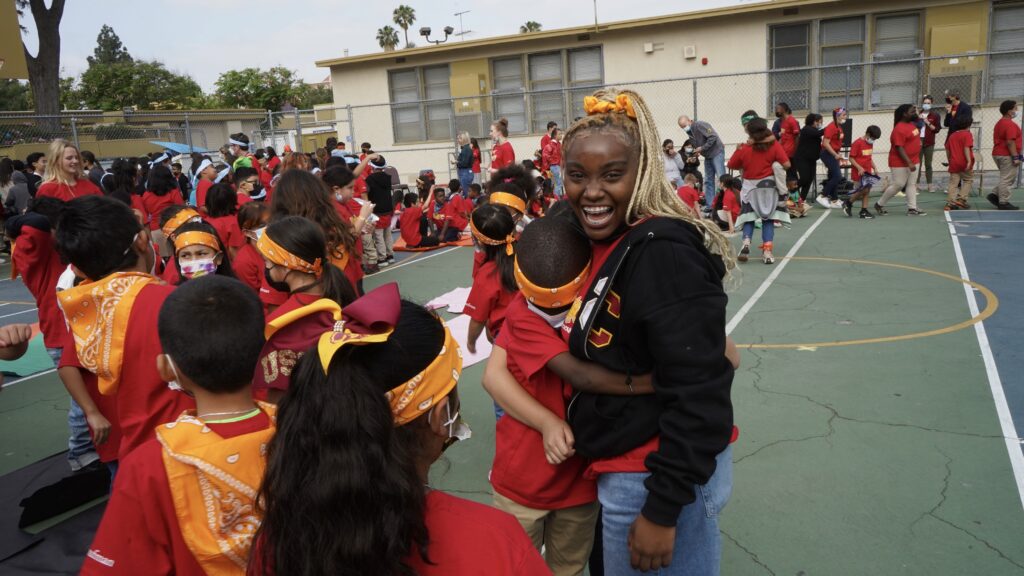 This semester, Kaufman Connections returned to fully in-person instruction, while continuing to follow Covid related safety protocols. This community engagement initiative brings the choreographic process with a focus on hip-hop to the 32nd Street Elementary School. BFA students from the USC Glorya Kaufman School of Dance work as teaching artists to give weekly, one-hour dance classes to the elementary school students.
This program aims to provide a cultural movement practice that will foster community, confidence and social-emotional learning. It also helps the children develop life skills that are naturally embedded into the process of dance-making and performance.
The teaching artists
Involvement in this organization is voluntary, and every semester new BFA students join Kaufman Connections. At the beginning of this semester, the teaching artists went through a two-hour workshop led by Kaufman Connections program director and USC Kaufman lecturer Tiffany Bong. According to program coordinator Charizma Lawrence (BFA '23), the teaching artists learned how to make lesson plans for their students. They also discussed the aspects of hip-hop culture that they wished to bring to the classrooms. Midway through the semester, they met with Bong again to discuss what was working and how to ensure that the students get the most out of the program.
At USC Kaufman, Bong teaches DANC 195: Mobilizing Hip-Hop in the Community, a course open to BFAs and dance minors. This class goes further in depth regarding community engagement by exploring dance, pedagogy and program development. While this course is not mandatory for the volunteers, many of them take it to aid in their experience.
Looking forward, Lawrence said that Kaufman Connections hopes to expand in to include dance minors as teaching artists as well. Many dance minors take Bong's elective course and are interested in bringing dance into the community.
"We are trying to move into letting our dance minor students get involved so that more people can be part of the mission," Lawrence said. "We want to give the kids a wide variety of teachers. Every teacher creates their own lesson plan, and they each bring in a part of themselves to the class. Broadening that would allow our program to grow and give these kids as much as they possibly need."
A return to in person events
Kaufman Connections was able to operate fully in person this semester. 20 USC Kaufman BFA students acted as teaching artists for 250 elementary school students, spanning grades 1-5. The program concluded with an event to showcase what the students had been working on. This show took place outside in the basketball courts at 32nd Street Elementary School, across from USC's University Park campus. 10 classrooms performed choreography with their teaching artists, followed by a dance party. There was a live DJ playing music and plenty of snacks for the students.
"The show concluded with a cypher session where everyone gets to freestyle. It created a very friendly and open community, much like what a lot of the hip-hop culture is based upon," Lawrence said.
At the end of the program, Kaufman Connections sent out a survey to the elementary school teachers regarding the semester.
"The teachers said how impactful it was to have the classes in person as opposed to online," Lawrence said. "Many of the teachers said there's nothing like being in person. They said it was so nice to interact with the BFA students and to watch their own students grow emotionally and ability-wise with dance."
Generous support
Three generous funds make this program possible. USC's Good Neighbors Campaign is a USC staff fund that supports local community programs focusing on education. They focus particularly on programs in the neighborhoods surrounding USC, and they provide support for Kaufman Connections. American Dance Movement invests in building healthy communities through dance, aiming to expand access to dance and movement. This foundation helps to fund Kaufman Connections as well. Lastly, Kaufman Connections is supported by USC Arts in Action, a program under the USC Provost's Arts and Humanities Initiative which supports art that facilitates positive social change.
Watch a video recap of the year's activities below:
---
By Hannah Doerr