E. Moncell Durden talks dance, diaspora and documentary
November 30, 2018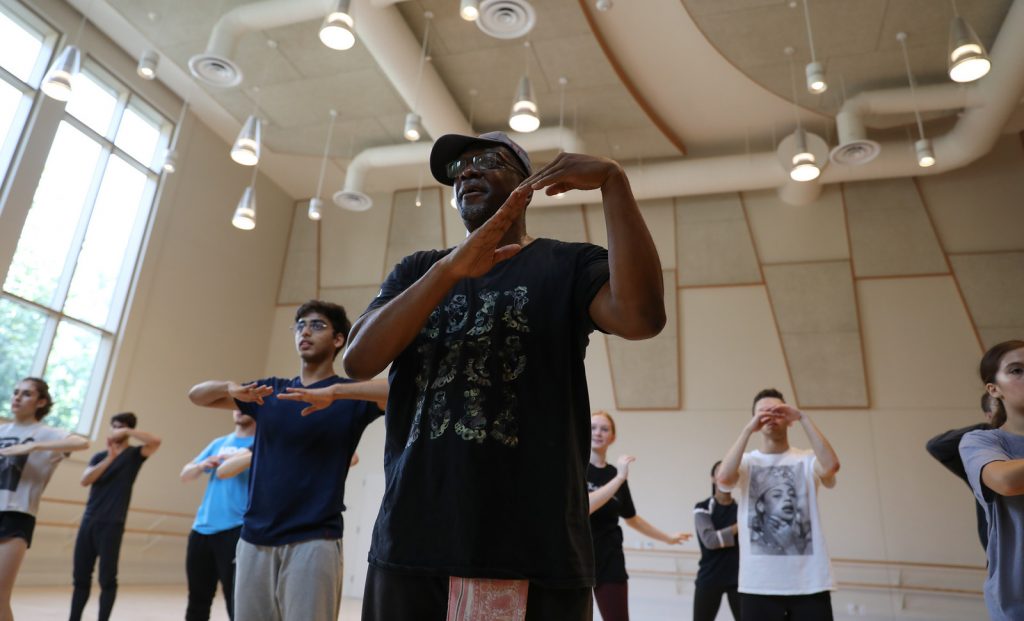 USC Kaufman professor E. Moncell Durden has spent 18 years in academia. He has taught both movement and lecture courses on dances born of the African diaspora: namely, jazz and hip-hop. When he's not in the classroom, he's working on his latest book, his new documentary or a new lecture series. Between all of Durden's projects there is a common thread. Research from numerous disciplines colors his work. In the true spirit of the New Movement, Durden has incorporated theory from psychology, neuroscience, anthropology, linguistics and cultural studies into his own practices. In fact, if he's not teaching, you'll find him reading a new book or taking notes in one of various journals on how it informs his studies. However, he retains a firm grip on the basics. At USC Kaufman, he teaches Origins of Jazz Dance, and his most recently published book is titled "Beginning Hip-Hop Dance."
An introduction to social dance
Durden's book, published earlier this year, takes a unique approach to teaching the form. It offers a comprehensive history of hip-hop's conception in New York, including breaking and social dances. Accompanying the historical context is an index of social dances, each broken down into layman's terms.
"I want the book to be a useful tool to anyone teaching hip-hop," Durden said. "Most books on hip-hop dance focus on breaking. But there isn't anything written by a practitioner of the community that focuses on the social dances of hip-hop. My book offers methods of teaching, historical information, and study practices for a safe and healthy studio environment."
"Beginning Hip-Hop Dance" has been met with acclaim in locations worldwide, selling out online and at several conferences. In addition, Durden is touring a lecture series and his documentary. Locations range from the California African American Museum, right next door from USC, to across the world in Sweden.
Bringing his vocabulary across the street
USC Kaufman Associate Dean for Administration Renae Williams Niles introduced Durden to the California African American Museum's curator Vida Brown. After several discussions with Brown, the two decided to work together to discuss the history of black dance. Consequently, Durden's lectures incorporate his knowledge from diverse research and unique perspective from touring as a hip-hop dancer.
"Through this exploration of comprehending the people and culture one might understand the dance," he said.
His documentary takes a similar approach, with visual aides and interviews to guide the viewer.
Seeing the studies
Durden's documentary had humble beginnings. He had no archives to access or production company to hire except his own. However, he's been collecting footage for years, from television, DVDs, documentaries and more. He has also been collecting connections in his travels.
"I began by interviewing people in the dance community, peers, elders, locally based and globally. I was making a film before I even knew what I was doing," he said. "It's been a labor of love, but in the end it will be my visual dissertation."
Essentially, the film focuses on the geneaology of African American social, spiritual and ritual dance. Durden hopes that the completed product will be a docu-series on how lived experience informs these dances.
"The film investigates the deep-rooted African retention present in dance practices through the African Diaspora. It highlights influential and cross-cultural phenomena that helped construct and characterize these practices and the globalization of their aesthetics," Durden said.
According to Durden, his years in academia have inspired his research, which he plans to continue far into the future. They have also challenged him to think in new ways when interacting with students and faculty.
"I've learned so much from each of my colleagues. My ability to teach lecture courses, movement classes, and step out of my comfort zone has all grown," he said. "The students have helped me to strengthen my communication skills, my purpose, my humanity. They've taught me to be a better teacher, person, sharer and dance guide."
---
By Celine Kiner