Innovations abound at The Fall Dance Performance
November 22, 2016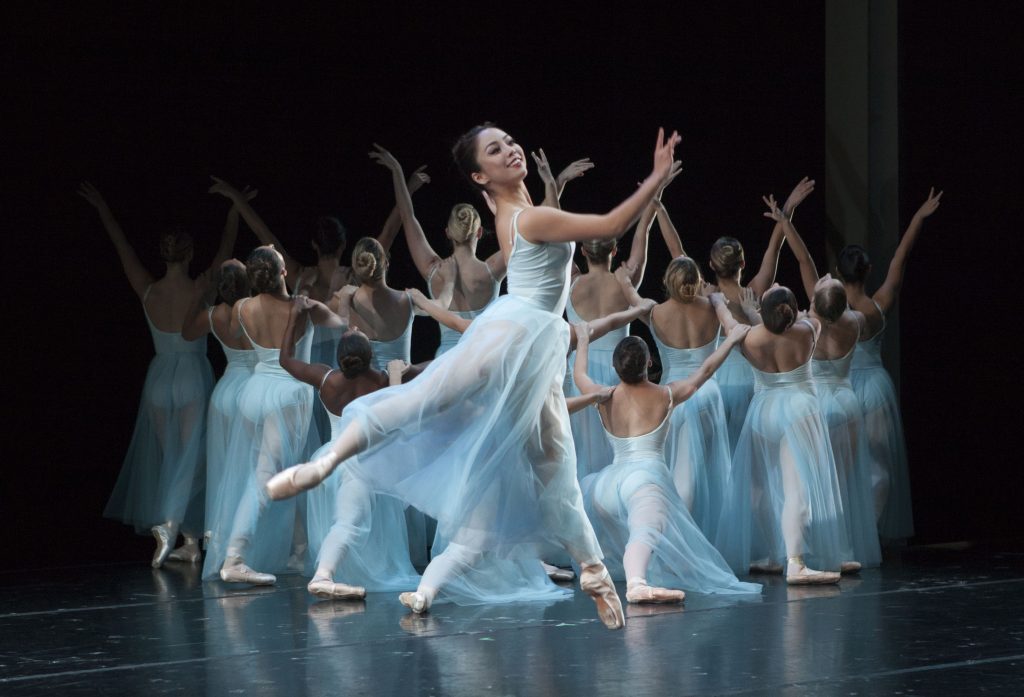 Enthusiastic crowds filled the Glorya Kaufman International Dance Center from Nov. 15 to Nov. 19 as USC Kaufman's BFA students presented their Fall Dance Performance. Throughout six performances, the dancers delivered seamless executions of various works representing different generations of dance.
The students, all freshmen and sophomores, demonstrated the versatility of USC Kaufman's guiding principle, The New Movement. Not only did they display an array of technique, from classic ballet to hip-hop, but they also committed to training and performing in different dance roles for each presentation.
Assistant professor of practice Jackie Kopcsak directed the show, which at its core consisted of sets of choreography taught in the Repertory and Performance course. She described the event as "a night of firsts," given the newness presented in the performance of Dwight Rhoden's Gone and new excerpts from acclaimed choreographer William Forsythe's In the Middle, Somewhat Elevated.
"I didn't know what to expect or even what genres of dance they were going to present," said audience member Natasha Dark, an undergraduate in biological sciences at USC Dornsife who takes an African-American Dance course at USC Kaufman. "I liked how they started out with ballet and then made it more contemporary as it went on. It was impressive to see how they think outside of the box in dance."
The works
The program opened with an excerpt of George Balanchine's Serenade (1935), in which 18 female students dressed in light blue tulle gracefully danced a group work that also allowed the display of individual skills. The piece was followed by The Four Temperaments (1946), also of Balanchine's design, presenting three duets danced in practice attires that revealed the geometric shapes, which as Kopcsak explained, is one of the features that the choreographer aimed to emphasize.
Paul Taylor's masterpiece Cloven Kingdom (1976) was staged by faculty member and Taylor Company veteran Patrick Corbin. The piece, which was danced in previous semesters' showcases, continues to benefit the students' maturity, as they deliver an even more polished execution each time.
Similarly, Alejandro Cerrudo's Lickety Split (2006) has served as a growth vehicle for the students, some of whom had the opportunity to rehearse it directly with its creator last semester. The emotional performance now includes the talents of freshman students.
USC Kaufman commissioned the duet ii from Trevor Daw and Justin Epstein, allowing the sophomores to explore their creativity. Their collaboration was a fusion of hip-hop and tap, and its student choreographers not only explored rhythm and sound in its performance, but also light and color.
A closer look at Gone
The third piece in the performance was Dwight Rhoden's Gone (1996). Previously danced solely by men at Complexions Contemporary Ballet, the piece included–for the first time–a cast of women.
USC Kaufman's artist in residence Desmond Richardson, who founded Complexions Contemporary Ballet with Rhoden, worked directly with the students to rehearse Gone, perfecting its technique and discussing its social and historical implications. Danced to Another Man Done Gone (1963) from folk singer and civil rights movement figure Odetta, the piece conveys deep and visceral feelings of fight and struggle.
"Desmond talked to us a lot about the meaning of the piece," said freshman Brendan Evans, who performed Gone for two nights. "One of the main movements is about trying to break free from a chain, and I personally related it not only to slavery but to the discrimination problems that we still see today."
Gone requires authentic expressiveness, as well as the discipline of the contemporary ballet technique. Within seconds, a movement can go from materializing expansive movements that pull the body out of its center to achieving sets of pirouettes that demand a fast return to the axis.
Diversifying the performance with three female dancers, who presented the same routine of the male dancers, was a chance to explore the sensations that the women's physicality could convey.
"We were really encouraged to approach it differently and to find our own nuances for it," said sophomore Sophia Oddi, who said she was honored to be one of the first women to perform Gone live. "It's the exact same movement, but I can feel how men and women can present it in a very different way."
The performance closed with William Forsythe's In the Middle, Somewhat Elevated (1987), staged for the first time with a large number of dancers. Originally designed for nine performers, the excerpt in Fall Dance Performance gathered 18 dancers, both freshmen and sophomores.
The Fall Dance Performance is the third end-of-semester show presented by USC Kaufman students. Future editions promise to continue innovating with interdisciplinary collaborations and providing a stage for students to demonstrate their talent, teamwork and creativity.
---