Student Blog: Leadership Opportunities at USC Kaufman
January 31, 2020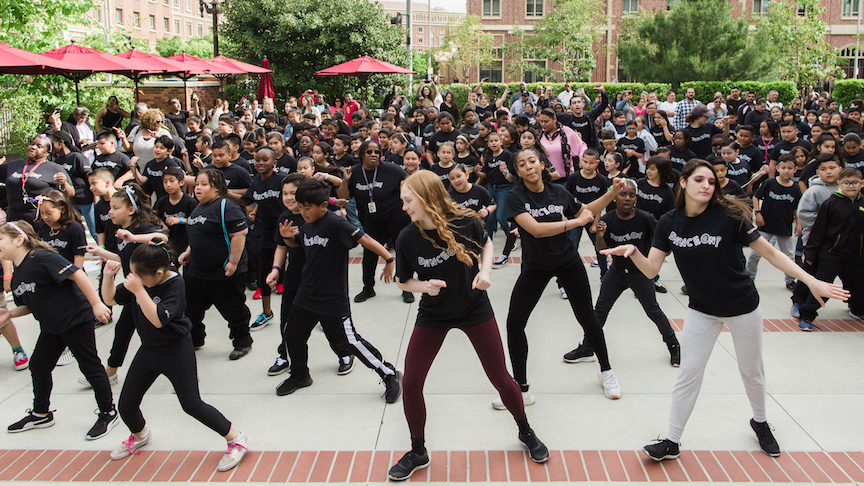 USC Kaufman teaches us much more than what is built into the rigorous BFA curriculum. In fact, I would even argue that some of the most valuable experiences happen outside of the studio and the classroom. USC Kaufman is constantly providing us with opportunities to practice the leadership qualities necessary for success after graduation. In my time at USC Kaufman, I have taken advantage of a diverse pool of opportunities.
Administrative voices
During my freshman year, I started working for the Student Services team under the Assistant Dean of Admission & Student Services, Anne Aubert-Santelli. I also began working for the USC Kaufman Communications team. Through these avenues, I can be a strong leader within the USC Kaufman community. Whether it be running the USC Kaufman Instagram account, facilitating a photoshoot, or curating student blogs (like this one), I am constantly able to grow beyond just my BFA and minor studies. A huge part of going to school at USC is having the room for growth in several facets of my skill set. Through the leadership opportunities at USC Kaufman, I've gathered experience that I can take with me after graduation.
Student Advisory Board
Sidney Ramsey (BFA '21) has had many different opportunities to be a leader as well. Sidney is a part of our Student Advisory Board.
"I have really enjoyed being on SAB and serving as a representative for our class, giving voice to concerns or opinions that we feel should be brought to the attention of staff or faculty. It is rare that students can have so much of an influence on their program. USC Kaufman's flexibility allows us to play a larger role in determining the course of our education," she said. "SAB accomplishments that I am really proud of are changing repertory times to more sustainable rehearsal hours on the weekend and working on improving the diversity and inclusion within the program. We contribute so that all students feel valued and heard in their independent experiences."
Supervising operations
Sidney's leadership opportunities do not end there. She also works for Dance Operations at USC Kaufman.
"My sophomore year I was promoted to shift supervisor, a position where I lead operation team shifts in procedures like opening and closing the building. I have also gained experience through this job as a stage manager, costume assistant, and runner for minor performances," she said.
All of these different skill sets prepare us to function in a variety of environments after we graduate. Through these experiences, Sidney, myself and other classmates will be better equipped to collaborate and work in the dance field.
Guiding the next generation
Kaufman Connections is another program that allows us to put our leadership skills into practice. It's a community outreach program led by lecturer Tiffany Bong that connects our BFA students with 32nd Street Elementary classes. There, they lead young students in basic dance curriculum. Tea Devereaux (BFA '21) is one of the BFA student teachers who works regularly with these young dancers.
"We get to practice teaching dance with guidance from our leader, Tiffany Bong," she explained. "She gives insights on how to successfully lead a group of students, while giving us the freedom to practice leading how we wish."
Kaufman Connections is unique in that it gives us the opportunity to shape the future of dance for young students. For some of these young students, these classes are their first exposure to the art form. It is an incredibly inspiring program and opportunity for our BFA students, as well as the elementary school students they work with.
Curating events
Lastly, I wanted to highlight Mariana Carrillo (BFA '20) and her senior project. Carrillo's senior project compiles her leadership experience to reach a wide audience. She was a monumental part of USC Kaufman's involvement in Gala de Danza, and without her leadership, we would not have had this incredible opportunity. Her senior project brings all of this, and several groups of people, together.
"I will be curating an evening of dance in which I will be sharing my story behind Gala de Danza. It will take place at the General Consulate of Mexico in Los Angeles on Feb. 25. The main purpose of the event is to utilize artistic expression as a bridge to help establish better relationships with the United States and Mexico," she said. "By promoting Gala de Danza, I will then have the opportunity to express how the Gala has been incredibly generous in providing art exposure to the Mexican community in Los Cabos. My goal is to further reach the community of Los Angeles with the help of the Consulate. I hope to showcase the endless possibilities art can accomplish in shaping youth's education, because art is transcendent and without borders."
Carrillo is leading and facilitating an incredible event. Students like her constantly show the USC Kaufman community the possibilities that are out there. Our community is filled with so many students like the ones mentioned here, and we are always in search of the next generation of leaders.
---