BFA students combine dance with progressive degrees
November 23, 2020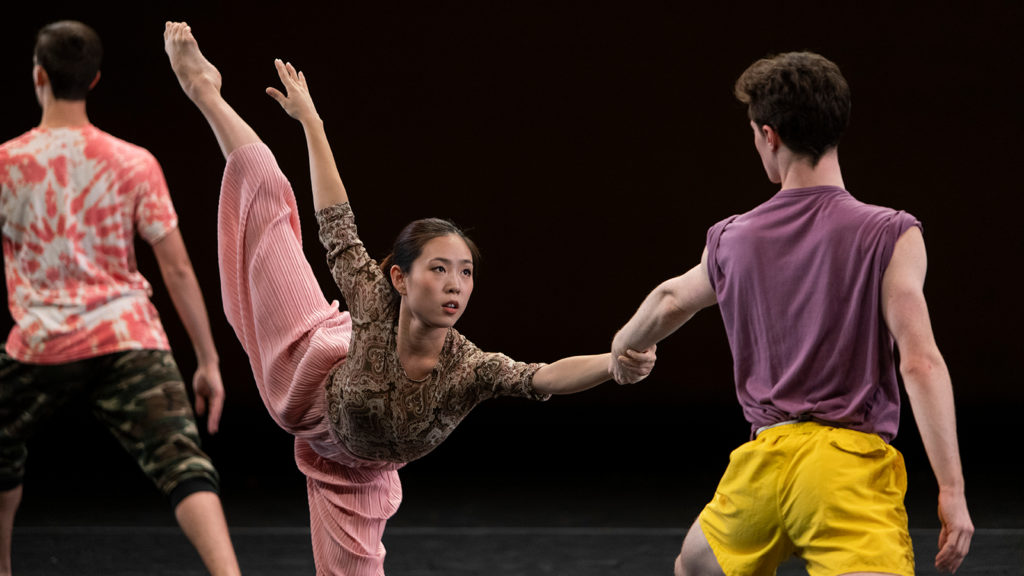 The Progressive Degree Program at the University of Southern California gives students a unique opportunity. It enables undergraduate students to apply undergraduate coursework toward the completion of a USC master's degree in as little as one additional year. This program is open to all USC undergraduates and is a great way for BFA students to blend their dance training with other academic and career aspirations outside the art form.
Master of Science in Gerontology
Anne Kim (BFA '22) chose to pursue a Master of Science in Gerontology at the Davis School of Gerontology. She explained that she has always had an interest in working with older adults. Kim said that her relationship with her grandmother inspired her to look into gerontology in addition to her dance degree at USC.
"The base of my interest in gerontology was that I grew up with my grandma," Kim said. "And as I grew up I wanted more for her and older people in general."
Assisting older adults
Kim noted that movement therapy is an emerging practice in gerontology that she wants to learn more about. She transferred to USC Kaufman from the Boston Conservatory at the Berklee College of Music. There, she first learned about movement therapy among older adults.
"The kinds of therapy I want to do is to create and collaborate with older adults through movement and arts therapy," Kim said.
Kim hopes to combine the arts and sciences in her future work by utilizing both her dance and gerontology educations. With this knowledge, she wants to create a better understanding of how to help older adults.
"In USC Kaufman classes we talk about things like brain patterns and nerve stretches and the kinds of things that happen while doing combinations," Kim said. "Learning more about that and how those things change as you age is really beneficial for me to learn. I want to be able to find similarities between dance and gerontology and put them together."
Master of Arts in Public Relations and Advertising
Zackery Torres (BFA '21) is another BFA student who chose to pursue a progressive degree. They are working toward a Master of Arts in Public Relations and Advertising at the USC Annenberg School for Communication and Journalism. With a minor in legal studies and an overarching passion for advocacy, Torres saw this program as a perfect way to engage with dance and academics at the same level of rigor.
Torres explained that their background in communications coupled with their interest in advocacy work inspired their choice to apply to the program. Since starting the class work this semester, they have also realized the scope of the degree. They're excited to explore how it can play an interdisciplinary role in their career aspirations.
"I've been working with the USC Kaufman communications team for awhile. It has provided the opportunity to practice those skills," Torres said. "I love it and I think I have gained many skills in that regard, but I like getting the formal education and being able to weave in advocacy work as well. I think it's going to make me that much more prepared to take on the world, whatever it will be in a few years when I look for jobs."
Real world application
Earlier this year, Torres started the Continuum Community, a company dedicated to creating more gender-inclusive spaces in everyday life. In their public relations classes, they've learned how to execute successful campaigns that translate to their work with Continuum Community.
"My favorite part of this graduate degree is that I'm doing it simultaneously with my company," Torres said. "What I learn in class at night, I wake up and start doing for my own company the next day."
Finding the right degree program
Torres explained that they're the type of learner that is never satisfied when engaging with a single subject. They hope to branch out into different intersecting areas on their career path as well.
"I really want to dance in a contemporary ballet company. At the same time, I want to be advocating for gender inclusivity with Continuum and traveling to other companies doing consulting," they said. "I also could be doing public relations, advertising or communications for another company at the same time."
Torres advises BFA students to indulge their interests by taking classes outside of dance before deciding on a progressive degree. For example, they took classes in anthropology, epidemiology, communications and argumentation.
"When I took all those classes, that's when I really found what makes me excited to get up every day," Torres said. "After taking a wide variety of classes, I felt confident about honing in and picking a program."
From Nov. 30 through Dec. 10, USC Kaufman dance majors are encouraged to attend Beyond the BFA, a series of information sessions about master's programs, progressive degrees and undergraduate programs at USC.
---
By Brigid Murphy