Recap of the 2022 Fall Dance Performance
November 30, 2022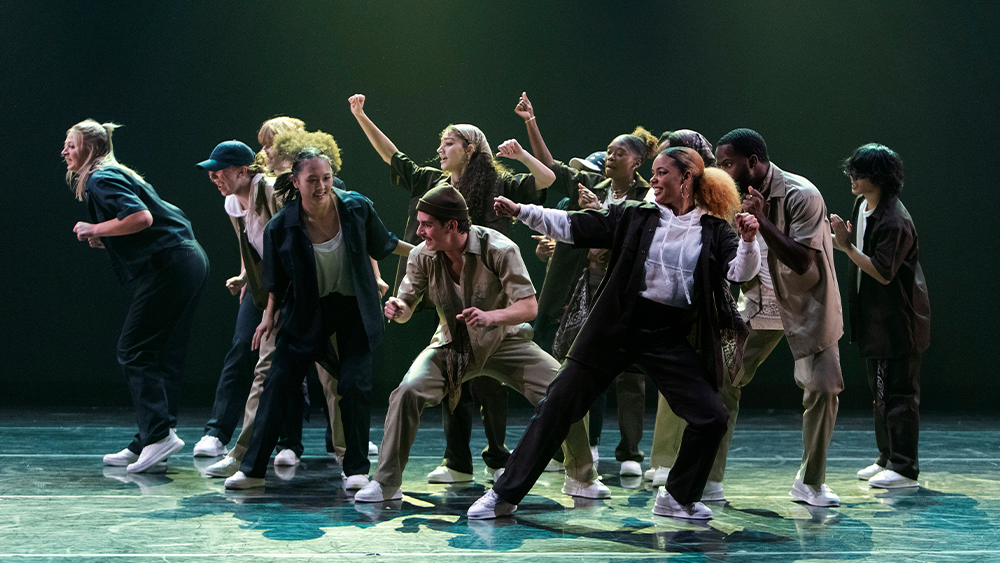 To close the fall semester, BFA students at the USC Glorya Kaufman School of Dance performed in the annual Fall Dance Performance on November 17, 18 & 19, 2022 at the Glorya Kaufman International Dance Center. The show highlighted the versatility and outstanding capabilities of the artist scholars in all four cohorts. The show was made up entirely of new works, created by Artists in Residence and USC Kaufman faculty members.
This event culminates USC Kaufman's first semester with new dean Dr. Julia M. Ritter. A celebration of dance, the students, USC Kaufman and the community that makes it possible, the weekend was full of exciting events. Career Services hosted three events for the soon-to-be-graduating fourth years: the Senior Spotlights Showcase, a reception and master classes taught by various company directors. Dean Ritter hosted a dinner for members of the Dean's Circle, a premier society for annual giving at USC Kaufman.
The show
The students, split into two casts, performed four sold out shows: one on Thursday, two on Friday and a Saturday evening show. The program consisted of six new works and illustrated USC Kaufman's mission of The New Movement. Audience members saw pieces by new Artists in Residence Peter Chu, Max Pham, Dani Rowe and Yin Yue. The showcase also featured work by USC Kaufman faculty members Saleemah E. Knight and Jennifer Lott. The range of showcased repertory exemplified USC Kaufman's emphasis on interdisciplinary learning.
USC Kaufman welcomed many distinguished guests to the show, including USC President Carol L. Folt and USC Provost Charles F. Zukoski. Visionary founder Glorya Kaufman attended two shows, ensuring that she would watch all the students in both casts. There was also a record number of members from USC Kaufman's Board of Councilors in the audience. Invited by Career Services, many professionals from the industry, both commercial and concert, attended as well.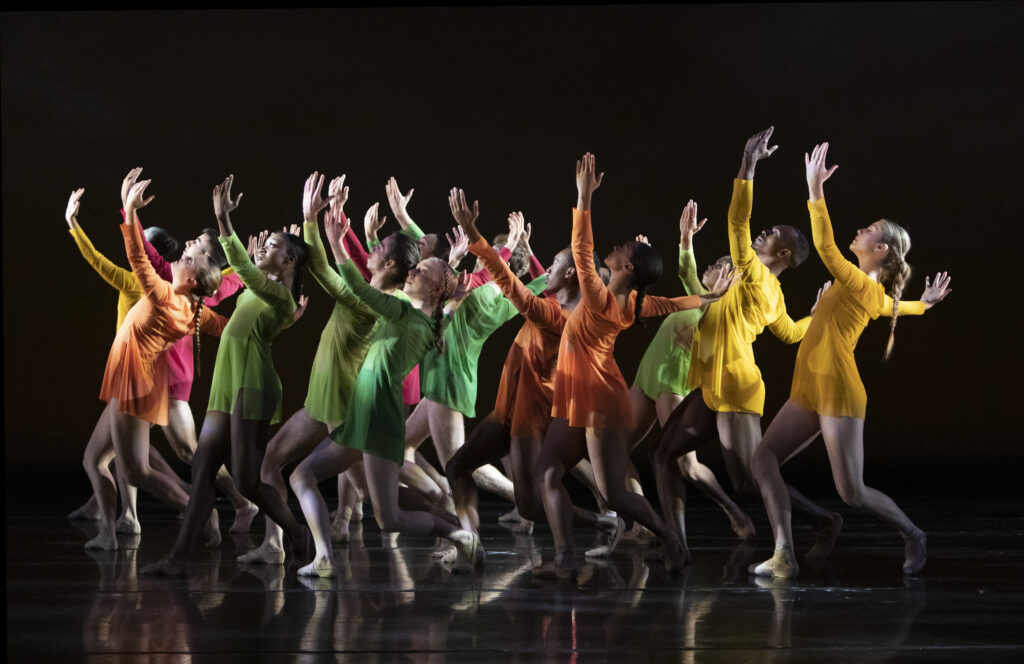 Dean's Dinner
Before the opening show Thursday night, Dean Ritter hosted a special Dean's Dinner at USC's University Club to honor all the members of USC Kaufman's Dean's Circle. These members contribute essential funds to support USC Kaufman's wide range of educational opportunities. Fourth-year students Kayla Goldsberry (BFA '23) and Emma Sutherland (BFA '23) stopped by at the dinner. They gave the group a sneak preview of the show and spoke about their experiences at USC Kaufman and their aspirations for the future.
Senior Spotlights showcase
During the day on Saturday, members of the Class of 2023 performed in the annual Senior Spotlights showcase. Designed to showcase the students' individuality and talent in an intimate setting, the students performed choreographed solos. The performance showcased a wide range of styles as the students highlighted their strengths and vibrant personalities. Career Services invited industry professionals to the showcase, such as dance company directors, commercial dance industry professionals, and artistic staff. Audience members included Canadian and US industry guests such as staff from GroundWorks Dance Theatre, Whim W'him, LA Contemporary Dance Company, Nevada Ballet Theatre and RUBBERBAND, among others.
Reception
After the Saturday evening show, USC Kaufman Career Services hosted an evening reception for dance industry professionals to meet the Class of 2023. Students had the opportunity to network with various directors, choreographers and artists as they enjoyed catered snacks.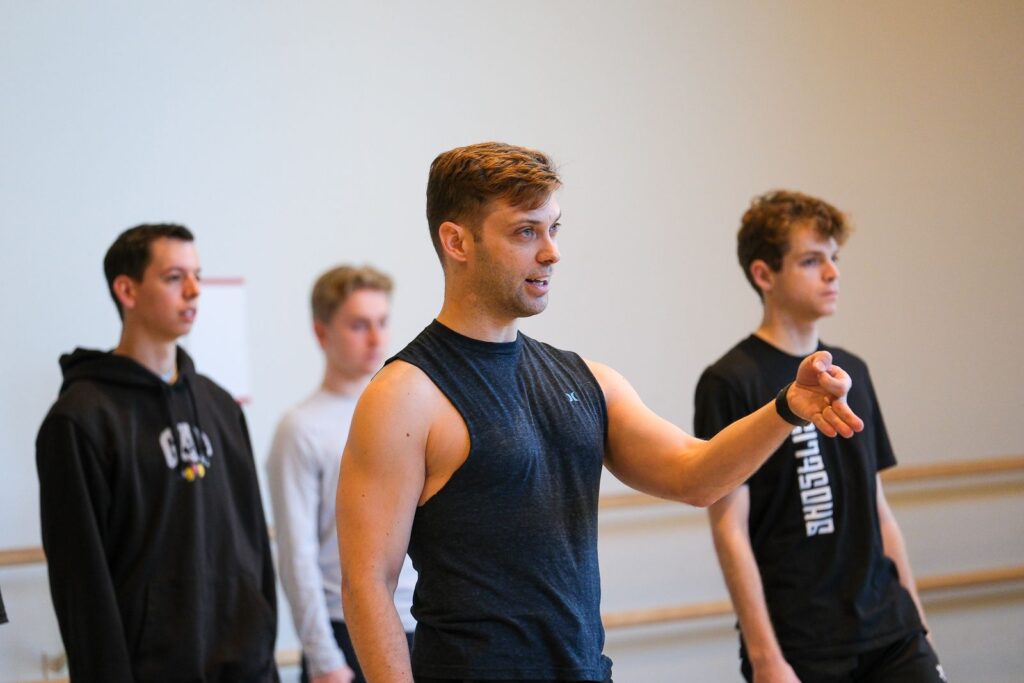 Workshops with company directors
To culminate a weekend of performances and networking, the Class of 2023 had the opportunity to take class from three company directors. On Sunday, Career Services brought in Roy Kaiser, Artistic Director of Nevada Ballet Theatre, Michael Novak, Artistic Director of the Paul Taylor Dance Company and Victor Quijada, Artistic Director of RUBBERBANDance Group to teach workshops for the students. The week leading up to the show, Career Services offered master classes with Artistic Directors from Gibney Dance and Gallim Dance as well. These classes gave the fourth-years another opportunity to show their hard work and talent. They also allowed the students to familiarize themselves with the different company's styles.
View more photos from USC Kaufman's 2022 Fall Dance Performance on Flickr. USC Kaufman Artists in Residence are supported in part through generous funding from The Choi Family Artists in Residence Fund. Additional support provided by a generous gift from Katherine and James Lau.