Resident professor Kyle Abraham gives sneak peek of new premiere for the Class of 2024
March 9, 2023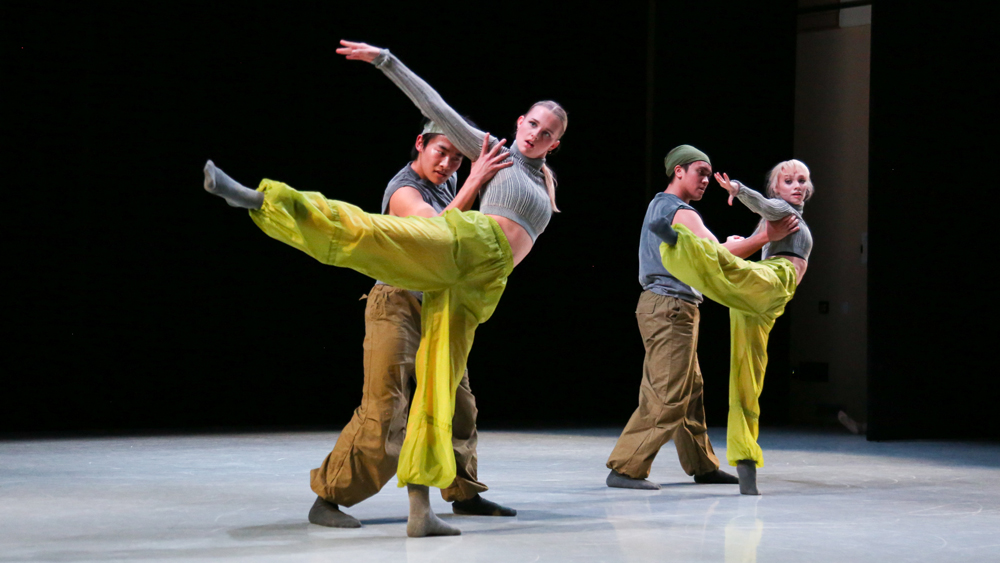 The Claude and Alfred Mann Endowed Professor in Dance celebrated his first in person residency with a private evening celebration with members of the USC Kaufman and Los Angeles dance community.
"Right leg rond de jambe, left shoulder, right leg," began Aimee Brotten (BFA '24), who stood in front of a packed audience reciting some of the prompts that inspired Kyle Abraham's newest creation for the USC Kaufman Class of 2024. She continued: "Left around, head duck through, elbow dance, knee dance, sequence through a deep-fried neck, just your limb."
"We'll get a sense of what that looks like in a minute," Abraham added. The crowd laughed.
Earlier this semester, members of the USC Kaufman and Los Angeles dance community came together to celebrate Abraham, the Claude and Alfred Mann Professor in Dance at USC, who marked his first in person USC Kaufman residency with a special behind-the-scenes program for special guests and the USC Kaufman Board of Councilors.
Over the span of a month from January to February, Abraham taught classes and workshops with students, re-staged one of his signature pieces, Counterpoint, for USC Kaufman's spring showcase in April at The Wallis Annenberg Center for the Performing Arts, and shared a glimpse of Medulla Problems, a world premiere that will debut for a wide audience during the 2023–2024 academic year.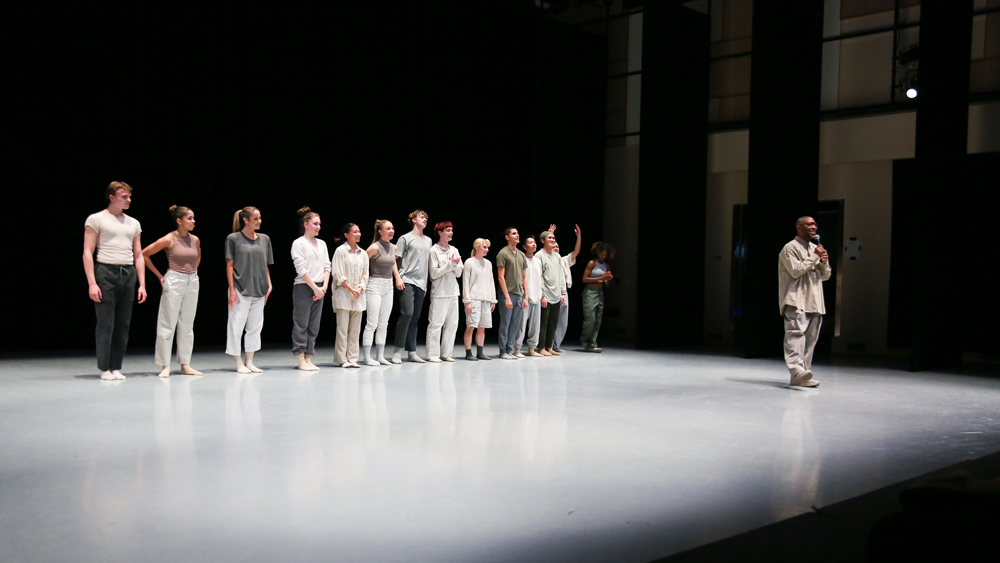 The evening began with a brief reception, followed by an hour-long presentation at the Glorya Kaufman International Dance Center. Dean Julia Ritter welcomed guests—among them USC Kaufman founder Glorya Kaufman, Rachel Moore, President and CEO of The Music Center, Lucinda Lent, Executive Director of LA Dance Project, Kate Hutter Mason of Stomping Ground LA, and Jamilla Glass, Artistic Director of LA Contemporary Dance Company—and praised the MacArthur Fellow for his expansive knowledge and interdisciplinary approach to movement. Ritter noted that Abraham had left an indelible mark on the students of USC in just a short time.
Abraham then took audience members through "some of the background work" of the creative process. BFA students demonstrated short movement phrases that were used to develop Medulla Problems, and later shared their gratitude for the time spent with Abraham in and out of the classroom during a post-show Q&A session on stage.
"Kyle has not only gotten to know us as artists and dancers but also as people, which has been so special," said Hayden Rivas (BFA '24). "Right from the start, he's been a light guiding this process, making sure everyone feels welcome. We see you as someone who cares about us not only as artists but as individuals."
Marcel Cavaliere (BFA '24) said that it was often difficult to step into a choreographic process with new choreographers, especially those with big names. That wasn't the case with Abraham, who looked at the Class of 2024 as collaborators. "It becomes daunting, especially being a dancer and being placed into an empty body and space of new ideas. I think [Kyle] really bringing us into the process has been so inspiring."
Amanda Peet (BFA '24) agreed: "This has been unlike any process I've been in thus far in my life," Peet said. "Your ability to generate movement and put it together in a way that surprises you choreographically — I haven't felt like that before. Also, you're just the kindest human ever. It's amazing to work with you."
Audience members soon made their way out of the theater and upstairs for a private dinner and reception, but not before Abraham had a chance to express his thanks to the USC Kaufman community.
"One of the joys for me is working with artists that are so open, humble, gracious," Abraham shared. "Every day I get to walk into this space and work and collaborate with everyone, there's a genuine openness that makes 'the making' that much more exciting, fun, and palpable. Thank you so much for that."
Visiting artists to USC Kaufman are supported in part through generous funding from The Choi Family Artists in Residence Fund. Additional support for visiting artists provided by Katherine and James Lau.