"The Cypher:" second annual conference provides open forum for hip-hop education
March 16, 2018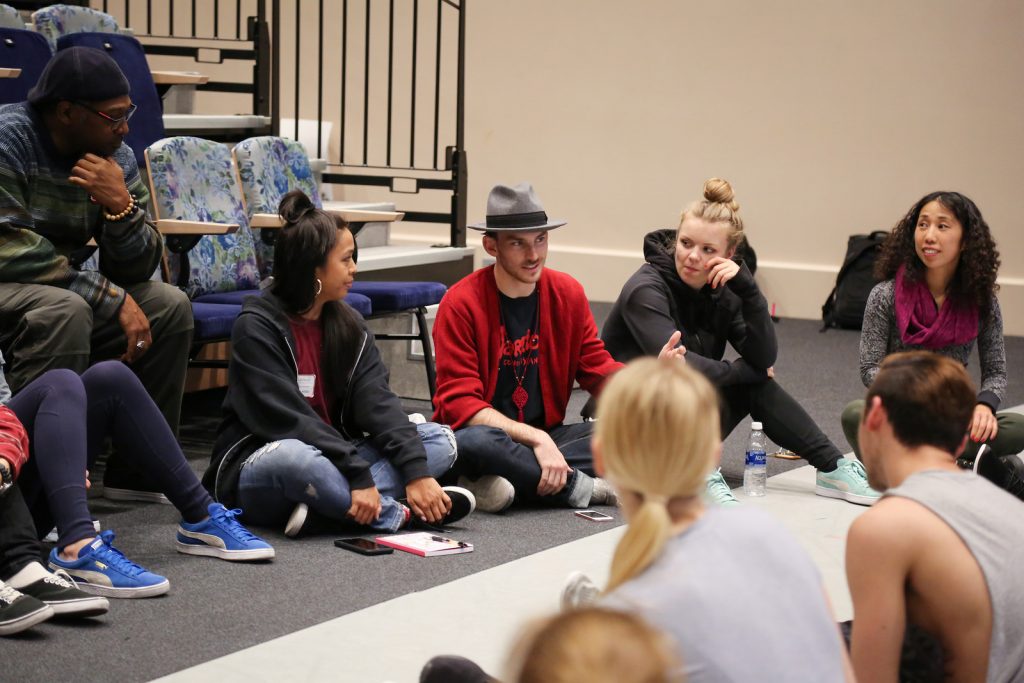 This March, educators gathered for USC Kaufman's second annual teaching conference, The Cypher, which focused on combining a dance conservatory setting with hip-hop's social context to form a comprehensive and informative curriculum. Faculty member Tiffany Bong led the two-day conference, with support from professors E. Moncell Durden and d. Sabela Grimes.
Blending backgrounds and creating curriculum
Invitations gathered educators for the first day of the summit, March 3, providing designated space and time to develop a draft of a hip-hop curriculum framework. The goal, essentially, was to sketch a plan that made accommodations for a formalized studio location, while preserving the essence and history of the hip-hop community.
"Last year was a kick-off of our Cypher summit, and it was special because we didn't quite know what would happen," said Bong. "This year, we're funneling into our first topic, or line of inquiry. It's tapping into how we teach."
Bong organized the weekend's schedule to include time for lectures, open forums, smaller group discussions and movement sessions. While Saturday mainly allowed drafting of curriculum, attendees were permitted to observe bboy YNOT–choreographer and senior vice president of Rock Steady Crew–leading a rehearsal with BFA students for an original work he created during his residency at USC Kaufman. A meeting between educators and BFA students closed the Saturday schedule, opening the floor to feedback from students who had experienced hip-hop education at USC Kaufman and beyond.
During lunch breaks, teachers and students mixed and mingled to share their own experiences in hip-hop. Carlos Hernandez—an elementary school physical education teacher in Los Angeles, who often incorporates his dance background into the curriculum—spoke with USC Kaufman BFA students Alvaro Montelongo and Ardyn Flynt about the generational relevance of rhythm in dance. Flynt explained how her education at USC Kaufman is helping her incorporate hip-hop's bounce in her classical techniques.
"William Forsythe especially has seen the generational relevance of rhythmic sensibilities, and is finding that in his choreography," she explained. Forsythe recently asked her to build a curriculum blending his own techniques with professor Grimes' Funkamental Metakinetic system, and she is developing a written format for a Forsythe intensive in Zurich this summer.
Dance it out
Flynt and several of her peers returned on Sunday, when the summit was open to the public, inviting lifetime practitioners and novice dancers alike to participate in the discussion and in the dancing itself. Though Sunday's registration was set to open at 9:00 a.m., the public got word that RSVPs had poured in past capacity, and a line outside the door had formed by 7:30 a.m. The schedule featured hip-hop classes, lectures by Grimes, Durden and activist Shamell Bell (arts and culture liaison for Black Lives Matter Los Angeles), and a group reflection.
"Being open to being challenged is so important for this discussion, considering how its shifts, complicates, challenges, or changes perspective," said Durden.
His lecture was centered on understanding context in dance—culture does not come from the location, he said, but from the people—and opening the conversation to ownership, cultural identity, and privilege.
Later in the evening, New York dancer and choreographer Sho Tyme led a community hip-hop class, and Flynt taught an outreach class for students from 32nd Street Elementary. The evening ended with a "get-down" party, allowing dancers and thinkers to digest and communicate through music and movement.
"The energy is great and the willingness has been incredible," said Bong. "I think people are already having these conversations in their minds, and the cyphering of ideas is just helping them put it out there."
---
By Celine Kiner