Student Blog: Choreographers and Composers Spring 2022
March 22, 2022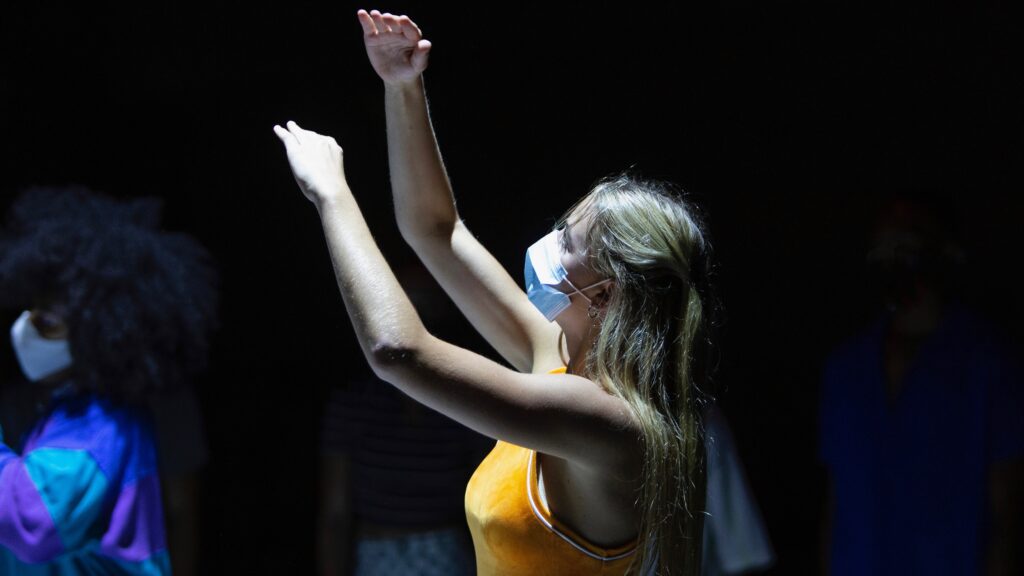 One of the main appeals of the USC Glorya Kaufman School of Dance is the unique experience to collaborate with other artists in the broader USC community. Choreographers and Composers offers a perfect example of how USC Kaufman challenges students to integrate different disciplines while working closely with peers in our cohort.
The project
My name is Ashton Benn and I am a second-year BFA student at USC Kaufman. This semester in our required Improvisation and Composition course, we had the opportunity to work with composers from the USC Thornton School of Music to produce an eight to 10-minute dance in tandem with a musical composition. The composition cohort at USC Thornton consists of seven outstanding composers with a wide range of talents and musical interests. Our cohort of dancers split into seven corresponding groups according to our musical preferences and ideas for the pieces that we would soon be creating. With a timetable of just under two months, we all began the daunting, yet exciting process of producing our first ever show in the Large Performance Space (LPS) of the Glorya Kaufman International Dance Center.
The process
Professors Amy O'Neal and Jackie Kopcsak structured the project so that there would be check-ins and due dates for the various required elements. Previously, our Improvisation and Composition courses focused on simply generating choreography. However, Choreographers and Composers is much more than that. For example, each group met with USC Kaufman's Costume Coordinator Kathryn Poppen to find costume pieces. We also completed a lighting form with specific lighting cues for use during our allotted tech time. This is the first time that our cohort is expected to fully control every aspect of a professional show. The dance, music, concept, lighting and costumes were all carefully curated.
My experience
I was assigned to work with my two very talented friends and peers Atticus Dobbie (BFA '24) and Diego Lopez (BFA '24). We were immediately thrilled to learn that our composer was Nick Lok who had impressed us with his incredible synthetic and instrumental music. It didn't take long for our creative juices to start flowing. We met multiple times to discuss our likes and dislikes and what type of piece we wanted to present. Sitting in Nick's apartment in downtown LA surrounded by his remarkable music setup, we had formed a comfortable circle of imagination. No idea was a bad idea and all of a sudden, a concept was born.
One way or another, our conversation evolved into discussing the limitations of the human body and how that could be translated into a physical art form like dance. We wanted most of the music to be pre-recorded, but we also wanted to include Nick onstage with us. Our solution was to have Nick perform live with us for a section of the dance. He would be improvising on his drum while Diego, Atticus and I would take turns mirroring the music with improvisation.
The collaboration was natural and easy because we were all open-minded and grateful to be working together. With innovative seeds in our heads, Atticus, Diego and I wasted no time getting into the studio to make choreography. Each choreographic method is different and we varied our approach throughout. In general, we all made the choreography as a collective. We bounced thoughts off of each other as the dance formed alongside the music Nick sent us.
The upcoming performance
At this point, we are almost finished with the piece. All four of us are excited to see how the work continues to develop as we move into tech week. Although Choreographers and Composers seemed intimidating at first, I realized that I wasn't expected to do it alone. Armed with my inspirational peers and professors, the spirit of collaboration was present the whole time. I am beyond excited to present our piece, "Shell," at the shows on March 30 and 31. I hope to see you there!
Choreographers & Composers 2022 will take place on March 30 and 31, 2022 at the Glorya Kaufman International Dance Center. Reserve tickets here.
---
By Ashton Benn (BFA '24)