Alumnus Noah Guthier launches Purple Virtual
June 28, 2022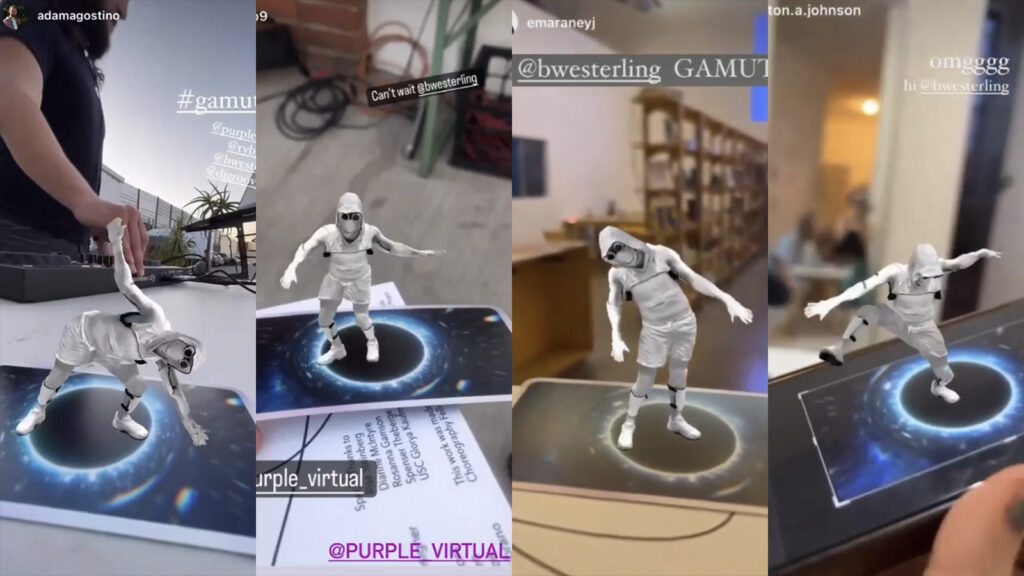 Noah Guthier (BFA '19) always had an interest in multimedia production in addition to dance. In his junior year at the USC Glorya Kaufman School of Dance, he began teaching himself the basic skills and softwares for motion capture work. After graduating, the pandemic eventually hit and he joined fellow alumni Adam Agostino (BFA '19) and Justin Epstein (BFA '19) at their film production company RYBG. Now, Guthier has created his own branch of the company called Purple Virtual, which focuses on his creative passion for motion capture and 3D art.
"RYBG started out as a multimedia production studio, but it eventually became known as more of a film production company," he said. "So, we wanted to launch another brand or sector that we could lean into and market purely as a virtual production company. This is something we want to head into in terms of everything that's happening now with experiences in augmented reality and virtual reality."
Exploring creative avenues with USC Kaufman
As an alumnus of the USC Glorya Kaufman School of Dance, Guthier had the opportunity to explore different multimedia production methods and softwares in relation to his dance training. Specifically, Guthier credited faculty members Dawn Stoppiello and d. Sabela grimes, both Associate Professors of Practice at USC Kaufman, for helping to nurture this creative interest. He noted that both professors helped guide his research into immersive choreography and installation performances.
"Gamut" with Bret Easterling
Now with Purple Virtual, Guthier continues to be in collaboration with faculty at USC Kaufman. In a recent project that helped launch the brand, Guthier worked with lecturer Bret Easterling to bring augmented reality into dance. Easterling often performs using an alternate persona called "Gamut" who wears all white and large goggles. Guthier started by doing a 3D scan of the character as a part of his photogrammetry work. He then began a larger motion capture project as a way for viewers to experience dance in a new way that could transcend the traditional 2D recorded experience.
"In my own creative process, I tend to put more emphasis on the way we deliver the product that people are actually interacting with, so that's why we wanted to make an augmented reality filter," Guthier said. "We're really interested in how dance can successfully use this technology and how we can offer a way for people to experience dance in the most immersive way. Up until now, film has been the only way to really capture and then reshow dance to other people. But dance is such a physical thing and we want people to show that with these new advancements in technology."
Augmented reality as a business tool
For this project, Guthier wanted to create an exploration into "Gamut" and his universe. To do this, he created a trading card for the character. When a user scans the QR code on the card, "Gamut" then appears on their device and dances on their screen. Guthier sees this as an opportunity for dancers to expand their reach and grow their personal business.
"Another aspect of this project is that it could be used as a business tool," he said. "It can be effective specifically for solo performance artists or dancers marketing themselves because the QR code could link to their website, social media accounts or even their Venmo. So this could be a good combination of a business card and an art experience."
New projects to come
Purple Virtual continues to keep USC Kaufman collaborations top of mind. So far, Guthier has also worked with fellow alumnus Austyn Rich (BFA '19), a solo performance artist, on some 3D art projects. Further, Guthier has worked with other alumni on motion capture work including Jona Huang (BFA '22), Aidan Carberry (BFA '19) and Jordan Johnson (BFA '19). Purple Virtual also plans to collaborate with d. Sabela grimes this summer on another motion capture project. Overall, Guthier wants to keep expanding his work to make augmented reality and other emerging technologies more accessible to independent artists and creators.
---
By Brigid Murphy