USC Kaufman students collaborate with Emma Portner
October 9, 2018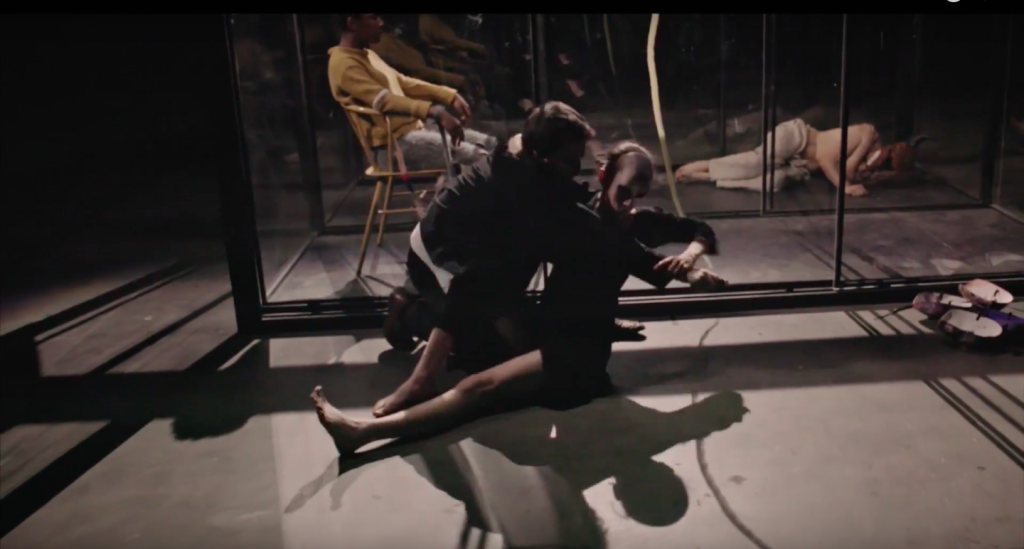 Emma Portner is everywhere this season: she's working with New York City Ballet and Hubbard Street Dance Chicago, she's on the cover of Dance Magazine, and she just finished a commission for Fondation Beyeler—a dance film called "Femme Debout." If you look closely, you'll be able to pick out a familiar face among the five dancers: Jordan Johnson, USC Kaufman class of 2019, helped create the work and performed in it alongside Portner. He's not the only USC Kaufman BFA student that has crossed her path in the last few years, however. Aidan Carberry, also class of 2019, helped Portner workshop concepts for her Hubbard Street commission, then assisted her in setting work in Chicago this fall. The two have spent several hours in the studio with Portner during the last few years. Here, they offer some insight into her unique style and choreographic strategies.
Catapulting into the spotlight
Portner boasts a diverse résumé—at age 23, she's choreographed a West End musical (Jim Steinman's Bat Out of Hell), a world tour (Justin Bieber's Purpose Tour) and more. Beyond the works mentioned above, her choreography will appear in a new Netflix show and a Maggie Rogers music video, among several other commissions. According to her Dance Magazine feature, her schedule is booked until 2020. Since her choreography went viral in 2012, she has been around the world. But Portner's home base is in New York, where she met Johnson.
Johnson and Portner were both asked to perform in a piece for choreographer Teddy Tedholm in New York in 2013. They met in rehearsal, but Portner didn't end up performing the piece. A few weeks later, Johnson saw that she was teaching a class nearby. He reached out to Portner, who offered him a guest spot in her class. At the time, he was unaware of her budding success, and was surprised when flocks of young dancers showed up to learn her challenging combination. When he spoke to her afterward, she asked if he had a minute to spare.
"She said, 'I know I don't know you, but you seem like someone who would be willing to talk about deep things—can we talk about something?'" Johnson said.
Completely by circumstance, Portner's day had been incredibly stressful, and she and Johnson "became quick friends" via a long conversation that evening.
"We just happened to become close friends that day, really. Only recently have we become collaborative outside of friendship and inside of dance," he said.
"Femme Debout" and Portner's process
Portner reached out to Johnson when Fondation Beyeler commissioned "Femme Debout" this summer. The piece is a physical response to the works of Francis Bacon and Alberto Giacometti, whose works were on display in the museum earlier this year. After showing at Fondation Beyeler, the film caught the attention of the Guggenheim. The film then opened their Works & Process program on Sept. 9 and 10.
"This is the first time I've been one of her dancers, instead of just sort of consulting on ideas," Johnson said. "I've learned from watching her how cleanliness and gestural athleticism can be so satisfying."
The film, which uses the same production crew from Childish Gambino's "This is America," features five dancers including Johnson and Portner. The dancers perform in a glass box and utilize masks and other props throughout. At the film's start, the camera follows leading woman Portner in and out of the box until Johnson comes into frame to partner her. Portner's process, according to Johnson, is relaxed and collaborative. She gives material, but keeps her eyes open for interpretations or even alternate suggestions from dancers in the room.
Adding Carberry to the mix
Carberry echoed Johnson's perspective on Portner's open rehearsal room. At Hubbard Street, he said, she gave a warm-up that mirrored the choreographic tone, then allowed the dancers to experiment and workshop ideas. Though Carberry and Portner have co-choreographed several projects, he has only known her a few years. Johnson introduced the two in 2016.
"Jordan kept telling me about his friend, who was the 'best dancer in the world,'" Carberry said.
Carberry didn't quite believe Johnson until he saw videos of Portner dancing.
"Her movement isn't quite non-identifiable, but it has its own sharpness…It's just so good, it blew my mind," he said.
Soon afterward, she spoke in a USC Kaufman lecture class. Johnson made sure his friends had the chance to speak afterward, and the three ended up choreographing a trio. A month later, Portner saw a video Carberry posted on Instagram, and invited him to collaborate. This was the beginning of several duets (refer to both Carberry's and Portner's Instagram profiles). One would lead to the piece they worked on at Hubbard Street.
"She has a way of partnering that suggests this indirect counterpoint. Not too obvious but present. And her footwork really resembles tap dancing, which I've never seen in contemporary movement before," Carberry said. "She's great at surprising you, too. She uses these movements that you're sure will go one way and then last minute she invents a new trajectory."
Carberry's appreciation of Portner's process does not go unreciprocated. In an interview with Dance Magazine this January, she listed him as one of the artists she'd most want to dance with—living or dead.
Redefining "dance community"
The collaborative nature of Portner's work has fostered a small, tight-knit dance community. Among her collaborators, almost all are also friends, like Carberry and Johnson.
"One thing I thought about this summer while working with Emma was that she's one of the few people capable of creating this community of friends that simultaneously does really great work together," Johnson said.
Both are planning future projects that involve work of a similar collaborative spirit. They've even created their own choreographic endeavor called JA Collective, which won first runner-up at this year's Capezio Ace Awards. In the meantime, Carberry and Johnson plan to collaborate with Portner in the future. Be on the lookout for new content from all three.
---
By Celine Kiner