The Story Behind Gala de Danza: A senior project by Mariana Carrillo
March 4, 2020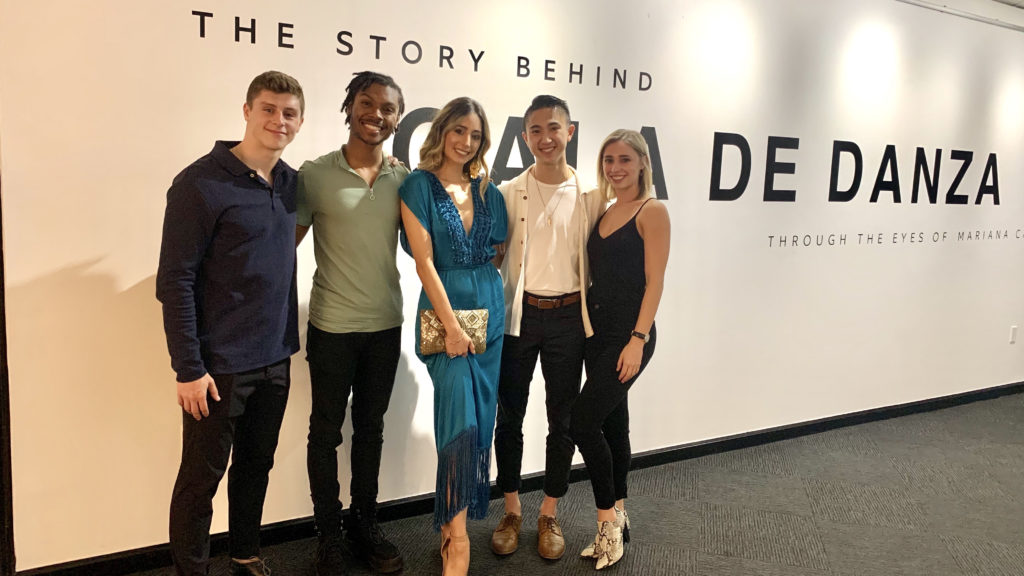 On February 25, Mariana Carrillo (BFA '20) presented an evening of dance at the Consulate General of Mexico in Los Angeles. This event was created as part of her senior project for the USC Glorya Kaufman School of Dance. Titled "The Story Behind Gala de Danza," the program consisted of a video screening, three live dance performances and a Q&A. Panelists included Carrillo, Managing Director of the Los Cabos Tourism Board Rodrigo Esponda, Founder and Artistic Director of Gala de Danza Christina Lyon, and Vice Dean and Artistic Director of USC Kaufman Jodie Gates.
Gala de Danza was founded in 2013, after Lyon took a trip to Cabo San Lucas. While scouting for talent, she found Carrillo. Carrillo was Lyon's inspiration to create a gala in the area that could showcase dance and music at a beautiful venue. Thanks to Carrillo's connection, several USC Kaufman students had the opportunity to travel and perform in Gala de Danza in 2018 and 2019.
"I was inspired to do my senior project about this collaboration, because I saw how much the experience impacted the students in the program, and how much the people in Mexico appreciated taking classes from Vice Dean Gates and my fellow classmates," Carrillo said. "I thought it made a lot of sense for me to share these experiences with the community of Los Angeles and show that there are endless possibilities one can do with a dance major."
Highlighting USC Kaufman's BFA program
Through the performance element of the program, Carrillo highlighted opportunities dancers can have when they pursue a BFA in a university setting. Carrillo's classmates from USC Kaufman showcased works by student-choreographers Justin Pham (BFA '20) and Jakevis Thomason (BFA '20), as well as excerpts from pieces in USC Kaufman's repertory.
"I'm a huge advocate for dancers who want to create their own path, rather than take the conventional route. I thought my story in relation to the gala and the collaboration with USC Kaufman would showcase an example of what we can do as dance majors," Carrillo said. "Growing up in Mexico, I rarely had the opportunity to see the high caliber of dance we are exposed to here. I had no idea dancers could also dance at a very high level in a university setting. Now that I've been exposed to this magnificent world of dance in the U.S., my only wish is to share it with my community in Mexico and provide  easier access to it for people who can't afford to travel as much."
Gala de Danza as a bridge between the U.S. and Mexico
In addition to showcasing BFA students' experiences with the gala, Carrillo's program aimed to demonstrate the impact arts can have on international relations. Hosting the event at the Mexican Consulate played a large part in helping Carrillo convey that message.
"It occurred to me that if I can get the Mexican Consulate to support the dreams of a Mexican-American dancer, why wouldn't the United States?" she said. "It is very hard for dancers without U.S. citizenship to get an artist visa, or simply work in their field here. Many of them have to go back to their native country and build a career in a place without as many opportunities as we have here. I think art is a perfect segue to erase these borders between our countries. I'm a proud Mexican, as well as a proud American. I think we can learn so much from each other."
This notion inspired Carrillo's mission statement for the evening:
"May we continue to utilize artistic expression as a bridge between the United States and Mexico to build a supportive foundation and inspire the next generation."
Post-graduate goals
 Looking forward, Carrillo sees this event as the launch-pad for her post-graduation goals.
"This is just the beginning for me," she said. "There is so much to do to help establish a better relationship between the United States and Mexico, and art can easily do that. Art gets people together. It doesn't matter where you're from, who you are or what language you speak. When we get together to experience art, no one can stop us."
 Carrillo and her fellow members of the Class of 2020 will present information about their senior projects April 22 & 23 at the Glorya Kaufman International Dance Center.
---