Becoming an artist scholar
June 26, 2020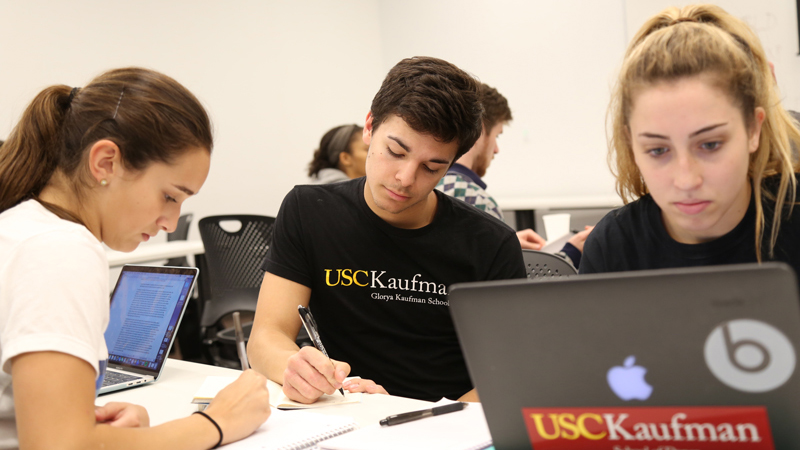 One of the things that separates USC Kaufman's BFA program from conservatory dance programs is access to the rigorous and robust academic offerings of a top-tier research university. In addition to completing general education requirements, BFA dance students have the opportunity to pursue minors, second majors or even progressive degrees. Learn about how current students Sidney Chuckas (BFA '21), Sidney Ramsey (BFA '21),and Zackery Torres (BFA '21), as well as alumni Paulo Hernandez-Farella (BFA '19) and Rae Srivastava (BFA '20), have taken advantage of these opportunities to become artist scholars.
Current students' areas of interest: majors
Ramsey is double majoring in Dance and Health and Human Sciences. Recently, she worked with USC Kaufman Professor Patrick Corbin on a research project looking into gerontology. The project focused on the effects of dance on physical and mental health. She came to USC knowing she wanted to major in both of these areas. However, she didn't realize how directly they would overlap.
"After talking to William Forsythe about my interests, I learned that Professor Patrick Corbin had recently begun an experiment. It incorporated line dancing into nursing homes to track and analyze the influence of dance upon the participants' overall quality of life. This seemed like a sign for me to look into gerontology as a more specific subject of interest," she said.
After graduation, Ramsey hopes to dance in a concert company that performs contemporary and contemporary ballet repertory. After her dance career, she wants to continue the research she started at USC. Her mission is to increase longevity for dancers and encourage healthier practices.
Students' areas of interest: master's
During their time at USC, Hernandez-Farella worked to complete a BFA in Dance with a concentration in performance. They also finished a minor in Nonprofits, Philanthropy and Volunteerism, and a Master's in Public Administration.
When they were accepted into USC, Hernandez-Farella was awarded a Trustee Scholarship. They knew they wanted to take advantage of this by completing a USC Progressive Degree. After completing their minor in the USC Sol Price School of Public Policy, Hernandez-Farella knew they wanted a master's in the same school. In only four years, Hernandez-Farella was able to complete all the required courses for a BFA, minor and master's degree.
Srivastava worked toward a similar goal. In addition to his BFA in Dance, Srivastava pursued a minor in Economics and a Master's in Legal Ethics. Post-graduation and after a career as a performing artist, he hopes to also earn his J.D. and offer legal advisement to nonprofits involved in artistic outreach.
Another example of students taking full advantage of the progressive degree option is Zackery Torres (BFA '21). Torres always planned to take advantage of the academic opportunities at USC, but was never sure of the exact field. With help from academic advisors, Torres took many classes in the USC Annenberg School for Communication and Journalism. Through these classes Torres found a passion for law, advocacy and public relations. Torres is now beginning their master's degree in fall of 2020 as a part of the Strategic Public Relations program. They will graduate from USC Kaufman with a BFA spring of 2021, and will graduate with an MA in Strategic Public Relations spring 2022.
"Once I complete both of my degrees, I hope to join a contemporary or a contemporary ballet company in Europe or Canada. I think that my current academic pursuits will only make me more employable because after I dance in a company— or even during that time—I hope to be working in the field of political Public Relations, so I can keep advocating. I also could see myself in law school some day," they said.
Students' areas of interest: minors
Chuckas is pursuing a Minor in Architecture. Having always been drawn to the subject, Chuckas decided to pursue this program after being captivated by Paris' buildings and layout during the USC Kaufman Maymester. In the future, he would love to work as an exhibition designer and interior designer with an emphasis on live performance spaces.
Minors are a great way to take advantage of the academic opportunities at USC because of the wide range of topics. Some students even take classes in many different topic areas to find their other passions. This is also a great tool when applying to jobs after graduation because they can list those classes under relevant course work on their professional resumes.
Complementary studies
According to these students, their studies outside of USC Kaufman have contributed to their overall understanding of dance in various ways.
Ramsey has found that her interest in health sciences has led her to a more thoughtful approach to dance. She is able to recognize unhealthy mental or physical patterns in her dance life. Now, she can self-correct to better prepare herself for performance. She better understands movement beyond the physical practice and stresses the mind-body connection.
Hernandez-Farella noticed a huge overlap in the subjects they studied, especially when they were applying for jobs. Their Minor in Nonprofits, Philanthropy, and Volunteerism complemented their dance degree, as many dance companies are also nonprofit organizations. Hernandez-Farella also knows how the entire organization functions, from fundraising to tax filings. This allows them to not only compare the artistic qualities of their dream companies, but also to evaluate their financials. They can then make more informed decisions when it comes to the business side of dance. Hernadez-Farella is now a dancer with Ballet Hispánico in New York City, along with fellow alumna Lenai Wilkerson (BFA '19).
For Chuckas, he has seen how similar dance and architecture are, despite their different mediums.
"The two work simultaneously to constantly define and redefine spaces, both internally and externally," he said. "You could open a discussion on the architecture of the body, the architecture of a piece of choreography and the architecture of movement. You may also open a discussion about the 'dance' a site participates in with its living and still surroundings: does a structure lean onto its surroundings, crash into them, bend around them etc.? It is really a fascinating relationship, dance and architecture."
In Torres' experience, the critical thinking skills they are acquiring through their classes at USC Annenberg School for Communication and Journalism have been an asset to their USC Kaufman experience. Torres is also excited to incorporate the skills they learn in the Strategic Public Relations program.
"I feel that I am able to bring that thought process around advocacy, argumentation and healthy communication into my life at USC Kaufman, whether it be in the classes I'm taking or how I dictate my everyday actions," they said. "I am currently working for USC Kaufman as well as being a student, so I am able to practice in real time what healthy communication and advocacy look like in the workplace."
What's right for you?
USC Kaufman's academic advisors and faculty mentors encourage students to take advantage of the amazing academic programs at USC during their four years. They do everything possible to make sure the students can study what truly interests them—whether or not that includes an additional major, minor or graduate degree.
In short, one of the great things about USC Kaufman's location within a top university is the students' ability to tailor their dance and academic studies to their interests and future professional goals.
---