BFA students pursue creative summer projects
August 21, 2020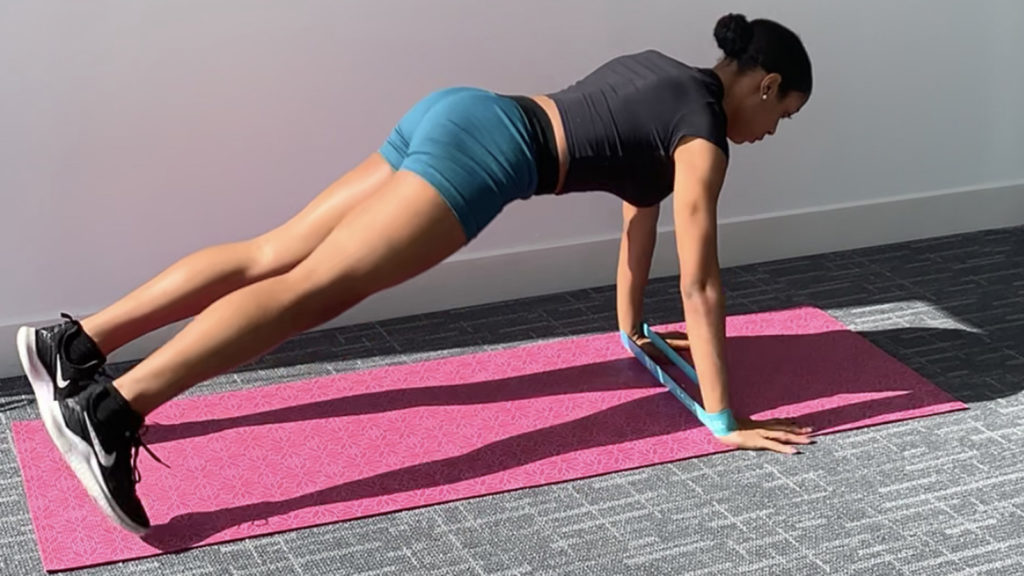 Many of the USC Glorya Kaufman School of Dance BFA students have kept themselves very busy with summer projects. They have embarked on various initiatives in and around the dance world.
Truly Dedicated
Téa Devereaux (BFA '21) has been working over the summer to launch her business, Truly Dedicated Box. Her business will provide fitness supplement videos and exercise accessories. Devereaux will be teaching the virtual classes herself. USC students Sasha Reiss and Zachary Rudin have worked alongside Devereaux to create her website.
"For the videos I have to make sure that I have a space to film and make sure that I'm getting the cameras and the best quality," Devereaux said. "I just started filming in my filming space, so it's been a long time coming of just planning and trying to get everything organized."
Fitness inspiration
Truly Dedicated Box was inspired by Devereaux's long standing love of health and fitness. Also, when Devereaux was a freshman in high school she fractured her back. She was not able to dance for eight months and began searching for another way to stay active besides physical therapy.
"I made my own fitness accessories from things I found around the house," Devereaux said. "As a dancer, I had all this stuff in my dance bag. I had long resistance bands, so I would tie them into loops and put them around my legs and do bridges. I would also take paper plates and use them as fitness sliders. It's funny because these are the two main products that I'm selling when I first launch."
Truly Dedicated Box will launch mid-September and updates can be found here.
From sketches to reality
Also in collaboration, members of the Class of 2023 have been working on a summer project dance-centered website. In late May, Stefano Gallelli (BFA '23) reached out to his classmate Brodie Wolf (BFA '23) and the two began to brainstorm. From there, they founded Studio Sketches.
According to Gallelli, the website is inspired by Marquee TV, an on-demand, streaming service which helps arts and culture fans discover new shows and performances. Unlike Marquee TV, Studio Sketches is more geared toward the creative process of dance. It stresses an exchange of knowledge and ideas over a perfected final product, according to Wolf.
Now, the team consists of their classmates Madison Falconer (BFA '23), Eileen Kim (BFA '23), Ava Noble (BFA '23) and Emma Sutherland (BFA '23) as well. Falconer is responsible for Studio Sketch's email communications. Kim creates the website's graphic design elements. Noble and Sutherland handle the Studio Sketches social media accounts.
"Our main idea was to create a really safe space and community where artists can show works in progress and finished works. They can go for inspiration, ideas, and feedback," Gallelli said. "We set it up almost like Facebook where you have to create an account and then from there you can post your works. You write a description, put a title, and in the description you can say what you're looking for, like any specific comments you want."
A collaborative stage
Since USC Kaufman moved to online learning in March and will continue this format in the Fall 2020 semester, BFA students have been dancing from home. The Studio Sketches team saw this time away from the studio and stage as an opportunity for virtual collaboration.
"With where we're at in our training, there was no place for us to share our work, especially if it's not polished and if it didn't get to be performed on a stage," Noble said. "Studio Sketches allows artists, especially at a college or high school level, or people who are really serious about creating, to have a place to view and share their work."
For the future of Studio Sketches, the team hopes to continue making connections with other dancers at other universities through an ambassadors program. They also want to create an app within the first year after their launch
Dance education through personal branding
Jainil Mehta (BFA '21) has also been working to engage the dance community over the summer, despite social distancing. When classes moved online in March, Mehta returned to his hometown of Mumbai, India. During his time at home while India has been on lockdown, Mehta has been strengthening his social media presence. As preparation for his senior project and professional life after USC Kaufman, he has been using Instagram to network and create a personal brand.
Mehta explained that his brand has always been about dance education, particularly in India. Mehta came to the United States to study dance in higher education. He hopes to bring similar degree opportunities to universities in India. Through his social media, he wants to expose his Indian audience to opportunities in dance.
Transforming the culture
"Indian culture is so rigid with regards to professions and careers because it stresses engineering, business and things like that," Mehta said. "Because of that, I'm trying to get into the culture first and then get people to think differently. Using popular culture and social media is a way to commercialize what I want so that I can get more eyes on me, and that's how I can transform the culture."
In building his brand, Mehta first posted dance challenges to his Instagram. During quarantine, an old hobby resurfaced: writing poetry. He created a seven part series called Pause and Play. One of Mehta's original poems inspired the piece.
"I took the entire poem and I divided that into seven parts," Mehta said. "Each part was given a song, and then I took a lot of shots in my home, because we couldn't go out. I also played around with the camera angles and editing."
In spite of COVID-19, the BFA students at USC Kaufman have found creative ways to engage with their communities. This academic year, they will continue to utilize their talent and knowledge to pursue new initiatives.
---
By Brigid Murphy