Career Services hosts agency and industry panel for dancers
January 27, 2022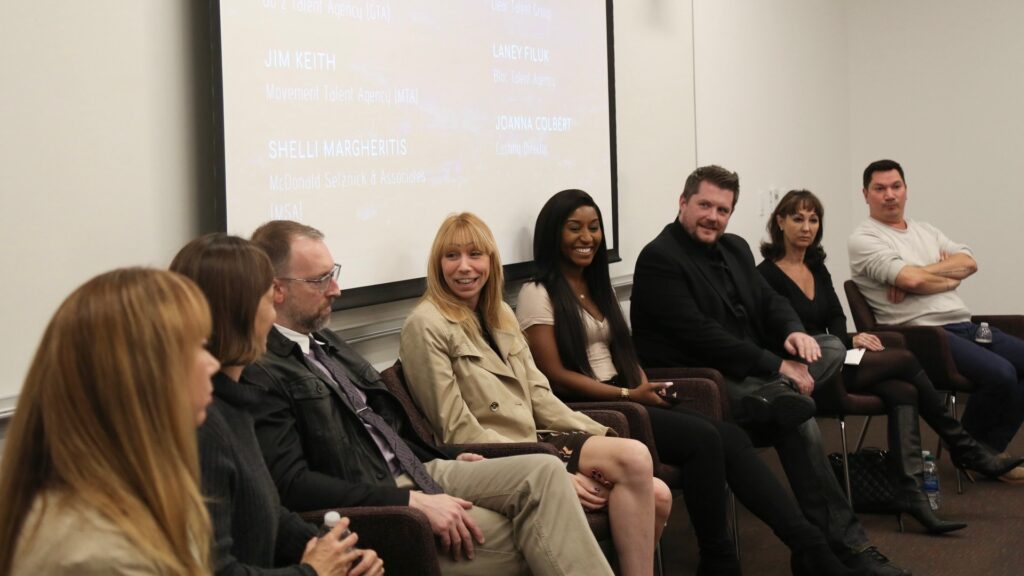 On Tuesday, Jan. 18, the USC Glorya Kaufman School of Dance Career Services team hosted a panel with top agents in Los Angeles. During the event, guest speakers discussed their experiences and backgrounds, provided tips, and answered students' questions about the industry. Assistant Professor of Practice Saleemah E. Knight curated and moderated the event for USC dance majors, dance minors and musical theatre majors.
The agents included Julie McDonald and Brandon Sierra from McDonald/Selznick Associates (MSA), Jennifer Musgrove and Tanisha Whiting from BlocLA, Terry and Lisa Lindholm from Go 2 Talent Agency and Meisha Goetz from Clear Talent Group (CTG). All gave insights on how their agency worked and the structure behind it.
Transitioning to the professional world
Students were able to ask questions about the dance industry. Nina Gumbs (BFA '22) asked what dancers can do while they transition from school to the professional world. Various agents commented on the necessity to have an open line of communication with your agent and letting them know about any current changes to your schedule. This allows for more transparency about availability for the dancer to go to auditions.
Brandon Sierra from MSA also emphasized the importance of treating your career as your business and being up to date with the dance industry. According to Sierra, "some days are going to be very full of opportunity and some weeks are going to be a lot slower. It's up to you to fill that time with something that will benefit your career, whether it's dance classes or fitness classes, making sure you and your machine are well tuned."
Concert and commercial dance
The crossover between the concert and commercial dance world was also discussed during the panel. Students wanted to know if agents thought it was possible to do both types of work. "If you are the type of dancer that can cross between both areas (concert and commercial work), you are going to have a very, very rich career," said Terry Lindholm from Go 2 Talent Agency. Students also noted there is more experimentation and creativity in the Los Angeles dance scene, which allows dancers to crossover between industries.
Creating your dance reel
Professor Knight asked agents for any tips they had for dancers creating and working on their dance reels. The agents mentioned the importance of showing your best work and strongest dance disciplines at the start of the reel. Jennifer Musgrove from BlocLA added that footage shouldn't be too long. "We can tell what you can do in a matter of steps," she said. Tanisha Whiting, also from BlocLA, encouraged dancers to show "the real you" in their dance reels.
Working your way up
Representing MSA, Julie McDonald talked about the process of going from dancer to choreographer and the steps to follow to get choreographer jobs. She touched upon a very important topic, which is maturity. According to McDonald, there are a lot of decisions with choreographing, such as pitching ideas, working under pressure and making changes daily with arts administration. As choreographers need to work with higher roles in big companies, experience and maturity is a must. This is why it takes a lot of time to work your way up. She recommended making connections, creating and maintaining a good relationship with your agents, and having clear communication.
Important notes to take into consideration
In addition to this valuable information, the agents provided important advice about the dance industry and working with agencies. First, when looking for agencies, they recommend talking to them to find out which one you connect with the most. Second, it's important to build a good relationship with your agent and communicate with them about any concerns. Agents are there for you and will be there to support you throughout your career. Third, agencies want people who really want to do this as a career and want to work with someone who will positively represent their agency. Finally, be sure to include the right people for your references. They do indeed check them.
---
By Diego Lopez (BFA '24)